China not joining US-proposed trilateral arms control negotiations
Share - WeChat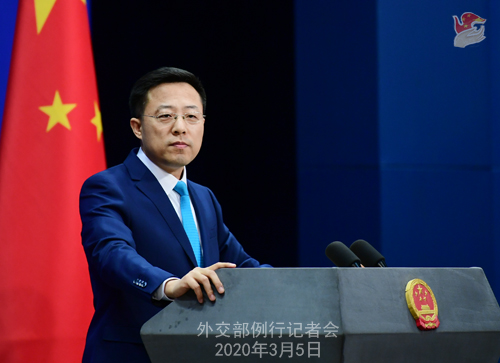 Beijing said on Friday that it had no intention to join the so-called trilateral arms control negotiations, a day after United States President Donald Trump said he will propose a new trilateral arms control initiative with Russia and China.
In a statement on the occasion of the 50th anniversary of the Treaty on the Non-Proliferation of Nuclear Weapons, Trump said the bold and new initiative will help avoid an expensive arms race and instead work together to build a better, safer and more prosperous future for all.
In terms of nuclear disarmament, Foreign Ministry spokesman Zhao Lijian said that it is urgent for the US to respond to Russia's call to extend the New Strategic Arms Reduction Treaty, and cut down its massive nuclear arsenal, which will create conditions for other nuclear-weapon nations to join multilateral nuclear disarmament negotiations.
Zhao told a daily news conference that China's nuclear force is always kept at the minimum level required by national security, with an order-of-magnitude difference from that of the US and Russia.
China adheres to a peaceful development path, he said, adding that it has never, and will not engage in any form of arm race.
Zhao emphasized that although it's not the time for China to participate in the trilateral negotiation, it does not mean China is not participating in the international nuclear disarmament efforts.
China will continue to work with all parties to strengthen communication and coordination within such frameworks as the mechanism of five nuclear-weapon states, and discuss a wide range of issues concerning global strategic stability, he said.
Noting China has been open to having dialogues and exchanges with the US in the strategic security field, he said that he hopes the US will stop its wrong words and deeds that harm China's interests and create conditions for strategic dialogue between the two sides.