TCM plays big role in virus fight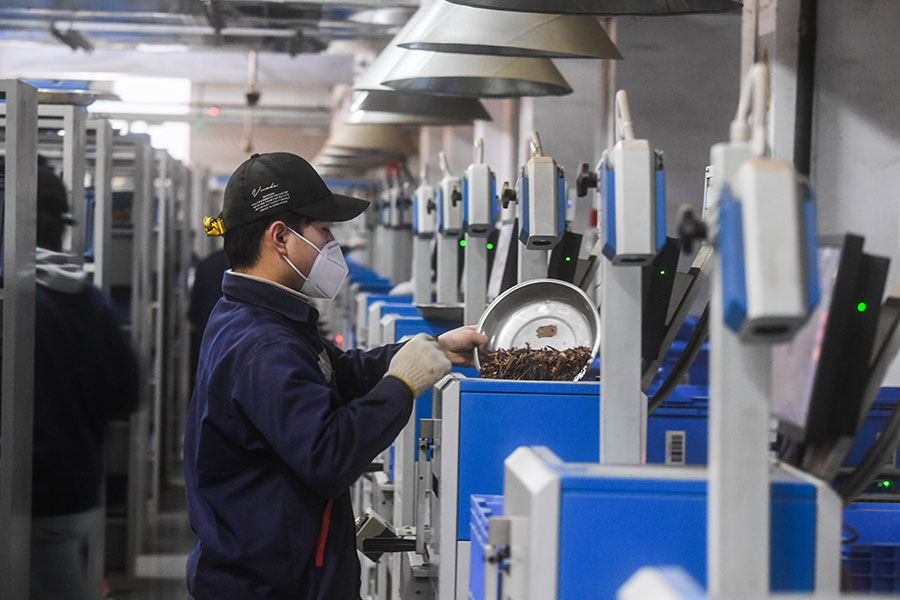 Ancient form of healthcare proves effective in boosting recovery rate
Editor's Note: Novel coronavirus pneumonia is posing a worldwide threat. Here, we take a look at how China is playing its role in the global fight against the outbreak by mobilizing a vast amount of resources to contain the epidemic. This is the third part of a series titled "United Actions".
On Sunday, 16 patients with novel coronavirus pneumonia were discharged from Leishenshan Hospital in Wuhan, Hubei province, the epicenter of the outbreak. Six of them had been treated with traditional Chinese medicine at the temporary hospital.
In addition to being prescribed herbal formulas, they were given acupuncture, acupressure and foot massage after being hospitalized.
The six were the most recent group to recover from the viral infection after receiving TCM.Twenty-three patients were discharged on Feb 26 from Jiangxia Hospital, a mobile facility in Wuhan operated by TCM professionals.
A total of 60,107 patients with the virus had been treated with TCM nationwide as of Feb 17, accounting for 85.2 percent of infections, according to the State Administration of Traditional Chinese Medicine.
Although no cure has yet been found for the virus, experts said there has been a high recovery rate, either by using TCM on its own or combined with Western medicine. For example, health authorities in Beijing announced on Feb 24 that 92 percent of patients showed improvement after treatment with TCM.
Since the epidemic emerged in January, the central government has placed great emphasis on using a combination of TCM and Western medicine.
More than 4,900 medical workers from 600 TCM hospitals across the country and five national medical teams comprising 757 TCM specialists from the China Academy of Chinese Medical Sciences and other institutions are treating the outbreak in Hubei.
Three academicians are also in the front-line: Zhang Boli, 72, from the Chinese Academy of Engineering and president of Tianjin University of Traditional Chinese Medicine; Tong Xiaolin, 64, from the Chinese Academy of Sciences and head researcher of the China Academy of Chinese Medical Sciences; and Huang Luqi, 52, from the Chinese Academy of Engineering and president of the China Academy of Chinese Medical Sciences.
In 2003, TCM played an important role in treating patients with severe acute respiratory syndrome, or SARS, with official statistics showing that it was used in 3,104 of the 5,326 confirmed cases, or 58.3 percent of the total on the Chinese mainland.
However, with the emergence of novel coronavirus pneumonia, the TCM community has taken stronger action.
On Jan 19, Zhang Zhongde, vice-president of the Guangdong Hospital of Traditional Chinese Medicine in Guangzhou, the provincial capital, received a call from the National Administration of Traditional Chinese Medicine, asking him to fly to Beijing to attend a meeting of experts called to discuss drafting a plan to tackle the epidemic.
The next day, respiratory expert Zhong Nanshan confirmed that the virus could be transmitted from person to person.
On Jan 21, the first group of TCM experts arrived in Wuhan, including Liu Qingquan, head of the Beijing Traditional Chinese Medicine Hospital affiliated to Capital Medical University, who helped in the front-line fight against SARS in 2003.
The experts checked some 70 patients' pulses and tongues, and asked for those with symptoms to define their condition, before concluding that novel coronavirus pneumonia was caused by "damp evil", a reference to a ying-yang imbalance in the body.
Please feel free to contact us by sending your questions to question@chinadaily.com.cn or commenting on China Daily app. We will ask experts to answer them.