Fiscal tweaks likely to minimize COVID-19 fallout
Share - WeChat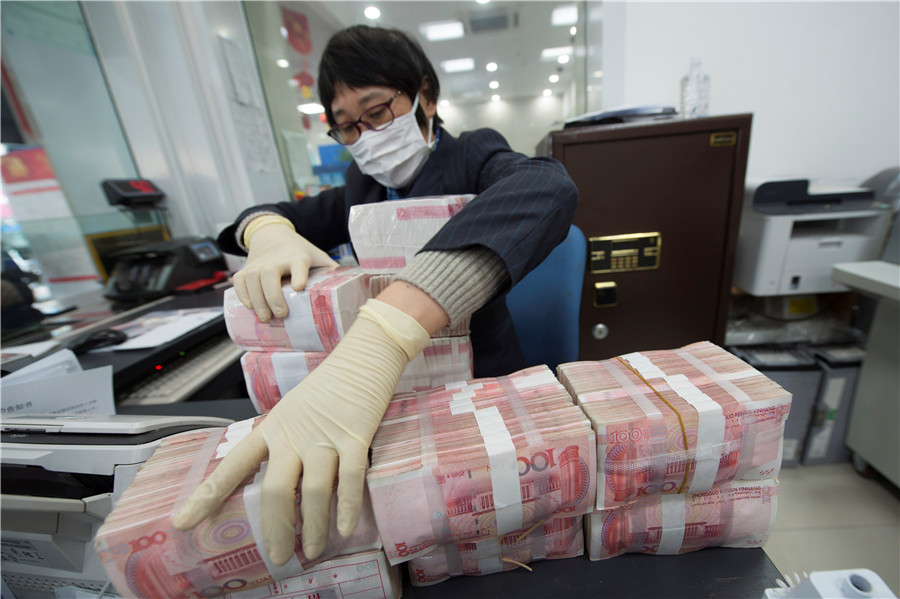 Policymakers should consider using special fiscal measures to curb economic risks and generate additional funds to support the fight against novel coronavirus outbreak, experts said on Monday.
Although the number of new cases has been decreasing in China, the weak economic momentum may remain for a while, as it is unlike previous slowdowns. Specific macroeconomic policies are required based on the current situation, they said.
The epidemic has constrained output more severely than depressing demand, they said, due to slow business resumptions and labor shortages. Beijing has deployed a package of fiscal and monetary policies, to limit the negative influence of the outbreak.
The fiscal measures include tax cuts and providing fiscal subsidies to producers, while the monetary policy is focused on injecting liquidity in the financial market, lowering interest rates and increasing credit to companies.
"Fiscal policy has advantages compared with the monetary policy, as it can be targeted and temporary, with a short lag. Thus, fiscal policy is more appropriate and should play the lead role in dealing with the one-off short-term impact of the epidemic," said Zhang Bin, a senior researcher of the China Finance 40 Forum, a think thank.
"In comparison, the monetary policy of cutting interest rates to stimulate demand usually takes a period of at least 10 months to get the desired results," he said.
"Because of the epidemic, the central government is suggested to issue special bonds amounting to 1 trillion yuan ($143.6 billion) to 1.5 trillion yuan, as soon as possible, to supplement the financing gap, and that is the key to preventing a collapse in broad credit during the subsequent months as business activities may remain weak for a short period of time," said Zhang.
That could be the measure with relatively lower costs and risks, he said, compared with some traditional financial stimulus that led to a boom in shadow banking activities, increased systemic financial risks and added debt burden.
China has issued special bonds only twice before. The first issue was in 1998, with an amount of 270 billion yuan raised to supplement the four biggest commercial banks' capital base. The second issue was in 2007 of 1.55 trillion yuan for establishing the State-owned foreign exchange investment company.
Wang Yi, director-general of the finance department at the Ministry of Finance, and a member of the Forum, said fiscal policy should dominate, but "short-term emergency policies should not last too long or be extended too much".Long-term easing policies may lead to arbitrage activities in sectors that have received the preferential measures, which could lead to unfair competition in the market, he said.
Governments at all levels have set aside 100.87 billion yuan as of Feb 24, the finance ministry said, to prevent and control the epidemic. Analysts expect the final costs to be higher, due to larger subsidies for small-and medium-sized companies and stronger spending on medical supplies.
The government's funding gap, the difference between spending needs and revenue sources, would be extended in the absence of additional support measures to increase financial resources, said analysts.