Food service industry raises funds, plots recovery plans
Share - WeChat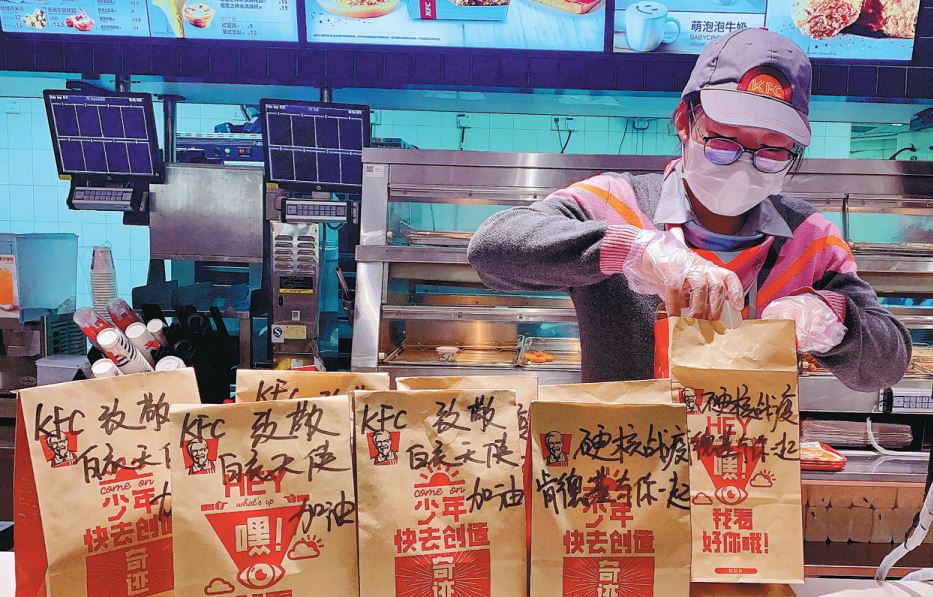 Entrepreneurs and investors in China's food service industry-it includes restaurants, food supply chains, delivery firms, online platforms and similar businesses-are making plans to raise money for a new round of innovation now that the COVID-19 crisis has posed a new challenge.
The Politburo meeting last Friday named the 5-trillion yuan ($713.4 billion) food service market as one of the most severely-hit disaster zones in the nation's economy because the public health alert reduced the industry's expected number of customers for the 2020 Spring Festival season to practically zero.
The government has promised to expand the credit line for the industries affected by the crisis.
Xi Bei Restaurants, a high-end casual dining chain known for Chinese northwestern cuisine, has reportedly received a new loan after its chairman Jia Guolong complained the crisis would make the restaurant chain go bust in three months.
Haidilao, the nation's largest hotpot restaurant chain, also received new credit from CITIC Bank.
"Offline-wise, admittedly, it looks to still take a long while for the industry to pick up," said Fan Chen, chairman of Beijing-based Uni-Quantum PE, who was an investor and vice-chairman of the board of Xi Bei Restaurants from 2009 to 2016.
According to a fact finding report issued by the China Cuisine Association, the nation suffered a 93 percent closure rate of all its restaurants during the ongoing COVID-19 outbreak, with 70-plus percent of restaurant chains having closed all of their branches.
For all the previously-booked reservations of group and family banquets for the 2020 Spring Festival, 93 percent were canceled. In only seven days during the holiday, the Chinese restaurant industry suffered a loss of 500 billion yuan, according to a Xinhua report.
"But online-wise," said Fan, the veteran investor of food service industry," we also see solid revenue generated by the nation's highly-sophisticated food service platforms. And all restaurants and food supply chains and delivery companies are working with the platforms more closely than ever."
Meituan.com, the nation's largest food and daily life service platform, has recently launched a recruitment campaign for 200,000 full-time and temporary workers.
KFC has rolled out a dedicated catering delivery service for corporate clients, where company staff can place a combined order and have all meals dispatched together.
After temporary closings, more and more restaurants are taking online orders and doing deliveries now although by government quarantine requirements, they have to remain closed offline.
What entrepreneurs and investors can learn from the crisis is that they have to upgrade their service in order to stay in business once the crisis is over.
And they have to act quickly, Fan said.
A lot of them are really acting now. Immediately following the Politburo meeting, a few entrepreneurs, including Zhang Lan, former chairwoman of South Beauty, announced the setting up of a food service development fund called Easy Fund.
Early this week, the Shanghai-based Guoquan Shihui (zzgqsh.com), a specialized hot-pot and barbecue food materials supply chain with 1,700 branches covering three municipalities and eight provinces, announced it has successfully raised $50 million in capital.
More capital will flood into the food service sector in the coming weeks, Fan anticipated. He said he is also structuring a new fund with his partners in the industry.
"Health and convenience are never so important," he said.
A case in point would be that producers of frozen foods, such as frozen dumplings and noodles, have been doing extremely well during the crisis because of their generally higher hygiene standards and convenience for home cooking.
At the same time, sales of home cooking equipment, from digital bread ovens to new woks and rice cookers, have surged, giving rise to markedly higher home delivery demand for flour and butter. Online home cooking lessons and demos have skyrocketed on all apps.
In the next couple of years, the investments will help China raise its food production and logistics to a more advanced level.
The future trends will be on three levels. For the near-term though, the emphasis will be on more reliable and hygienic delivery.
For the mid-term, the emphasis will be on cleaner restaurants and central kitchen systems.
And for the long-term, the nation will have to build a food service industry able to withstand any future public health crisis.
Examples of those trends are abundant.
Starbucks has strengthened hygiene security for its delivery services and labeled it as "contactless", as the deliverymen do not touch the cups or food boxes and keep a safe distance away from the customers who take the meals.
The Chinese food service sector is a large industry. Figures from the industry association showed that in 2018 the nation had some 8 million restaurants, with a combined work force of nearly 30 million people. Most of them are small enterprises and easily affected by market uncertainties.
The industry is set to "recover quickly" once the epidemic ends, and the Ministry of Commerce is formulating more measures to support the sector, a ministry official said.
Indeed, pent-up demand for dining out will rebound as life comes back to normal.
But the demand may subtly change as people pay greater attention to hygiene and health. Therefore, the pressing task facing both industry players and policymakers is not only to withstand the crisis of the moment, but to seize the window of upgrading the industry for long-term prosperity.