China emerges as responsible, mature nation in outbreak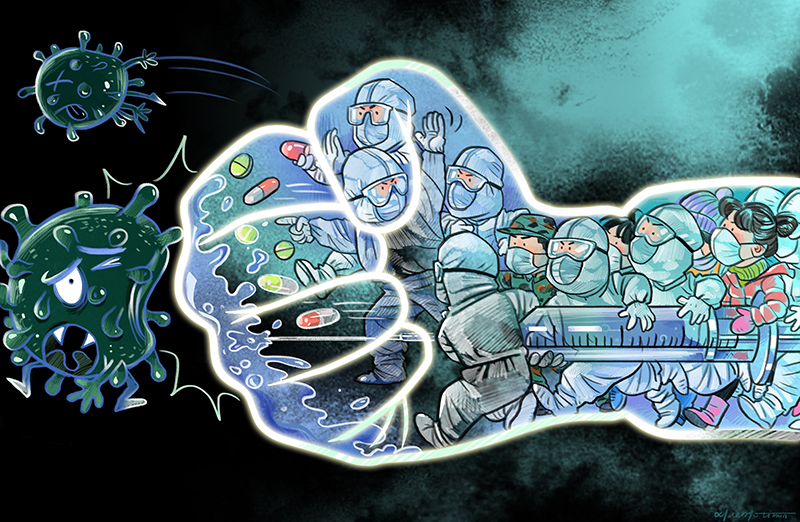 China is a mature state. It understands this carries global responsibilities. During the outbreak of the novel coronavirus, officially COVID-19, some issues have emerged as a result of bias and discrimination. Some individuals have published irresponsible remarks and shown their anti-China sentiment. But more sensible states and individuals have appreciated Chinese efforts to overcome the epidemic. They know if it is not contained, it can be a global disaster.
A sharp decline has been witnessed in the spread of COVID-19, as the number of new infected has been consistently limited to under 500. The fatality rate has also seen a big drop. It was not an easy task, as Wuhan, center of the outbreak, is highly populated and is a hub of education, agriculture and industry. The number of people traveling to and from Wuhan in ordinary circumstances was also enormous. Moreover, the outbreak occurred during the Chinese New Year celebrations. Traditionally, people travel back to their hometowns before the holiday to unite with their families for celebrations. Usually, millions of people travel during this time.
The Chinese government took this outbreak seriously, and strict measures were introduced. The city was sealed off. Travel in or out of Wuhan was controlled and monitored. Medical materials and health workers were mobilized from all over the country, and the People's Liberation Army was also involved, providing personnel and supplies. Infected patients were quarantined and kept in isolation to prevent the spread of the virus to others. Screening of suspects was increased and no stone was left unturned in identifying any infected. Hospitals were built on an emergency basis. Social media and digital technology were utilized to best of its level to fight against the epidemic.
It is the beauty of Chinese society that the public trusts the government and has not only followed these measures, but given its all to contain the outbreak. The government and the public have joined hands in fighting against COVID-19.
As China is an open country and the world's second-largest economy, the number of foreigners traveling to China for tourism, education, business or official and private visits number in the millions. These travelers can be carriers of COVID-19. But the Chinese government's strict measures have made it possible to prevent the outbreak spreading into other countries. Cases of COVID-19 have been detected in places like Japan, Korea, Iran and Italy, but they are small in number and can be kept in isolation to prevent further spread. China is helping other countries control the epidemic by supplying test kits, medicine and technical expertise.
The world should acknowledge China's ability to fight the epidemic and recognize its efforts in preventing its spread.
Zamir Ahmed Awan is a non-resident fellow at the Center for China and Globalization.
The opinions expressed here are those of the writer and do not represent the views of China Daily and China Daily website.
Most Viewed in 24 Hours
China Views