Foreign companies and JVs bullish on Chinese market
Share - WeChat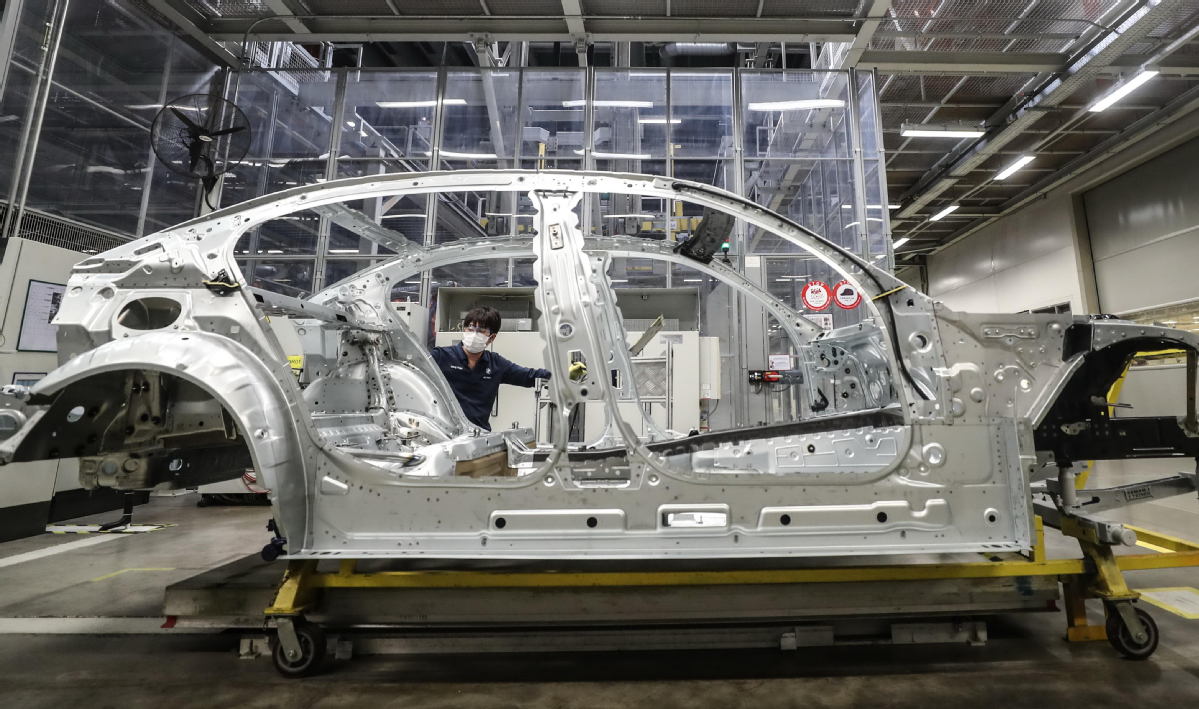 FDI from nonfinancial sectors rises 4% to $12.68b in January, show official data
Foreign-funded companies and joint ventures across the nation are demonstrating their confidence in the Chinese market as they gradually restart production amid the novel coronavirus epidemic.
Their confidence has been cemented by the Chinese authority's efforts in helping them address problems in investment, production and business operations.
Global machinery giant Caterpillar Inc restarted most of its Chinese operations on Feb 10, as per the direction of the Chinese government.
"Since beginning operations in China, Caterpillar has been impressed by the resilience of the people in this country and we are confident that China will persevere during this difficult time," said Chen Qihua, vice-president of China operations at Caterpillar.
"Be assured, the safety and wellbeing of our employees remain our top priority. We continue to follow government direction on remaining openings and assess daily to ensure the safety of our employees. We will continue to work with our customers and industry partners to build a better world," Chen said.
Zheng Qi, vice-general manager of Airbus Tianjin Assembly Co Ltd, said the company has seen up to 1,300 people re-join the production team after health checks. The company will continue with stringent health examinations and protective measures to secure the staff's health.
So far, up to 95 percent of foreign-funded companies in Tianjin resumed their production and businesses, said Zhou Lu, the deputy head of the local commerce bureau.
Delivering an important speech at a meeting in Beijing on Sunday, Chinese President Xi Jinping said major foreign investment projects should be well implemented, while the opening-up of finance and other services should be expanded.
The business environment should continue to be optimized to strengthen the confidence of foreign businesses in long-term investment and operations in China, Xi said.
The Chinese government has rolled out measures to facilitate foreign companies in smoothly resuming production and to restore their earnings strength.
A recent circular released by the Ministry of Commerce called on local governments to provide timely services to large foreign-invested projects under construction, optimize online government services, and coordinate relevant government branches and public utilities to ensure their supplies to foreign companies.
Zong Changqing, director-general of the commerce ministry's department of foreign investment administration, said although the epidemic will continue to affect the operation of both foreign and domestic companies in February and March, its impact on foreign investment will gradually ease once the virus is contained in the country.
"China's competitive advantage in attracting foreign investment has not changed," Zong said at a news briefing.
In January, foreign direct investment from nonfinancial sectors into the Chinese mainland rose 4 percent year-on-year to 87.57 billion yuan ($12.68 billion), data from the ministry showed.
Foreign automobile companies too have been busy with resumption of production. In Changchun, Northeast China's Jilin province, German auto major Volkswagen has started rolling out its Audi A6 models from production line on Feb 17. Gaby-Luise Wust, president of Audi China, said that all their dealers, partners and employees have joined hands to overcome current difficulties.
Echoing the sentiment, Jiang Xutong, the vice-director of Changchun Automobile Economic and Technological Development Zone Administrative Committee, said: "We have set up five service teams for auto producers here in the zone, helping to solve their difficulties 24 hours a day."
"I appreciate the government for providing protection and disinfectant supplies despite the shortage of supplies at this difficult time," Brian Cargille, the global head of Printing Operations and Media in HP Inc, said in a letter to Liu Wei, director of the Administrative Committee of the Weihai Hi-tech Zone, in East China's Shandong province.
To help companies resume production, Weihai has allocated personnel to help companies tackle each problem related to the resumption of production such as logistics and personnels.
Min Dongzhi, external relationship team director of LG Display High-Tech (China) Co Ltd, said he has confidence that his company will make up for the economic losses caused by the epidemic in the following months and meet the company's annual production target.
In general, the epidemic's impact is temporary since the Chinese government has sufficient policy space and maneuverability to boost the economy. The long-term positive trend of China's economy will also not change, Geng Shuang, spokesperson of Foreign Ministry said.
"We are confident in meeting economic and social development goals," he said.
Zhao Ruixue in Jinan, Liu Mingtai in Changchun and Zheng Caixiong in Guangzhou contributed to the story.