Self-driving buses to get a boost from Haylion
Share - WeChat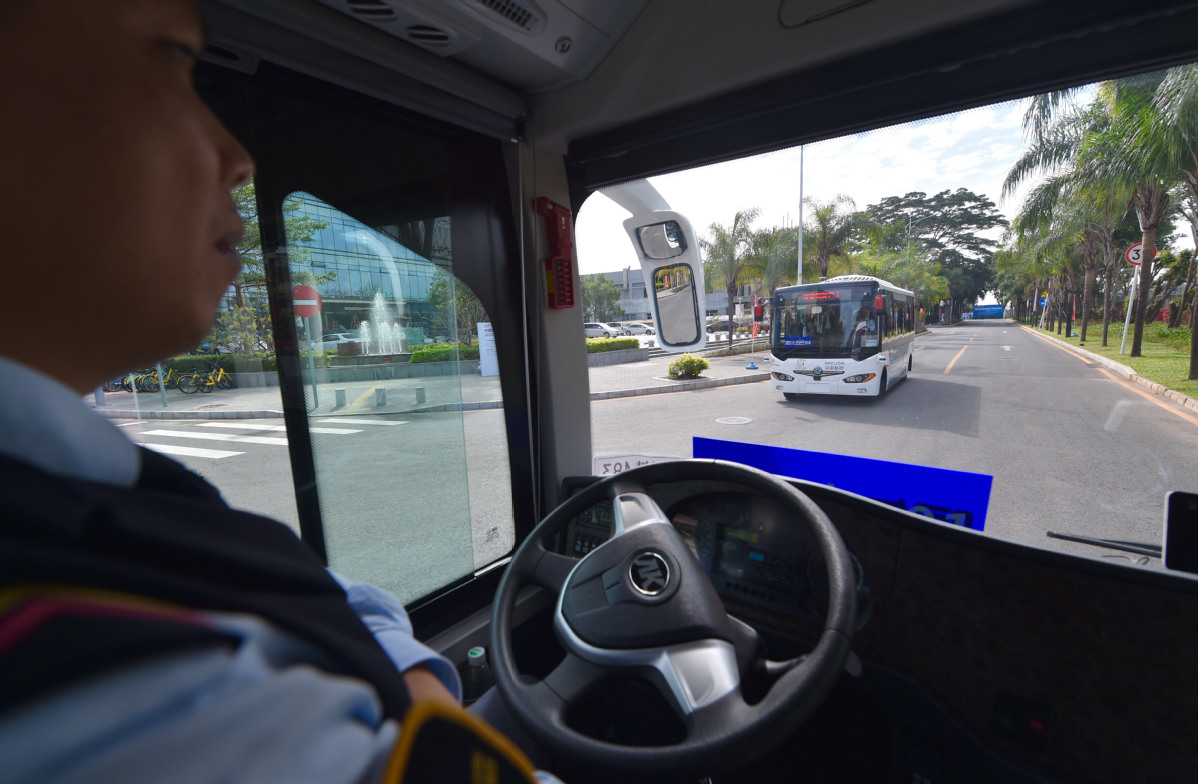 Shenzhen Haylion Technologies Co Ltd is poised to play a leading role in promoting self-driving vehicles in the country's public transport system as the traditional automobile industry grapples with the need to upgrade to become safer, more cost effective and environmentally friendly.
The tech company is working actively with transport departments from different regions on integrating intelligent driving technology with their buses.
"We want to promote commercial operation of the technology in the country. Therefore, we are working hard on that," said Mu Yi, vice-president of the company.
The company has established partnership with transport authorities in Shenzhen, Wuhan in Hubei province and Qingdao in Shandong province, and is in talks with many other Chinese cities.
"We will do trial operations in the first-tier cities and then expand the successful experience to others," Mu said, who specified that Hefei in Anhui province and the Macao special administrative region will be among the next targeted regions.
Haylion's initiative comes at a time when China is making great efforts to reshape the traditional automobile industry as part of a broader push to promote transformation and upgrade of its manufacturing industry.
Haylion, along with tech giant Baidu and artificial intelligence company DeepBlue Technology, in September obtained the commercial license for autonomous driving which was issued by the transportation department in Wuhan. This marked a major step toward commercial operation of the new mode of transportation.
Other Chinese cities such as Beijing, Shanghai and Guangzhou have also issued policies to allow self-driving vehicles to conduct road tests to carrying passengers.
Haylion made a splash in December 2017 when it officially launched the world's first intelligent driving bus at its Shenzhen headquarters.
Equipped with artificial intelligence sensors, the driverless bus known as Alphaba is able to analyze road conditions and take correspondent reactions on items such as speed reduction, emergency stops when it detects pedestrians, or when sudden incidents happen.
The company did not produce the vehicle, which was from Shenzhen Bus, but equipped it with its self-developed intelligent system.
So far, Alphaba has traveled an accumulated 45,000 kilometers on roads.
Mu said the company has not profited yet from its initiative without disclosed how much it has lost, but claimed they expect to break even this year.
The projection is based on its intelligent travel service, another focus of its business. The company is going to launch MaaS app, which integrates bus, metro, shared bikes and other types of public transport into one platform to help passengers make the most economical and effective travel choice through big data analysis.
A report by Shenzhen-based market research firm Zhongtou Consultants said the market size of intelligent driving in China is expected to reach 238.1 billion ($34.1 billion) yuan in 2023, representing an annual growth rate of 20.6 percent from 2019 to 2023.
Liang Zhenpeng, a senior industry analyst, said however that development of intelligent driving industry is still in its early stages.
"The government has so far taken a cautious attitude toward the emerging industry, given great uncertainties such as the ability of handling complicated road conditions," he said.
"While 5G technology, which features low latency and fast speed, will help with the industry's development, the mobile network is still far from being fully covered. There is still a long way to go before intelligent driving can achieve widespread application."