Companies transforming factories to make masks
Share - WeChat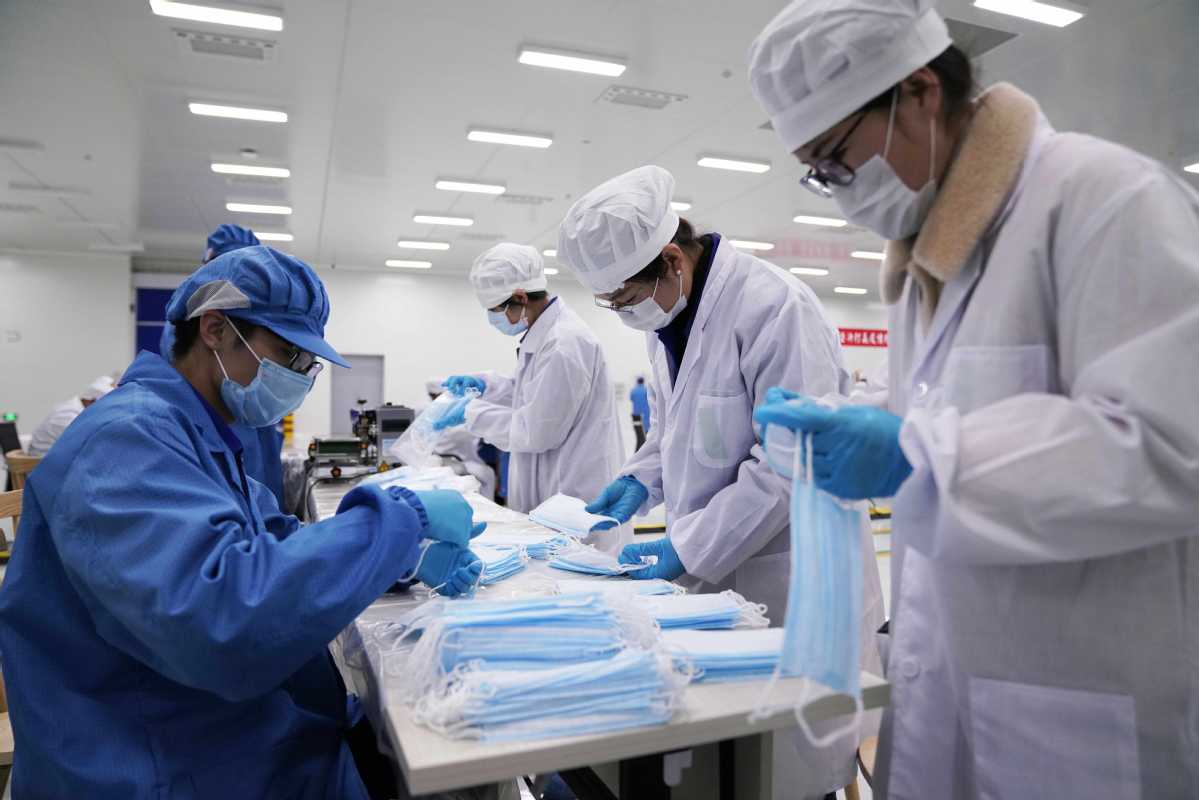 As the fight against the novel coronavirus outbreak intensifies, some Chinese companies that have nothing to do with medical supplies have revamped their factories to churn out masks, the most-needed "weapon" for the public's defense.
Under strict standards, local automobile makers, smartphone assemblers and producers of baby care products have purchased new production lines or transformed part of their existing, dust-free assembly plants overnight to produce crucial medical supplies. They are working around the clock to help meet the surging demand for masks and other medical goods in China.
For instance, Foxconn Technology Group, the world's largest contract electronics manufacturer and a key Apple supplier, said a unit of the company has purchased production lines in an industrial park to produce masks and is rapidly applying for the certificates needed to make the medical goods.
Trial production began on Feb 5, the company said in a statement. By the end of February, its daily production volume of masks is expected to hit 2 million. These masks will first be used to meet the demand of its own employees and, if possible and necessary, can also be provided to the public later.
Similarly, smartphone vendor Oppo said it has sent a group of employees to help mask factories accelerate production. The Guangdong-based company also plans to make masks at its own plant to help meet the massive demand.
Some makers of baby care products are also joining the push to expand production capacity. In Fujian, workers at diaper manufacturer Daddy Baby are busy working on producing masks.
Since Friday, the first production lines have been able to provide 700,000 masks per day, said Lin Yanting, deputy general manager of Daddy Baby. "Daily output can reach 3.5 million by the end of March with expanded production lines," Lin added.
"We believe each mask we produce may save one more person," said Lin.
In order to get new mask manufacturing equipment as soon as possible, some companies are turning to railway authorities for help. Harbin Pharmaceutical Group Holding Co, a pharmaceutical company better known as Hayao, has purchased two N95 face mask production lines from Shenzhen, Guangdong province.
"According to regular procedure, the equipment should be transported by cargo train, which needs at least five days," said You Junping, director of China Railway Harbin Group's passenger transportation section. "But to reduce time, we decided to load the cargo in a passenger train linking the two cities."
On Feb 7, a train carrying the equipment arrived in Harbin, Heilongjiang province, in just 34 hours.
"One production line has been assembled overnight in our factory," said Sun Jintao, director of equipment management at Hayao. "It started production on Feb 10, with a daily output of 20,000 medical surgical masks, 30,000 N95 masks and 600 protective suits."
With existing dust-free plants, carmakers are also eager to help address the shortage of masks. In Liuzhou, Guangxi Zhuang autonomous region, four production lines have been put into use, with a daily output of 500,000 masks after reconstruction in a 2,000-square-meter, dust-free workshop at SGMW, a joint car venture of General Motors and Liuzhou Wuling Motors founded in 2002.
An additional 11 production lines, including some for N95 face masks and others for surgical masks, will be put into operation by the end of February.
Daily output can reach more than 1.7 million, which will greatly help relieve the shortage of medical supplies in Guangxi for epidemic prevention and control.
The efforts to ramp up the output capacity for masks come as China is in greater need of medical equipment to prevent further spread in the country of the novel coronavirus.
As of Monday, China reported more than 72,400 confirmed cases on the Chinese mainland.
With most companies resuming work, millions of employees will go back to cities, and the demand for masks will continue rising.
There also is an urgent need for more disinfectant. Shenzhen-based carmaker BYD said one of its units has started producing disinfectant. By the end of the month, it will be able to produce 50,000 bottles of disinfectant per day, and its daily output of masks can hit 5 million.
Lian Weiliang, deputy head of the National Development and Reform Commission, said at a recent news conference that enterprises need not worry about overcapacity after the epidemic.
"The government will purchase the remaining masks as a reserve," he said. "As long as those enterprises meet the production standards, they can start at full capacity."
As of Feb 11, capability for production of masks in China had been restored to 94 percent of the normal level, according to data from the country's top economic regulator.