Aerosol transmission should prompt precautions, not panic
Share - WeChat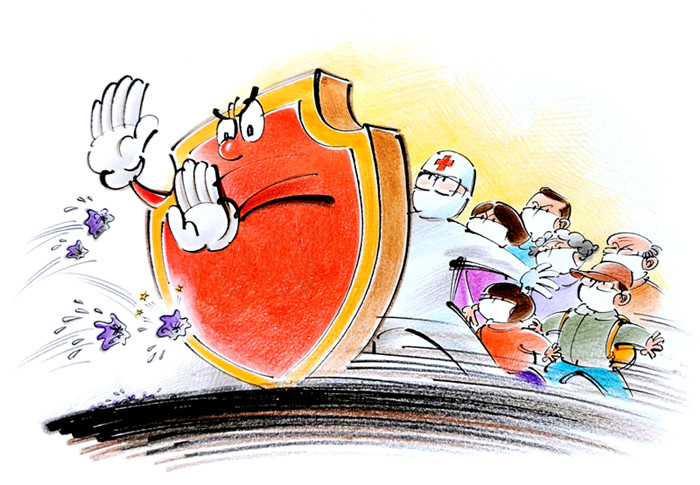 At a news conference of Shanghai authorities on Saturday, local experts said that the novel coronavirus can be transmitted by aerosolized respiratory secretions under certain circumstances apart from other channels of transmission. This has not been confirmed by the Chinese Center for Disease Control and Prevention.
By definition, aerosols are suspensions in air (or in gas) of solid or liquid particles that due to their small size have a low settling velocity and so remain airborne for prolonged periods. The particles are bigger than gas molecules but smaller than dust particles, so they neither move randomly like the former nor fall quickly to the ground as the latter do. They just float in the air for quite some time.
Coughing or sneezing generates a substantial quantity of tiny particles that are less than 0.1 millimeter in diameter. These spread bacteria and viruses over a wider area than droplets, which are about 1 to 5 millimeters in diameter. An aerosol can travel tens of meters, while droplets usually only travel about 1 to 2 meters.
The World Health Organization has pointed out the aerosolized transmission of influenza viruses through sneezing, spitting, even breathing, talking and flushing the toilet without covering it might all spread a virus from one person to another.
That is why we must be on higher alert now that aerosol transmission of the new coronavirus may be a possibility. However, there is no need to panic about this because aerosol transmission has its weakness, too.
With the elapsing of time, aerosol suspensions of viruses gradually become inactive and disperse. Aerosols generally persist longer in enclosed spaces where there is limited air flow. In natural environments, wind and water can concentrate smaller particles into bigger ones which accelerates the dispersal of the aerosolized virus.
Indoors, the best way of getting rid of aerosols is to maintain a flow of air. And it is believed that the decay of virus infectivity increases rapidly at relative humidity of greater than 40 percent.
But while it is necessary to be on high alert to the novel coronavirus after the confirmation of aerosol transmission, there is no need for panic. People should be sensible and take the advised precautionary measures.
-SUN SIQING, A DOCTOR AT THE RESPIRATORY DEPARTMENT, NANJING CHEST HOSPITAL
Most Viewed in 24 Hours
China Views