Speech by H.E. Ambassador Liu Xiaoming at the HSBC Chinese New Year Lunch: Gather Our Confidence to Deliver Abundant Outcomes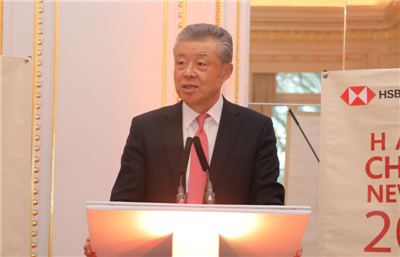 Chairman Mark Tucker,
Minister Wheeler,
My Lords and MPs,
Ladies and Gentlemen,
Dear Friends:
Good afternoon!
It is a real delight to join you at the HSBC Chinese New Year celebration ten times in a row. Let me begin by extending my Chinese New Year greetings to all of you present today. I wish you a healthy, happy and prosperous Year of the Rat!
In the Chinese culture, rat is sharp-witted and keen-eyed. In a world which is undergoing profound changes unseen in a century, we do need a keen eye to have a clear understanding of the major trend of our times and seize the opportunities so as to create a better future.
At my first HSBC Chinese New Year Lunch in 2011, I said, "I like your Chinese name, Hui Feng, very much. Hui means to gather the best together and Feng means abundant harvest."
In the past ten years, HSBC has indeed harvested fruitful outcomes. As the largest foreign-owned bank in China, HSBC has witnessed China's deepening reform and further opening up. It has benefited from China's sustained economic growth. And it has taken part in and contributed to the mutually-beneficial cooperation between China and the UK.
In 2019, HSBC was named the Best Overall International Bank for the Belt and Road Initiative (BRI) in the Asiamoney New Silk Road Finance Awards for the second time. I would like to extend my warm congratulations to you.
Ladies and Gentlemen:
In the past year, amid downward pressure on the world economy, slowdown in international trade, and increasing instabilities and risks, China continued to deepen reform and open wider to the world, and its economy maintained steady growth. Let me use three key words to summarise China's overall performance. They are "steady, concrete and substantial".
First, China's economic growth was steady.
China's economy has maintained a mid-to-high growth rate. Household income has kept pace with economic growth.
In 2019,
China's economy grew at 6.1%, much higher than the world average and the highest in the trillion-dollar club.
Total GDP stood at about 100 trillion RMB yuan, and per capita GDP crossed the $10,000 line.
Average disposable income increased by 5.8%, almost keeping pace with GDP growth.
13.52 million jobs were created in urban areas. We have maintained annual job creation of more than 13 million for seven years in a row.
Foreign trade increased in both quantity and quality. Exports and imports in goods were up by 3.4%.
Despite a sharp fall in overseas investment around the world, paid-in foreign investment in China increased by 6% year-on-year in the first 11 months of 2019. This was expected to exceed $130 billion for the whole year.
Second, China's opening-up measures were concrete.
China has opened up more regions and more sectors at a deeper level.
The second Belt and Road Forum for International Cooperation and the second China International Import Expo were successfully held in China.
A number of new pilot free trade zones were set up, including an extension to the China (Shanghai) Pilot Free Trade Zone.
Opening-up policies were rolled out in banking, insurance and financial services.
The Foreign Investment Law and its implementing regulations took effect on January 1st this year. This will cut short the negative list for foreign investment and strengthen legal protection of the rights and interests of foreign investors, especially IPR.
According to the World Bank's Doing Business 2020 report, China's "ease of doing business" ranking rose to 31 in 2019, up by 15 places over the previous year.