Sideline jobs a growing business for younger generations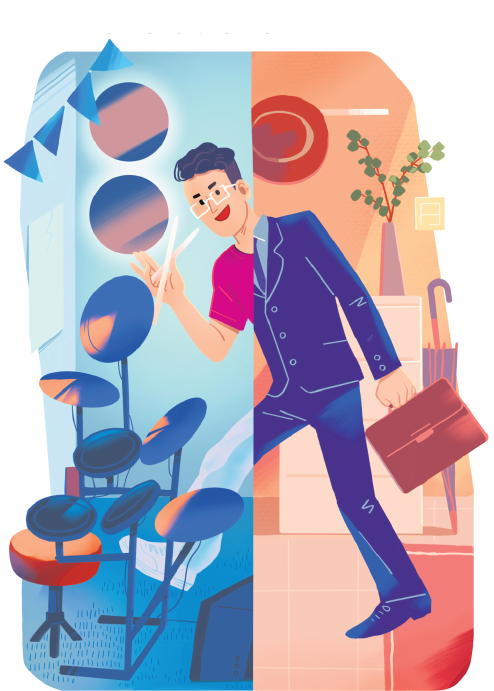 LIANG LUWEN/FOR CHINA DAILY
Many Chinese residents benefit from the extra income. Zhang Yi reports.
Having a stable job to make a living and another "sideline" job to earn extra money has become a fashionable lifestyle for younger generations.
The development and popularity of the internet has generated occupations that are especially unlimited in space and time. With a lower barriers to entry, these businesses allow more people to make quick cash.
Qiu Xiaoai works in the purchasing department of a State-owned company that produces bus carriages. Her everyday work includes buying machine parts from suppliers according to instructions from her superior.
At night, Qiu likes watching TV in her bedroom, while selling makeup on WeChat. She posts advertisements via social media, chats with her potential customers and packages the makeup she sells for delivery the next day.
"I work routinely like a machine during the day time, but I get excited while doing my own business. I feel energetic even if I need to do a sideline after work," the 25-year-old makeup seller said.
About 8.2 percent of people have a sideline income, according to a report last year by Zhaopin, a Chinese online recruitment service provider. The report was based on a questionnaire survey of 22,000 white-collar workers.
WeChat business, design and writing are the top three sideline job categories that white-collar workers favor, accounting for 26.8, 16.7 and 10.8 percent of survey respondents who have sidelines, the report said.
Seller on WeChat, which promotes products by posting advertisements on the WeChat Moments and sells them to users' friends, is the most popular avocation. It is easy to get started and flexible in time and location, as well as a good way to make quick cash, the report said.
Second to WeChat business are design and writing, which have no space and time limitations and a good market demand. Other popular avocations include private tutoring, insurance sales, photography and translation, it said.
The report also lists some emerging side jobs, including mobile gaming, mobile applications programming, tea art performing and designated driving. The report said that as long as one has expertise in a technology or talent, it's possible to develop that expertise into a second career.
Early last year, Zheng Qinghua, a 28-year-old mobile game enthusiast, developed a way to earn some pocket money-accomplishing mobile game tasks for others and helping them pass game levels. He got paid between 20 ($2.90) to 50 yuan in return for each client.
Zheng is a skilled player of the hit mobile game Arena of Valor and has passed more levels than his friends. Once, a friend of Zheng failed many times in a certain task and asked him to help him pass it. Zheng helped the friend and he got 20 yuan as a "thank you" gift from the friend.