Augmented reality glasses on the verge of realistic adoption
Share - WeChat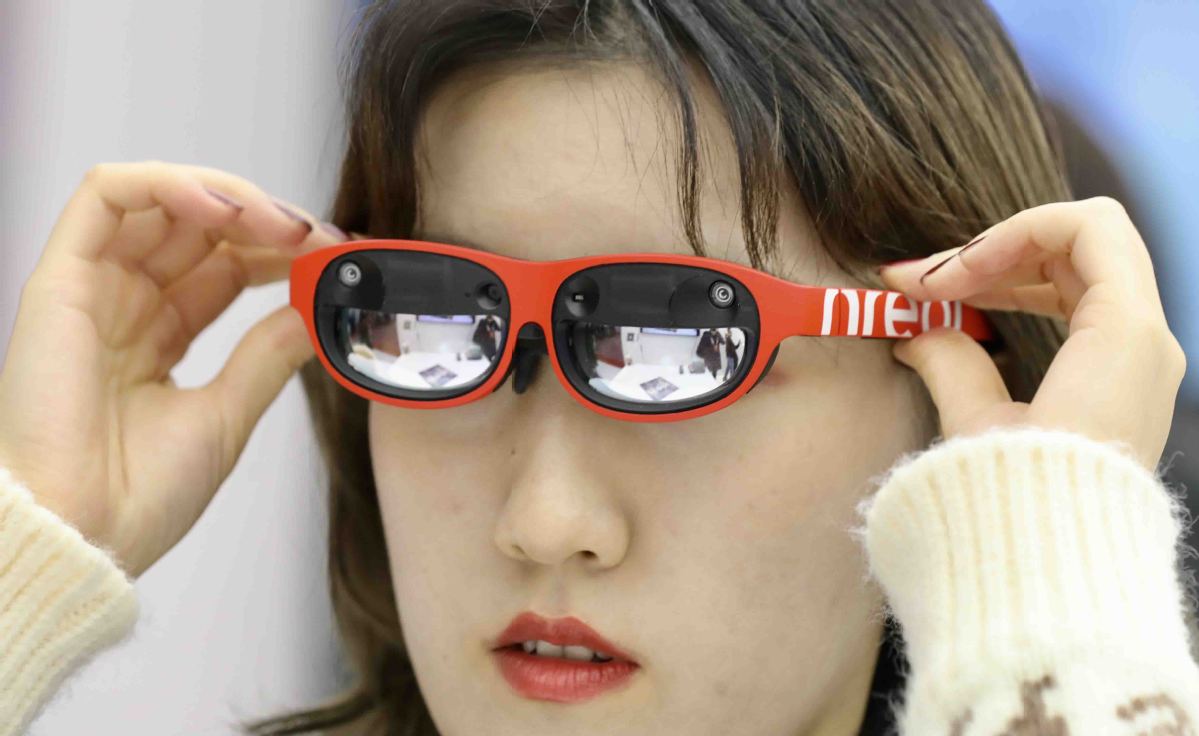 The CES 2020 show was one of the largest technology conference shows the world has seen and, this year, a surprising piece of technology stole the spotlight; a Chinese company called Nreal unveiled its augmented reality glasses.
The concept is not new; there have been many attempts to make the once sci-fiesque concept a reality in the past. Most notably, technology giant Google attempted its version of the futuristic concept in the form of Google Glass, but with much less critical success.
Western social media giant Snapchat also released its version in 2017, to a lukewarm reaction.
The Nreal Light glasses on the other hand, superimpose computer graphics over a real-world view in a realistic and useful manner, a realization of augmented reality that was lauded by many critics at the CES show.
The reception was a telling sign that the technology may be on the verge of breaking into mainstream acceptance and utility.
Despite the positive reaction, it is not going to be plain sailing for Nreal, with rival AR company Magic Leap suing the company for alleged copyright infringements.
Magic leap has accused Nreal founder Xu Chi of "blatant copying", and attempting to take a free ride off confidential blueprints as well as the overall image of its product, and Magic Leap's business model.
It is claimed that all this was made possible by the damning fact that Nreal founder Xu Chi worked at Magic Leap for a period of time and would have allegedly had access to sensitive information. The litigation process continues.
The sea of litigation that innovators have to wade through is an issue that is not esoteric to the AR industry. It is typical of many cutting-edge industries, with Samsung, Microsoft, and Apple all locked in constant Game of Thrones style copyright legal disputes regarding their various smartphone innovations.
However, in emerging industries such as AR, where smaller start-ups are vital in providing a healthy ecosystem of innovation, such constant legal conflict is something that hampers the industry because companies siphon resources away from creating exciting products to finance legal trench-warfare.
Despite the bickering, many will be wondering whether AR glasses have a legitimate chance of becoming widely adopted. The concept certainly makes sense. The success of products such as Apple Watch, which combines digital and cellular capabilities with a wearable and convenient format, has led to the sale of more than 30 million units per year.
Once seen as a tech pariah reserved for the strange, such watches have now reached a status where they are considered fashionable.
This precursor to AR glasses indicates that companies such as Magic Leap and Nreal may indeed have a bright future.
Human beings are naturally visual creatures, and combining voice interfaces and search functions with our immediate eyesight seems to be a logical progression for our consumer technology needs. Even primarily voice-activated devices, such as the Google Smart Hub and Amazon Echo Show, now have screens. It is easy to imagine that, in 20 years' time, AR glasses, or even AR contact lenses, could become a staple of our day-to-day lives.
Combining AR with AI then seems to be the next logical step. Imagine looking at an object, and the system automatically target-locking the item and offering information regarding it downloaded from the internet, gliding across your cornea as unobtrusive informative text, all in real time.
However, for now all of this is still far off. The foundations though, for such a future, are already starting to layer with increasing sophistication. The evolution of AR is unfolding before our eyes, and for all the corporate drama, failed and poorly received products, and controversy, one thing is for certain. Innovation is never a straightforward road but it is one that always moves forward.
Most Viewed in 24 Hours
China Views