Education helps in enhancing cultural bonds
Share - WeChat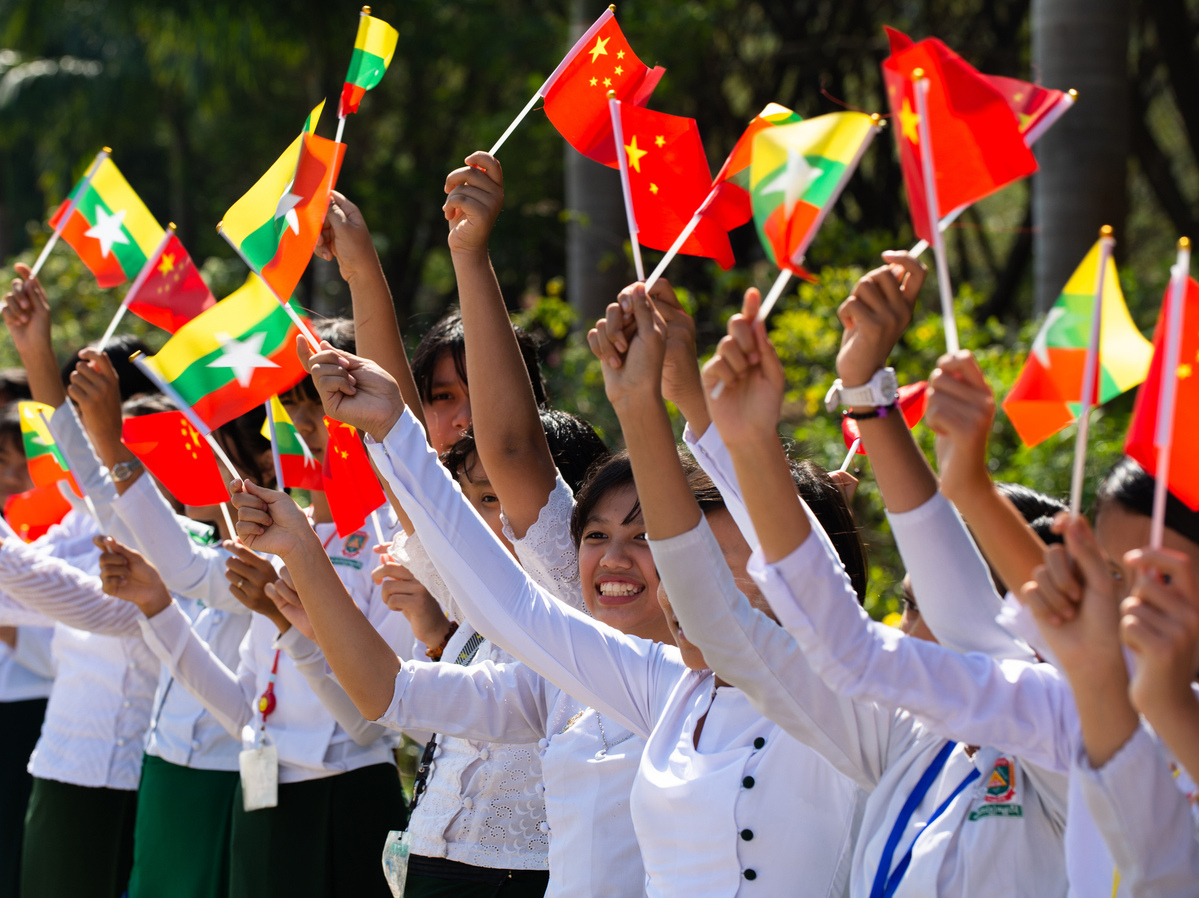 The Chinese language is not strange to Tangbau Hkawng Lum, who lives in the border between China and Myanmar, where it is frequently used in doing business in the area. To him, however, learning the language and becoming a skilled Chinese teacher still requires constant passion as well as sustained effort.
Yearning for China and Chinese culture, the 25-year-old, who lives in Myanmar's Kachin state and majored in English at university, took a six-month course to study Chinese at a night school in his senior year in 2014, and then graduated one year early to apply to study in China.
"I'm interested in Chinese culture, especially in Chinese cuisine and martial arts", Hkawng Lum said, adding that he is also curious about the country's economic development, modern cities and the culture of different ethnic groups.
In explaining the reasons he has chosen to be a Chinese teacher, Hkawng Lum said that many students in Myanmar like to learn Chinese but the country does not have enough teachers of the language.
In 2015, he enrolled in Yunnan Minzu University to study for a master's degree in teaching Chinese as a foreign language.
About 1,000 students from Myanmar currently study in Yunnan, according to the province's education department.
The department said it is actively promoting vocational education cooperation in the fields of transportation, agriculture, electronic information and teacher training with Myanmar.
The province also encourages and supports exchanges between universities from both sides, the department said.
During his time at university, Hkawng Lum spent his vacations teaching Chinese as a volunteer at a school in Kachin state for three years. After graduating in 2019, he became a full-time teacher of Chinese at the school.
"I like to share what I have learned with them," he said. Besides the language itself, Chinese culture, such as the dances of ethnic groups, tai chi and Chinese food are also included in the curriculum.
In 2018, there were fewer than 100 students of Chinese at the school, but the number increased to nearly 380 last year, surpassing students of English, according to Hkawng Lum.
"Chinese has become more international and more people are using it," he said, adding that for those who live at the border, it is a practical language.
"Although we live in different countries, we share similar culture and customs and maintain close communications," he said.
He added that he thinks he and his students could act as envoys of friendship between Myanmar and China, and spread more knowledge about China among people in his country.
Ei Yadanar Aung, however, thinks another way. She says that she could do more to spread knowledge of Myanmar among people in China.
Majoring in radio and television studies at Yunnan Minzu University, Ei Yadanar Aung has been focusing on shooting videos of Myanmar students in the university town in Kunming, capital of Yunnan. Through her camera, people can learn more about the differences between local and Myanmar students.
"Myanmar people have access to information about China in many ways", the 20-year-old said. However, she added, Chinese people's knowledge about Myanmar remains limited and inadequate.
Ei Yadanar Aung is now preparing a video for her graduation that introduces how Chinese people in Myanmar celebrate Spring Festival.
She said she hopes Chinese people will be more interested in Myanmar after seeing her videos.
She added that she will shoot more short videos about Myanmar and post them on social media platforms such as TikTok, using the popular platforms to increase the knowledge of her Chinese friends about her home country and reduce misunderstandings caused by cultural differences.
In 2004, China and Myanmar signed a memorandum of understanding on education cooperation. There are approximately 10,000 Myanmar students studying in China, according to Myanmar Ambassador to China Myo Thant Pe.
Both sides have been accelerating the momentum of exchange programs in the area of culture and people-to-people communications, the ambassador said.
Pan Feng, a counselor of the Chinese embassy in Myanmar, said that China's rapid economic development, its historical and cultural environment and its openness have attracted Myanmar students to study in the country.
As an important part of the cultural exchanges between China and Myanmar, there is great potential for bilateral education cooperation, Pan said.
Through in-depth understanding of each other's history and culture, foreign students can help promote mutual understanding and friendship and provide powerful talent for economic and cultural exchanges between the two countries, he said.
This will have an influence on bilateral economic cooperation such as the Belt and Road Initiative, the construction of the China-Myanmar Economic Corridor, and tourism and cultural exchanges, he added.