Report shows climate is world's biggest risk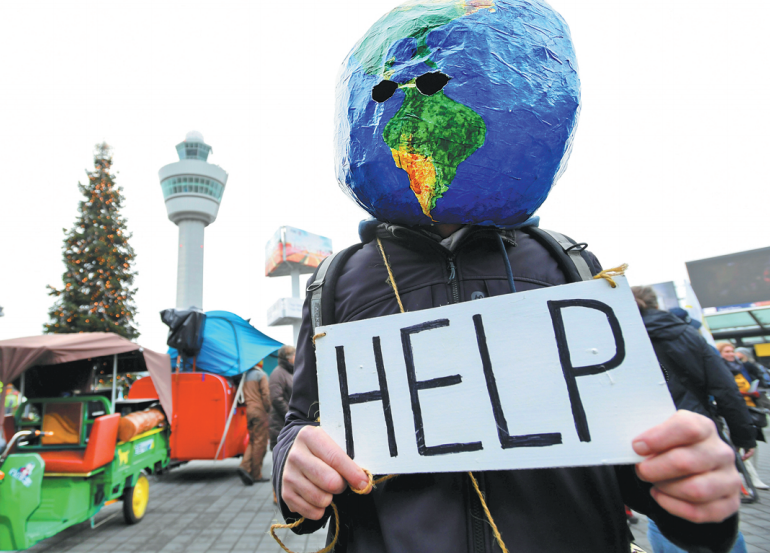 Concerns published ahead of Davos World Economic Forum next week
Economic and political polarization will increase this year, according to a report by the World Economic Forum that was published on Wednesday.
And the report says severe climate disasters will pose the biggest threat to the world during the coming 10 years.
For the first time in the 15-year history of the World Economic Forum's Global Risk Report, the top five global risks in terms of likelihood of occurrence are dominated by the environment.
The report writers interviewed more than 750 global experts, decision-makers, business leaders, and representatives of NGOs to rank their biggest concerns in terms of likelihood and impact.
The study found 78 percent of respondents expect "economic confrontations" and "domestic political polarizations" to rise in 2020.
"This would prove catastrophic, particularly for addressing urgent challenges like the climate crisis, biodiversity loss, and record species decline," the report said.
The survey was released ahead of the annual World Economic Forum in Davos, Switzerland next week, which will be attended by world leaders, investors, and CEOs.
Issues of concern among the respondents include extreme weather events, the failure of climate change mitigation and adaptation by governments and businesses, human-made environmental damage and disasters, major biodiversity loss, and ecosystem collapse.
Major natural disasters, including earthquakes and tsunamis, could also affect the global economy in 2020, according to the report.
The WEF warns that, without urgent attention directed toward repairing societal divisions and driving sustainable economic growth, leaders will not be able to systemically address threats, including climate change or lack of biodiversity.
Borge Brende, president of the World Economic Forum, said: "The political landscape is polarized, sea levels are rising and climate fires are burning. This is the year when world leaders must work with all sectors of society to repair and reinvigorate our systems of cooperation, not just for short-term benefit but for tackling our deep-rooted risks."
The WEF also quizzed the "younger generation", those born after 1980, who ranked environmental risks higher than other respondents in both the short- and long-term. Those respondents believe extreme heat waves, destruction of ecosystems, and health impacted by pollution will all be problems this year. And they also believe the impact from environmental risks by 2030 will be more catastrophic and more likely than they are today.
Peter Giger, group chief risk officer at Zurich Insurance Group, which helped to compile the report, warned of the urgent need to adapt faster to avoid the irreversible impacts of climate change and urged more to be done to protect the planet's biodiversity.
"Biologically diverse ecosystems capture vast amounts of carbon and provide massive economic benefits that are estimated at $33 trillion per year-the equivalent to the GDP of the US and China combined. It's critical that companies and policymakers move faster to transition to a low-carbon economy and more sustainable business models," Giger said.