Fuel cell vehicles key to NEV sector
Share - WeChat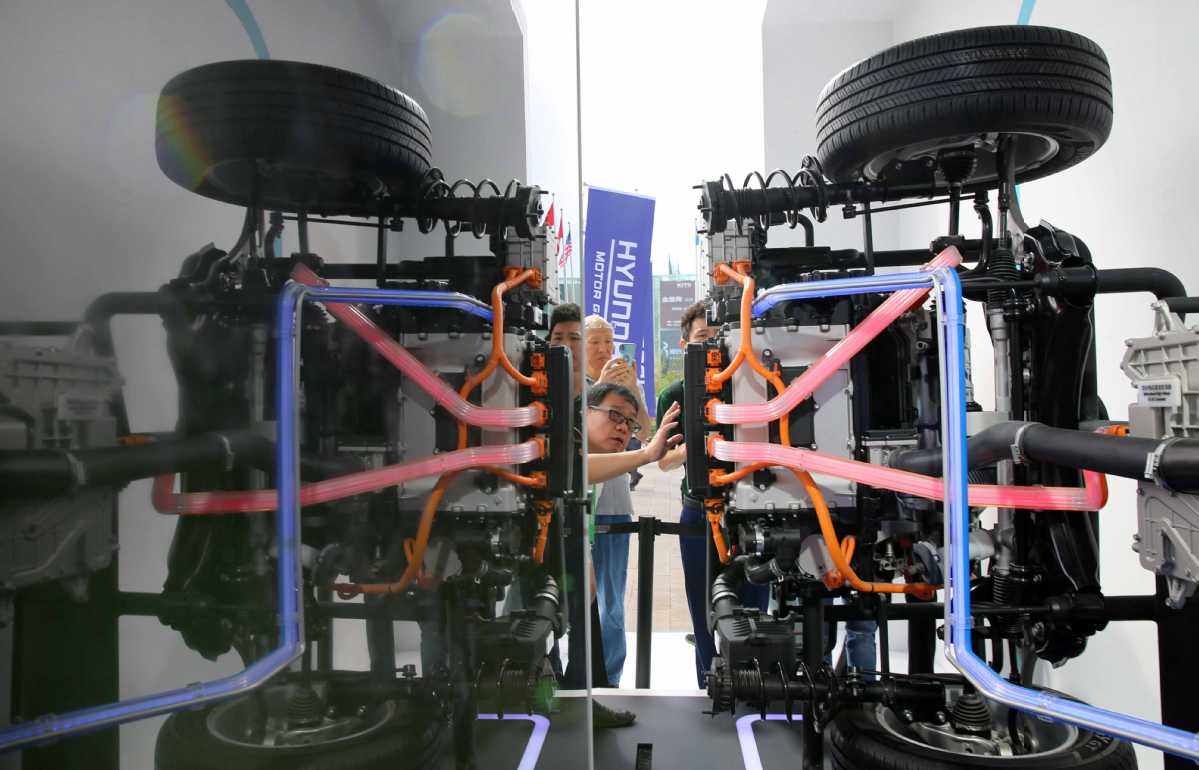 New models part of country's green efforts and will not replace electric cars, says official
Fuel cell vehicles are expected to play a role as important as electric cars in China's new energy vehicle blueprint and the two will coexist for a long period of time, a senior official said.
"Each of them has their positions in the market and they will not replace each other," Wan Gang, president of the China Association of Science and Technology, said at an industry forum on Saturday.
Wan, the country's former minister of science and technology, is the chief architect of the new energy vehicle initiative in the country a decade ago.
China is now the largest market in the world for both of them.
By the end of 2019, China had around 3.8 million electric cars and plug-in hybrids on its roads, said the Ministry of Public Security. Wan said fuel cell vehicles in the country numbered around 4,000.
Wan stated electric vehicles are a prime choice for private rides inside cities, while fuel cell ones are a better option for long-distance heavy duty commercial vehicles, buses and logistics vehicles.
Compared with electric cars, fuel cell vehicles, which mix hydrogen and oxygen to power electric motors, have a shorter refill time and longer driving ranges. They do not generate pollution since the only by-product is water.
Due to their appeals, fuel cell vehicles were included in the central government's report in 2019 and a growing number of local authorities and companies have shown great enthusiasm for the sector.
Zhang Xiaoming, a senior executive at the China Center for International Economic Exchanges, said hydrogen is a source of energy and fuel cell vehicles have great potential. But he urged local authorities and companies not to rush to prevent vicious competition and repetitive construction.
As the chief author of the book Research on China's Hydrogen Industry Policy, he said last week there are conditions to start commercialization of the segment in the country. Around 1,500 units were sold in 2018 and another 1,100 units delivered in the first half of 2019.
Despite the number, he added that hurdles exist in such aspects as producing core parts including compressors, building hydrogen stations, and establishing effective business modes.
There are around 130 hydrogen stations which have been completed or are under construction. Operational stations are currently around 50, said Wan.
China's experience in developing the electric vehicle segment can benefit the fuel cell vehicle segment because current problems are basically the same as when the country started its initiative to promote electric vehicles a decade ago, Wan said.
"It is no doubt that hydrogen is strategically important, but the technological hurdles and exorbitant costs have been global challenges. The key lies in innovation," said Ouyang Minggao, a professor of automobile engineering at Tsinghua University.
He said considering current technological progress for a driving range of 500 kilometers, fuel cell vehicles will be more expensive than electric cars by 2025.
Yet many countries expect their sales to accelerate within 10 years. China has set a goal to have 5,000 such vehicles on its roads by this year, 50,000 by 2025, and 1 million by 2030.
The United States expects its number of fuel cell vehicles to reach 5.3 million by 2030.
Many carmakers are investing in the future technology while others are not as keen.
Great Wall Motor Corp Ltd, the first Chinese member of the Hydrogen Council, said its premium brand Wey will release its first FCV in 2020 and start mass production in 2022.