Audi intends to learn from startups in EV marketing
Share - WeChat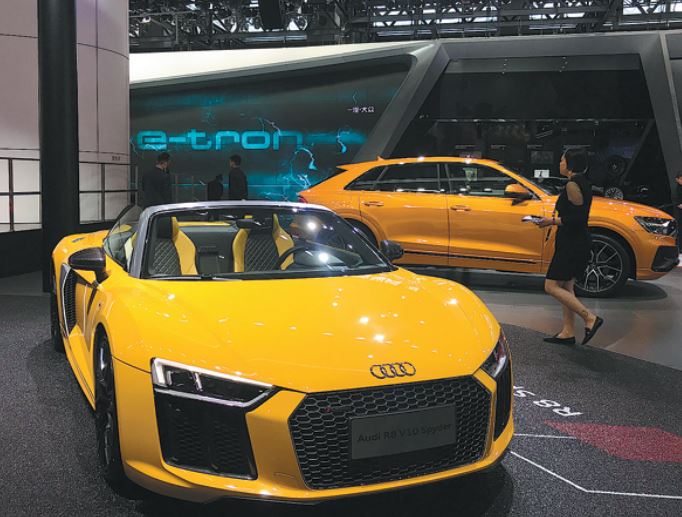 Marketing electric vehicles is a new and challenging job for traditional carmakers and they should learn from startups including Tesla and Nio, said a senior executive at German premium brand Audi.
"We had a lot of meetings to work out plans for our e-tron SUV because it is different from conventional models in marketing, service, maintenance, and warranty and the need to install charging poles," said Lu Yi, executive vice-president of Audi China.
The e-tron is Audi's first electric SUV, which hit the Chinese market with the China-made electric Q2L SUV in early November.
They marked the start of Audi's electrification campaign in the country. Lu said it will have 9 electrified models by 2021 in the Chinese market.
"Entering the electrified vehicle segment is a challenge for traditional carmakers, especially in terms of marketing. It is something we are still learning. We have a lot to learn from new players, including Tesla and Nio," Lu said.
Both Tesla and Nio have loyal fans. Some Nio users did commercials for the brand out of their own pockets in 2019 and others paid for a booth to showcase Nio vehicles at a car show in Macao.
Lu said Audi is considering different means to offering chances for potential customers and fans to experience the electric models.
China's new energy vehicle market is experiencing its hardest time in a decade.
Its sales in 2019 totaled 1.21 million, down from 1.26 million in 2018.
Some industry insiders expect the market to reach full competition in coming years as subsidies are cut, but more choices are emerging from both traditional carmakers and startups.
Premium carmakers have battled neck-and-neck for customers. Audi, with its sales totaling 688,888 in 2019, lost its 30-year annual sales crown in China.
Mercedes-Benz delivered 693,443 as the most popular brand, while BMW was the best-selling company, selling 723,680 cars under its namesake brand and MINI.
Lu said the rankings shuffle is not a big deal because of the relatively small gaps of separation.
"Such a difference in sales volumes says little when there is an all-out war involving all product segments and covering tier one to tier four cities," he said.
Lu expected the premium vehicle market to keep going in 2020. "It is sure to grow, but how much it will grow is hard to say," he said.
In the long run, premium brands will focus on their own most competitive edge instead of trying to compete in every aspect.
"It is impossible to focus on everything," Lu said.
"For us, we will continue to focus on what we have put in our brand slogan: Vorsprung durch Technik (progress through technology)."