It is time for Washington to change course
Share - WeChat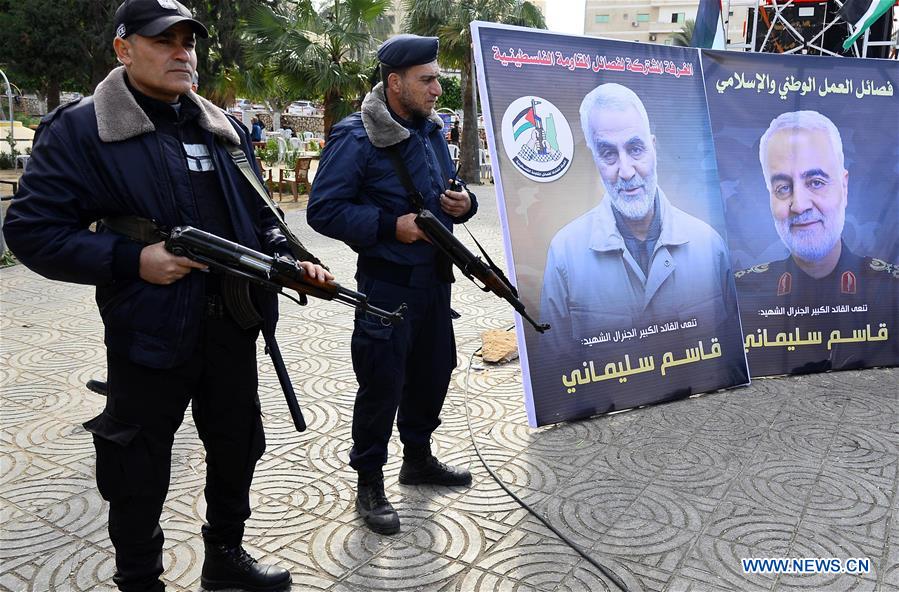 The epic World War I movie 1917, which won Golden Globe's Best Motion Picture this week, tells the story of two young British soldiers on an impossible mission to deliver a message deep in enemy territory to stop 1,600 fellow soldiers from walking into a deadly trap.
For many people, especially Europeans, World War I, triggered by the assassination of Franz Ferdinand, archduke of the Austro-Hungarian Empire, on June 28, 1914, is still hard to comprehend and forget given the deaths of 9 million soldiers and 7 million civilians.
So when the United States carried out the assassination of Iranian general Qassem Soleimani on Jan 3 near Baghdad International Airport, it left many worried that history might repeat itself.
On Wednesday, Iranian forces fired at least a dozen missiles at military bases housing US troops in Iraq, but which, according to Washington, caused no casualties. Iranian Foreign Minister Javad Zarif said Teheran took and concluded "proportionate measures" in self-defense under Article 51 of the UN Charter. He said Iran does not seek escalation or war, but will defend itself against any aggression. And Iranian President Hassan Rouhani said the ultimate revenge would be to end US presence in the region.
It came as a huge relief when US President Donald Trump said later on Wednesday that the US would not respond militarily to Iran's latest missile attacks, especially because earlier he had threatened disproportionate retaliation against any Iranian attacks, including destroying Iran's cultural heritage sites.
The standing down on both sides is indeed welcome despite the huge challenges ahead for the two countries to defuse their still heightened tensions.
In his speech, the US president slandered Soleimani at length in a bid to justify the US killing. He also said the Islamic State terrorist group is a natural enemy of Iran, adding "the destruction of ISIS is good for Iran and we should work together on this and other shared priorities".
However, the US president and other senior US officials, such as Secretary of State Mike Pompeo, would never want to mention that Soleimani was a hero leading the fight against the IS group, which Washington too was fighting against till it was "defeated" in Syrian and Iraq.
Without providing evidence about the so-called "imminent threat" posed by Soleimani to the US, the US has violated international law and the UN Charter. And it has surely violated Iraq's sovereignty, twice in a week. Iraqi Parliament voted on Sunday to expel US troops. Iraqi Prime Minister Adil Abdul-Mahdi reiterated the call on Tuesday for US troops to leave his country.
In response, the US president threatened Iraq with sanctions. He also demanded Iraq to pay for the US military bases, without mentioning that the huge economic and human loss caused to Iraq since the US invasion in 2003 is hard to calculate. The US leader has blamed the landmark 2015 Iran nuclear deal, officially called Joint Comprehensive Plan of Action, for the growing tension between the US and Iran. But many US foreign policy and non-proliferation experts agree that the US' withdrawal from the deal in May 2018 is the real cause of the problem.
Many Europeans these days can't hide their contempt for the US leader, not least because of the US' withdrawal from the Iran nuclear deal and the Paris Agreement, and other multilateral agreements and organizations. They are also critical of the US' killing of Soleimani. Josep Borrel, the EU foreign policy chief, was quoted by Politico as saying that "wherever you look there's complete disagreement between the (United) States and Europe. It's a divorce in values".
The US president has threatened new sanctions on Iran despite the fact that US sanctions have long proved to be a failure except in impoverishing the Iranian people, including women and children.
It's time for US to change its behavior and failed policy toward not just Iran, but many other countries.
The author is chief of China Daily EU Bureau based in Brussels.
Most Viewed in 24 Hours
China Views