'Mounsey' takes a traditionally inspired trend by the tail
Share - WeChat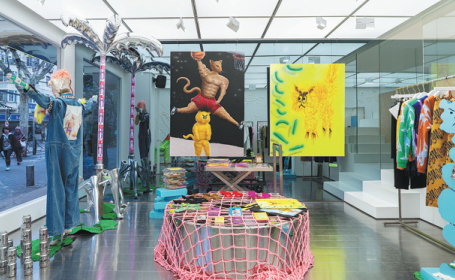 China, traditionally home to manufacturers, e-commerce platforms and service providers, is not usually a place where people expect to find homegrown fashion with international appeal, with much less room for appreciative fans.
Things are gradually changing though. With more young Chinese consumers buying clothes from domestic brands in recent years, 3ge3 project, a creative lifestyle brand and an artist collaboration platform in Shanghai, partnered with Youada, a Hangzhou-based artist to launch the Mounsey 2020 range of fashion products to mark the Chinese Year of the Rat, which starts on Jan 25.
In Chinese, the word for both "rat" and "mouse" is laoshu, so interpretations of the creature in the Chinese zodiac can vary between the two animals.
In this instance, unlike traditional images of a mouse, the character created by Youada for the 3ge3 project is not timid, but comes from the prairie, is strong and overbearing and is named Mounsey, which is a combination of "money" and "mouse". The artist says it symbolizes the meaning of the phrase "fortune brought by laoshu" in traditional Chinese culture.
In his interpretation, the artist has overturned the image of the zodiac sign with an anti-mainstream concept, and announced to the public that his muscle-bound mouse is the protagonist of the Year of the Rat with his bold imagination and deconstruction.
Each lunar year is linked to one of 12 animals, and their traits are attributed to people born during that year. Those born in the Year of the Rat are said to be intelligent, adaptable and optimistic.
This is the first collaboration between Youada and 3ge3 project. In this series, the visual elements such as exaggerated muscles, thick gold chains, and sports shorts in Youada's previous works are passed on to Mounsey.