Twitter misinformation war on Xinjiang
Share - WeChat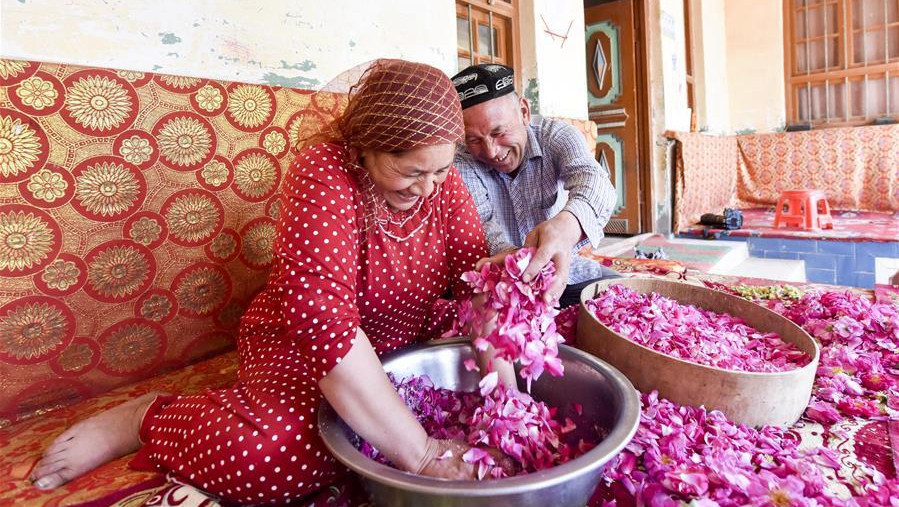 Editor's note: Tom Fowdy graduated from Oxford University's China Studies Program and majored in politics at Durham University. He writes about international relations focusing on China and the Democratic People's Republic of Korea. The article reflects the author's opinions and not necessarily the views of CGTN.
Western media are always interested in hearing about how supposedly malign actors "influence" social media by coordinated "inauthentic activity" through bots and users, which purposefully spread misinformation or propaganda on a given issue, that is: when it suits their narrative of an induced "China threat."
As events in Hong Kong proceeded, Beijing was accused of this many times as locals sought to defend their country against criticism, only for many authentic Chinese users to point out that they, in fact, had been unfairly banned in large numbers from platforms such as twitter on false allegations.
Thus, when this phenomenon actually occurs against China, it is ignored by mainstream coverage, as due to the "agenda of the times" there is neither bid nor interest in establishing a counter or critical narrative to everything that is claimed about the country. Recently, Western social media has become vitriolic against China, and it is being made worse by methods and users, who do it in inauthentic ways.
On the issue of Xinjiang and the platform Twitter, there is a massive proliferation of outright false and misleading content used to make negative allegations against China, which have resulted in anti-China hashtags trending globally due to Indonesian and Turkish users, who are becoming angry because they believe the false content. Because it suits the narrative, Western media journalists are purposefully ignoring these activities, seeing political and ideological gain out of derailing China's relationships with the Islamic world.
First, to put clear evidence on the table that there are negative coordinated social media campaigns ongoing against China, it was quietly reported last week (but ignored by front line outlets such as BBC, CNN) that Facebook and Twitter had removed thousands of accounts linked to the anti China newspaper for inauthentic activity and spreading of pro-Trump conspiracy theories and content.
The investigation also found that those beyond the spree had invented a sophisticated artificial intelligence program, which made their activities more effective. With the newspaper having repeatedly worked to spread misleading and anti-China content, this speaks volumes.
On this foundation, we can then make the argument to elaborate that there is a widespread pattern of on-going deception across social media designed to make deeply exaggerated allegations about events in the Xinjiang Uygur Autonomous Region.
Frequently, you will see Twitter posts from accounts with very few followers making a host of unverified sweeping concerning China and Islam, usually backed up with alleged photos or video clips of brutality from the region. These accounts will always have thousands of RT's in an unexplainable way. However, when the content is scrutinized, every time it turns out the material has nothing to do with China.
For example, some Twitter users pointed out photos from the Israel-Palestinian conflict were being used repeatedly, identifying careful details such as Israeli Defense Force uniforms, and so on. Other video clips were found to be made from prison footage in Indonesia, or even completely acted and staged in Western countries such as Canada by anti-China organizations.
Other video clips involved innocuous recordings of Chinese people in social activities being deliberately twisted out of context, for example saying "This Uygur has been forced to drink alcohol!" A quick internet search finds that the footage has been stolen from Weibo.
As a consequence of this hysteria, three days ago, a series of bogus anti-China photos caused widespread alarm across Indonesia and Turkey and a proliferation of anti-China tweeting, which studies then found to be extended on a worldwide scale by K-pop fandom bots.
Although China enjoys good diplomatic relations with both of these countries, such content may pose challenges in the future if not addressed. In this case, as Western social media fast becomes a medium to distribute false and defamatory information concerning China, this behavior needs to be placed more under the spotlight.
The truth also needs to be spelled out: China is not trying to forcibly remove Islam or the Uygur population. There is a great deal of misunderstanding, hysteria, and deliberate opportunism being placed on the issue by some Western elites, which in turn are happy to see fake news proliferate if it suits their agenda.
Most Viewed in 24 Hours
China Views