Will Trump be reelected in 2020?
Share - WeChat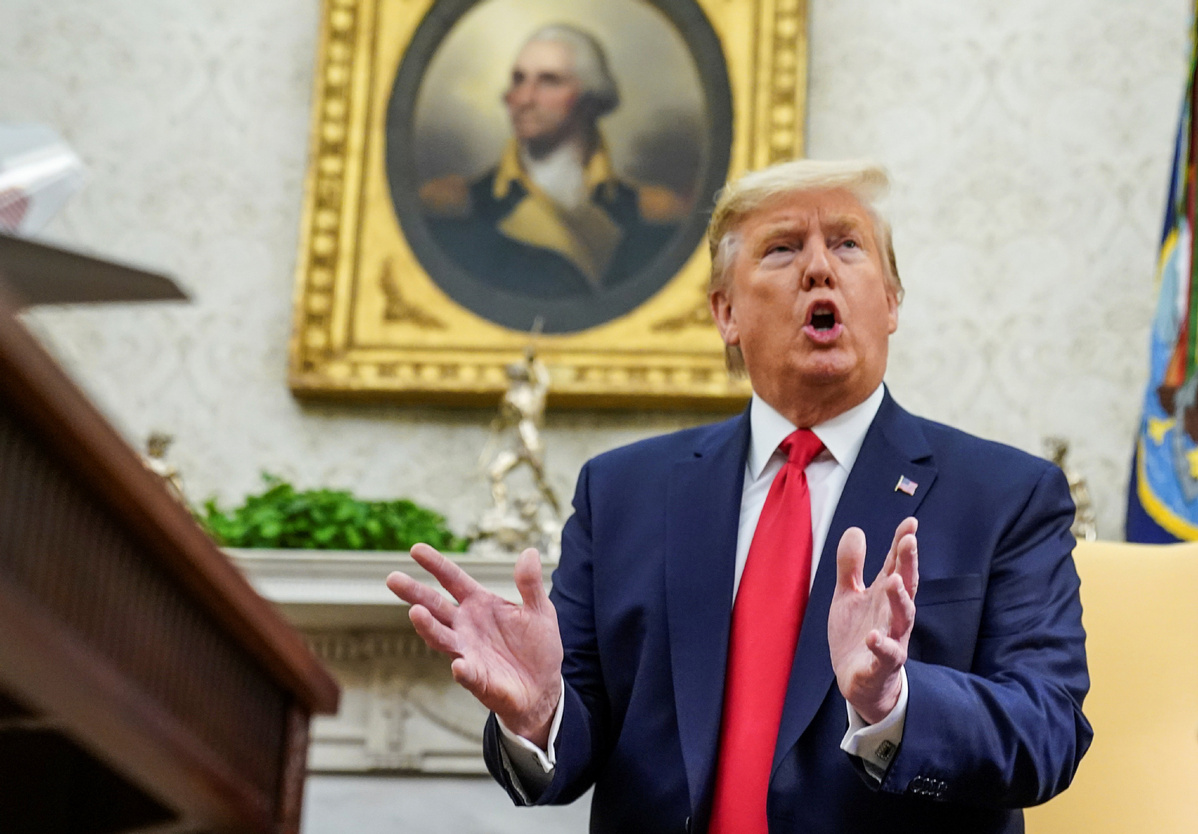 Back in August 2015, I wrote a China Daily opinion piece titled "Can Donald be the Republican's Trump Card?" In it I noted that, with the US faltering in the economic hierarchy "this allows a would-be leader to harness the concerns that America is not winning any more and it takes a successful businessman, a proven winner, to change the fortunes. Trump also appeals to those who like straight talking and are not too diplomatic or bound by political correctness. He hits the right buttons for some who are mad as hell and won't take any more."
Fast forward four years and all this remains true. Trump has been loyal to his base and has convinced them that he is responsible for making America great again and is the only one capable of keeping America great again. He is enjoying the credit for a US economy with low unemployment and yet no inflationary tendencies and has convinced a reluctant chairman of the Federal Reserve to lower interest rates in nice time for an election. Timing is also good for the conclusion of the replacement for NAFTA – the new US-Mexico-Canada Trade Agreement (USMCA), which has been hailed as protecting American jobs, even though democrats have described it as little different from the original version of NAFTA – Perception is what matters.
In a similar vein, January 2020 will see the signing between leaders of the first round of a US-China trade deal which Trump claims will create more US jobs, including in the important farming area.
Of course, there is the small matter of Trump having been impeached this month with a trial to be conducted in January in the Senate. It will be a genuinely small matter with Trump expected to be acquitted of charges that represent "High Crimes and Misdemeanors" since the Senate is controlled by his party and a two-thirds majority is required to convict. The fact that the Senators are supposed to judge the case impartially will not come into it with Republicans already saying they will coordinate with the US administration and Republicans in the House already having voted unanimously against impeachment – Senate Republicans are cut from the same cloth.
It is also true that we will not know until sometime into 2020 who Trump will face as the Democratic candidate. From Ronald Reagan's two-term presidency, including sadly some evidence of early stages of Alzheimer's disease toward the end, it has been firmly established that senior citizens are good candidates and the three leading candidates are all into their 70s. No sign yet of a likely Democrat candidate in the mold of JFK, Bill Clinton or Barack Obama who all represented passing the baton to a younger generation. Concerned about the calibre of current candidates, Michael Bloomberg, a billionaire businessman and former Mayor of New York, has entered the Democratic race at age of 77 more than four years older than Trump.
So, will it be a fight between two billionaire businessman senior citizens? Clearly money counts in American politics. Yet Trump has campaigned on being above the lobbying and bribing issues that Washington is accused of having with vested interests and has pledged to "drain the swamp" – That still plays well with his base. The somewhat misguided impeachment case has probably energized that base as it can be presented as an attempt by Democrats to overturn the will of the electorate and undermine democracy.
Trump is not popular with much of the international community including for starting a trade war with China, for withdrawing from multilateralism, the Paris Climate Accord and the Iran Nuclear Deal, but we should remember that President George W. Bush was not popular for the war with Iraq based on false information of Weapons of Mass Destruction. Many in the west hoped for a one-term presidency then, but they learned that nobody can tell the American people how to vote. Since 1980 only once has there been a one-term president, George Bush Senior, and that was because of a poor economy and a rising star Democrat, Bill Clinton. Donald Trump does not face either of those problems, it seems. He'll be back.
Colin Speakman is an economist and an international educator with CAPA: The Global Education Network.
The opinions expressed here are those of the writer and do not necessarily represent the views of China Daily and China Daily website.
Most Viewed in 24 Hours
China Views