Year-ender: 10 Chinese artworks fetching over 100m yuan in 2019
Share - WeChat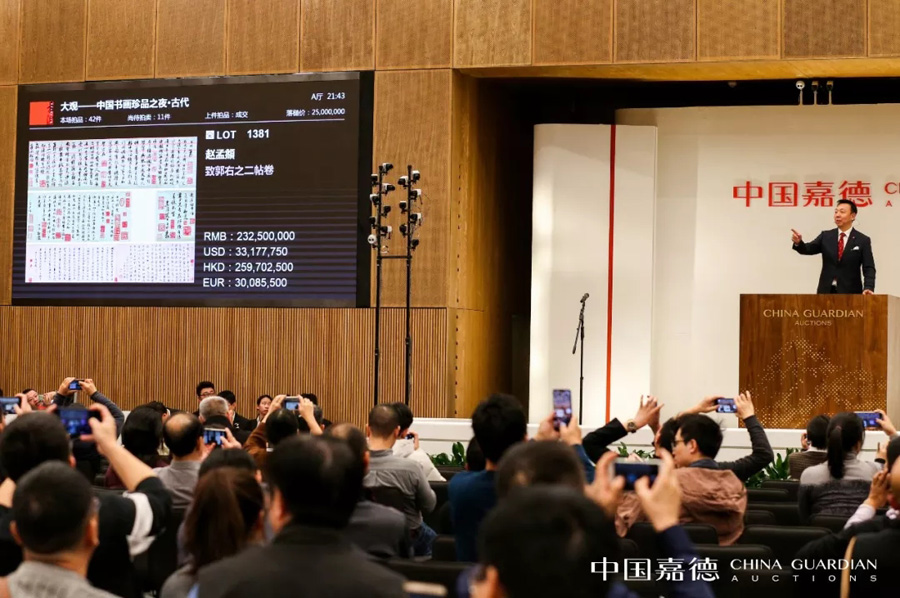 Editor's note:
The high prices of auction items have always been very eye-catching, because they reflect to some extent the development trend of art market of that year.
The report Art Investment and the Chinese High Net Worth 2019 from Hurun Research Institute, a wealth research firm that focuses on China, and Art Market Monitor of Artron, said the three major art auction markets in 2018 were the United States, China and the United Kingdom, with a total share of more than 80 percent. Among them, the United States was the biggest market, accounting for 40 percent; China came second with 29 percent market share, and the United Kingdom third, accounting for 18 percent.
Chinese artworks first broke through the 100 million yuan mark in 2009. Now 10 years later, the turnover rate of 100 million yuan items has slowed down after the peak in 2017.
Nevertheless, collectors had expectations from the market, because in 2019, four pieces of Chinese art were sold for more than 200 million yuan, which means that the art market has started to knock on the door of "200 million yuan era", sending out some good signals for the market.
Here are 10 Chinese artworks that sold for more than 100 million yuan in 2019.