SantaCon merrymakers sometimes naughty or nice
Share - WeChat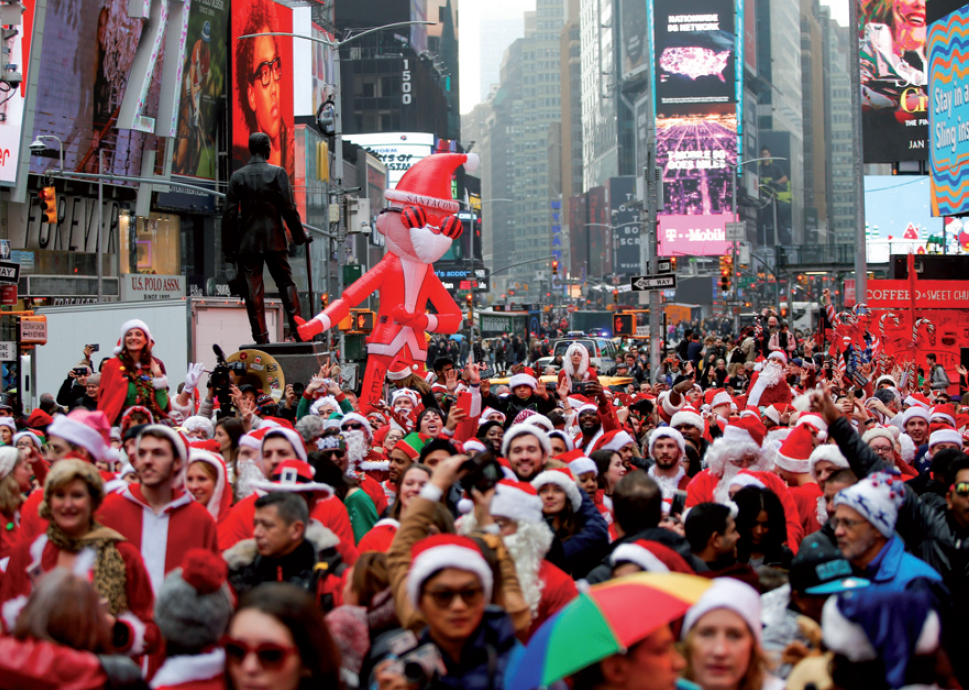 Every Christmas season, proponents of civility and maybe a few elitists wish that SantaCon revelers in New York and elsewhere would stay home.
SantaCon (the "con" short for convention) started in 1994 in San Francisco and was called "Santarchy". Its stated purpose was to "point out the absurdity of America's consumerist holiday traditions".
There are now SantaCon festivities in 435 cities across 51 countries, according to santacon.info, including two in 2016 in South China's Guangdong province, in Guangzhou and Shenzhen.
"In my experience, it's gotten busier and busier over the years," Claire Coyle, a bartender at Maggie McGarry's in San Francisco, told sfgate.com.
In New York, home to the world's largest SantaCon, the event is perceived by many as a drunken, stumbling bar crawl.
Jason Selvig, who started a petition to cancel the event in New York, told FOX 5 New York that SantaCon is "universally hated" in the city.
"It's the worst day of the year," he said. "There's drunk people all over the city; they're committing lewd acts."
Plans for "Santa party boats" on the day were sunk after three New York legislators raised concerns.
In 2017 in Hoboken, New Jersey, just across the Hudson River from Manhattan, 17 people were arrested and 55 hospitalized.
Ken Ferrante, Hoboken police chief, asked in a tweet before the city's Dec 7 SantaCon this year how many participants "do you see getting off the trains in Hoboken or standing in bar lines with presents for underprivileged children?"
A popular soccer bar in Manhattan's Chelsea neighborhood played Scrooge to SantaCon men and women.
"So yep, Smithfeld Hall is a Santacon Free Zone. Please don't turn up in outfits as you won't get in," said the bar's Facebook page, featuring a Santa image with a red line through it.
I gather some New Yorkers are irked because most of the revelers are well lubricated with alcohol, which makes many of them brash, cocky and arrogant, with a few prone to vomiting. They also are emboldened by their numbers. Thousands come from the suburbs and beyond, infiltrating neighborhood pubs with boisterous holiday reverie.
They appear to be mostly in their 20s, perhaps looking to relive their college days. Many also join in the conviviality to meet potential romantic partners, whether for one night or longer.
Each year, the would-be Kris Kringles have been increasingly accompanied by young women, many dressed as sexy Santa's helpers.
"SantaCon is a charitable, non-political, nonsensical Santa Claus convention that happens once a year to spread absurdist joy," santacon.nyc says.
The event does raise money for charity and became a non-profit in 2012, and the New York organizers say they donated some $450,000 to local charities.
With their red-and-white-felt costumes, most of which are likely made in China (outfits now that apparently have avoided tariffs due to the agreement in principle announced Thursday of "Phase One" in trade talks between the US and China), SantaCon enlistees tend to talk loudly, peppering their conversations with boasts and obscenities — and that goes for both sexes.
I overheard one such woman on the subway Saturday cursing in a raspy voice, although she did say sorry for stepping on my foot two or three times. She later mentioned to a SantaCon fast friend that she was a teacher.
Sometimes, Santas are chivalrous, as when several of the costumed merrymakers played hero on Saturday when they subdued a stabbing suspect on a train from Manhattan to Long Island, according to NBC New York.
"A bunch of people jumped on him and they managed to hold the guy down and beat (him) up bad until the cops arrived, and even then he was resisting arrest," said Matthew Monte, who witnessed the altercation.
I really am not bothered by SantaCon, which for the most part is an expression of youthful exuberance. New York is a city that features annual parades and festivals celebrating just about any nation or group in the world. In that spirit of openness, let SantaCon be SantaCon, as long as no one gets hurt.
Contact the writer at williamhennelly@chinadailyusa.com