Speech by H.E. Ambassador Liu Xiaoming at the Banquet in Celebration of the 20th Anniversary of Macao's Return to China: Pool Our Strengths and Work together to Write a New Chapter of the Success of "One Country, Two Systems"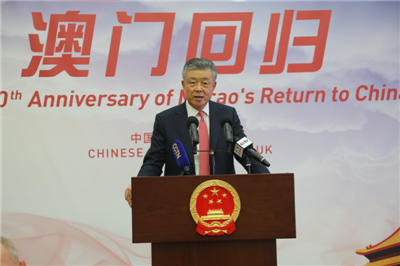 Your Excellency Ambassador Antunes,
Sir Gerry,
Ms. Lee,
My Lords,
Ladies and Gentlemen,
Dear Friends:
Good evening and welcome to the Chinese Embassy!
It is a real delight to have you with us to celebrate the 20th anniversary of Macao's return to China!
On 20th December 1999, the Chinese Government resumed sovereignty over Macao and the Macao Special Administrative Region of the People's Republic of China was established.
This was another milestone in the history of the Chinese nation following the return of Hong Kong on 1st July 1997.
It marked a new step towards complete reunification of China.
It ushered in a new era of prosperity and development in Macao.
And it opened a new chapter in China-Portugal relationship.
In the past 20 years, Macao, a coastal city of only 30 square kilometers with a population of 670,000, has achieved remarkable success in its development. Its success in "One Country, Two Systems", "Macao people administering Macao" and a high degree of autonomy has strengthened people's confidence in the following four aspects:
First, it strengthens the confidence in the system of "One Country, Two Systems".
This great invention of Mr. Deng Xiaoping is the best solution to the historical questions of Hong Kong and Macao.
In the past 20 years, "One Country, Two Systems", "Macao people administering Macao", a high degree of autonomy and the Basic Law of the Macao SAR have gained popular support in Macao. They have been fully implemented.
The constitutional order of Macao is respected and safeguarded.
The overall jurisdiction of the Central Government over Macao is effectively exercised.
The high degree of autonomy in the SAR is fully upheld.
Macao compatriots enjoy extensive freedom and democracy in accordance with law.
Macao has also engaged in increasingly closer exchanges and cooperation with the mainland. It has benefited from the major opportunities of the development in the mainland, and in turn made positive contribution to the reform, opening up and modernisation of the mainland. Macao's identification with and affection for the motherland is increasing. The bond of the Chinese nation is growing stronger.
In a word, in the past 20 years, Macao has demonstrated to the world its unique success of "One Country, Two Systems".
Second, Macao's success strengthens the confidence in a path that leads to prosperity and stability.
With the backing of the mainland and with the world at its doorsteps, Macao has taken full advantage of the "Two Systems" and displayed to the world the vitality of a development path with Macao characteristics.
Before the handover, Macao attracted seven to eight million tourists per year. In 1999, the size of Macao's economy was only 6.491 billion US dollars, and per capita GDP was about 15.1 thousand US dollars.
In the past 20 years, Macao has seen
rapid economic growth,
constant improvement in people's wellbeing,
social harmony and stability,
progress in all undertakings,
and steadily expanding external exchanges.
In 2018, the economic volume of Macao reached 54.54 billion US dollars, with per capita GDP standing at 82.6 thousand US dollars. Macao has become one of the richest regions in Asia and the world over. This year, the city of a little over 300 thousand workforce welcomed 35.8 million tourists. In particular, the number of tourists from China's mainland has soared since the Hong Kong-Zhuhai-Macao Bridge was opened in October 2018.
In the past 20 years, Macao and the mainland have matched their respective strengths, engaged in mutually-beneficial cooperation and achieved common development. This development path has led to increasing success.
Third, Macao's success strengthens the confidence in cultural integration between China and the West.
Macao is a place where Chinese and Western cultures meet and learn from each other:
Both Chinese and Western cuisines are on offer, from Cantonese dim sum to Portuguese delicacies;
The landscape of the city is a fusion of traditional Lingnan-style dwellings of Southern China, old Portugal-style buildings and modern edifices;
And different ethnic groups live in harmony.
The greatest charm of Macao comes from its cultural diversity.
Due to language, historical and cultural connections, Macao is uniquely positioned as a bridge linking China and the Portuguese-speaking countries and regions with a total population of 260 million.
Macao is home to the Forum for Economic and Trade Cooperation between China and Portuguese-Speaking Countries. Today, five ministerial-level meetings have been held, which greatly boosted business cooperation between China and Portuguese-speaking countries. In 2018, trade between the two sides reached 147.354 billion US dollars, increasing by 25.31% year-on-year.
In the past 20 years, Macao has been leading the trend of cultural diversity. Different civilisations coexist in harmony and learn from each other.
Fourth, Macao's success strengthens the confidence in the basic norms governing international relations.
These basic norms are: mutual respect for each other's sovereignty and territorial integrity and non-interference in each other's internal affairs. It is the bedrock of China-Portugal relationship.
Forty years ago, it was in line with these basic norms that China and Portugal properly settled the question of Macao. This has set a good example of how different countries could settle historical problems through friendly consultation.
In the past 40 years since then, China and Portugal have continued to respect each other and treat each other as equals. This has enabled China-Portugal relations to keep reaching new heights and making progress.
Thanks to our concerted efforts, Macao has ceased to be an issue between China and Portugal. It has served as a bridge linking China and Portugal and has been a highlight of the friendship and cooperation between the two countries. Macao has been a huge success; it has shown how we worked together closely and achieved win-win results.
Your Excellency, please allow me to take this opportunity to express my appreciation to you and through you to the Portuguese Government and pay tribute to the Portuguese people.