Capital chill
Share - WeChat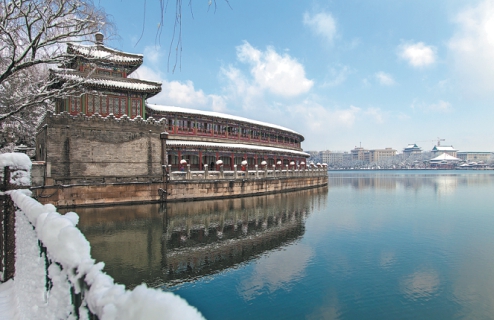 Lunar New Year
Ditan Park's temple fair is one of Beijing's most popular holiday events. It's attended by over 1 million people a year. Visitors can enjoy traditional food, crafts and performances around Spring Festival.
They can warm up over Beijing-style hotpot at Donglaishun. Copper cauldrons boil with fresh mutton slices at the eatery, which is more than a century old.
Or they can melt away the cold and their cares at the Nangong Resort's hot springs. The destination also features swimming and massage pools, a water park for kids and saunas.
Wine and dine
The Shichahai area hosts old-fashioned Beijing culture and style-including traditional food.
Visitors can ride tricycle carts through the hutong (traditional alleyways) or skate on the area's frozen lake before sampling such local delicacies as meat-sauce noodles and candied haws.
Or they can dine at Quanjude, one of the most celebrated Peking duck restaurants, which opened in 1864.
The area is also near the famous food street, Guijie, which hosts over 100 eateries.
"Scorpion" hotpot-so called because it's made using lamb spines, which resemble said arachnid-is particularly popular in winter.
Suburban districts also offer seasonal delicacies, such as tofu in Yanqing, roast lamb in Pinggu and fish in Huairou.