Chinese treasures on show around world wow visitors
Share - WeChat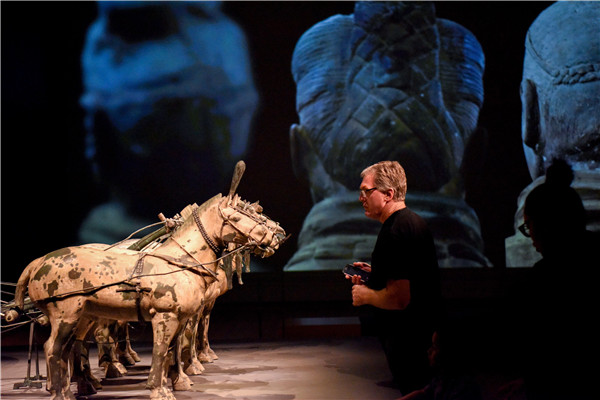 Numerous Chinese cultural and art treasures have been put on show in many parts of the world this past year, with sculptures, calligraphy, ceramics and imperial belongings showcasing the charm of the Chinese civilization on the global stage and facilitate cultural exchanges.
Beauty of Chinese treasures
Last December, New Zealand's national museum in Wellington launched a four-month exhibition of the Terracotta Army, an imperial icon of ancient Chinese art and civilization, under the theme Terracotta Warriors: Guardians of Immortality.
Early on the opening day, local residents queued up to see some life-size clay models of Chinese soldiers, horses and chariots that were meant to guard the tomb of Emperor Qinshihuang about 2,000 years ago.
More than 160 pieces of ancient Chinese antiques made of gold, jade and bronze were also on display, providing visitors with a glimpse of the long-standing charm of Asian civilization.
It was a "once in a lifetime" experience, said Rebecca Rice, the exhibition's curator. One can appreciate the individuality of each terracotta warrior and the incredible creativity needed to build the Terracotta Army, she said.
At the opening ceremony, New Zealand Tourism Minister Kelvin Davis said the exhibition "will encourage more New Zealanders to continue the journey to engagement and understand China, one of our most important partners."
Treasures showcasing the lives of emperors and empresses of China's Qing Dynasty also went on display in museums in Washington D.C. and Moscow in the first half of 2019, with over 100 exhibits on display, including imperial portraits, narrative paintings, furnishings, jewelry and costumes from the Palace Museum in Beijing.
Elena Gagarina, general director of the Moscow Kremlin Museums, said the exhibition Treasures from the Palace Museum: The Flourishing of China in the 18th Century in Moscow was a success. Russian visitors very much appreciated these exhibits from China, she said.