Language-learning app Duolingo bullish on Chinese market
Share - WeChat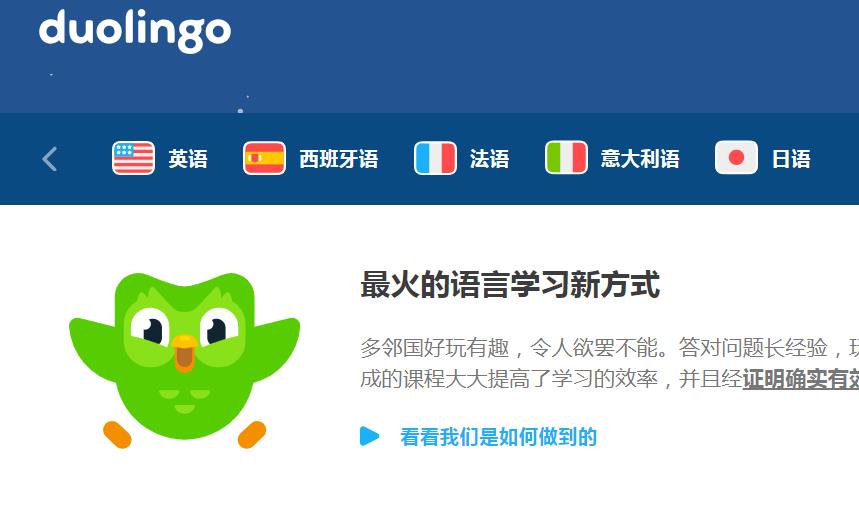 For those who want to have fun while learning a new language, there is now an app that features games to test reading, writing and speaking skills. It also offers audio and vocabulary based on real life and caters specifically to casual learners or beginners trying out different languages.
Duolingo, a United States-based popular language-learning platform, has proved to be a runaway hit globally, with both users and investors. And now it is bullish on the Chinese market, seeing huge growth potential in the world's second-largest economy.
"We are thrilled that more than 15 million people in China have downloaded the Duolingo app, and we've grown our daily active users by 150 percent in 2019," said Luis von Ahn, co-founder and CEO of Duolingo. "The steady growth we have seen among our user base in China since opening our first overseas office in Beijing this year has been very promising, and we look forward to further growing and developing in this market."
According to a recent Duolingo report on language-learning trends, there is strong and growing interest among Chinese people to learn a wide range of different languages from Japanese to French and even Arabic and Swahili.
"The China market is now only ranked in 14th place globally, so we think there's huge room to grow," said Kai Herng Loh, general manager of Duolingo China. "In 2020, we will continue improving and doubling our current user base. And we think eventually China can become our largest market."
Currently, Duolingo offers 37 languages, including six courses customized for the China market-English, Spanish, Japanese, Korean, French and Italian. And Chinese users can choose Chinese as the starting language to learn these languages on the app.
The report noted that English is the most popular course, with 56 percent of Chinese users learning English on the app.
In particular, monthly registration to learn Japanese has increased rapidly since the course was launched in May. Among all users, 17 percent are learning Japanese, and 10 percent are learning Korean.
"Compared to local language-learning competitors, one of our advantages is that we have a lot of different languages. So we will continue improving the current courses we have as well as creating more courses for Chinese users," Loh said.
According to Loh, most of Duolingo's Chinese users are aged between 15 and 40 and live in first-and second-tier cities. Many are working adults who want to learn a different language for overseas travel, to get a better job or have a better understanding of the world.
Since Duolingo opened its first overseas office in China this year, it is ramping up efforts to localize the business in China, focusing on developing more content and features suitable for local users.
For example, the app has combined with Tencent's popular messaging app WeChat to create social learning scenarios, and it also offers users a WeChat sign-up option.
To better serve Chinese users, Duolingo is planning to increase the Chinese team from nine people to about 25 in 2020, most of whom are engineers and designers.
Launched in 2011, Duolingo claims it now has 300 million users worldwide, and has become the world's most-downloaded language-learning app.
Earlier this month, Duolingo announced its latest Series F round of financing of $30 million from CapitalG, making it a unicorn company with a valuation of $1.5 billion.
Last year, Duolingo reported a revenue of $36 million. Its CEO Ahn said the revenue is projected to hit $86 million in 2019 as more people sign on and pay for the premium app.
Revenues are mainly from subscription fees, advertising and its Duolingo English Test.
Students can use the Duolingo English Test as a proof of their English language proficiency when applying to universities in the US and Canada.
Currently, more than 850 universities in North America accept the test, including the Ivy League schools Yale, Columbia and Dartmouth as well as other top universities like Stanford and Georgetown. Duolingo aims to increase the number to more than a thousand in the future.
"While TOEFL and IELTS take hours, the Duolingo English Test takes 45 minutes to complete and only costs $49," Loh said. "Right now fewer than half of US universities accept the test, and we want to increase the number to more than 1,000. When more schools accept us, people will naturally choose to take the Duolingo English Test instead of the TOEFL one," Loh said, adding that one of the goals for next year is to become profitable in China.
"China is the second-largest market for the test now, and we'll continue investing in the subscription business as well as the Duolingo English Test," Loh said.