Swiss firm sets up center for special medical foods
Share - WeChat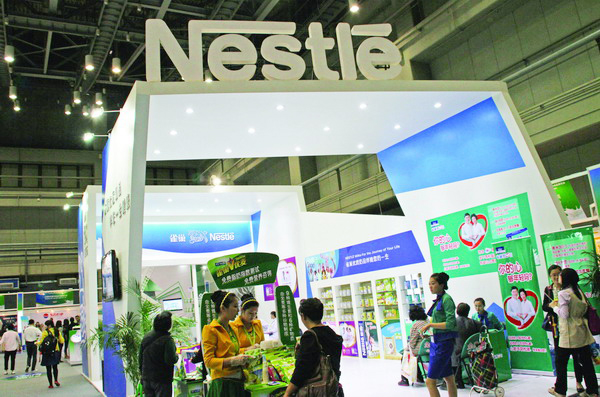 Nestle Health Science has invested in a product innovation center in Taizhou, Jiangsu province, as it joined several nutrition health brands in tapping the country's growing demand for clinical nutrition.
The center will operate in parallel with Nestle Health Science's product innovation centers in the United States and in Switzerland, sharing global advanced core R&D technologies, localized innovations for China's national standards and consumer needs, and enriching the firm's product systems of Foods for Special Medical Purpose (FSMP) in China.
Nestle Health Science is a subsidiary of Nestle, the biggest food company in the world whose headquarters is in Switzerland.
Having been in the Chinese market for the last three years, Nestle Health Science has posted double-digit in the country, with its products being locally manufactured. It has 11 approved formula products in China, including five for babies and infants and six for FSMP.
The center being built in China reflects the firm's confidence and commitment to the Chinese market but will also serve the Asia-Pacific region.
Products manufactured in its factory in Taizhou serve consumers on the Chinese mainland, Hong Kong and Taiwan, said Cecily Gu, regional business head of Nestle Health Science China.
The first liquid whole protein nutrition formula developed by the Product Innovation Center of Nestle Health Science China called Nutren Novasource GI has successfully obtained registration as a food for special medical purpose in July 2019.
"This innovation will trigger a new era of high-quality FSMP in China and lead the Chinese clinical nutrition to a new level," Gu said.
"Nestle Health Sciences will provide cutting-edge technical support and experience for developing high quality FSMP suitable to Chinese consumers," said Gregory Behar, the global CEO of Nestle Health Science Group.
The Nestle Health Science Taizhou Factory is the first approved liquid full-nutrition FSMP factory in China. It will introduce internationally advanced production technologies and formulas, such as Nutren Novasource GI, into China and has greatly promoted the process of localized production in the Chinese FSMP market.
Gu said: "I believe that FSMP will release great vitality and bring more opportunities for enterprises and consumers in China. The Product Innovation Center will continue to carry out localized innovations, develop formulas according to Chinese tastes and nutritional diet characteristics, and enable more patients to receive nutritional treatment. It also helps to further narrow the gap in clinical nutrition treatment."
She said the factory and innovation center will consider adding more locally adapted flavors for recovering Chinese patients such as dates.
An aging society and the steady improvement of consumption levels meant awareness of nutrition and health practices by the Chinese people has constantly risen.
Michel Gardet, the global business head for Medical Nutrition of Nestle Health Science, believes that "China's FSMP market may face a long-term incubation period. For NHS, we not only must meet the production thresholds required by regulatory authorities, but also understand the health of different consumers through a large amount of research and develop the corresponding formula."
In the future, Nestle Health Science will continue to deepen its presence in the Chinese market. The future of China's FSMP industry is seen as particularly promising.
Another company in Illinois-based Abbott is looking at more market opportunities in the special medical purpose food sector in China.
Its nutrition product Ensure is part of the firm's first batch of products that are registered as food for special medical purpose in China in June this year.
Abbott said it can meet the nutritional demands of people over the age of 10 who suffer from diseases including food intake disorder, digestion and absorption obstacles, and metabolic disorders. Abbott also has special medical nutrition products for patients with diabetes.
Abbott's third quarter report in 2019 showed its worldwide adult nutrition sales increased 3.8 percent to $1.87 billion. The sales performance in the quarter was led by the strong growth of its Ensure nutrition brand, and Glucerna, its diabetes-specific nutrition brand.
The Healthy China Initiative (2019-30) said national nutrition has been raised as an issue to be a part of the national strategy. Chinese consumers have great demand potential for quality FSMP.
The plan pointed out there has been a rise of nutrition-related diseases in recent years, while the Health Promotion For the Elderly will be carried out soon.
China is home to the largest number of senior residents in the world. By the end of 2018, the number of people aged 50 and above reached 249 million, accounting for 17.9 percent of China's population.
Nearly 180 million elderly people in China suffer from chronic diseases, data provided by Abbott showed. The proportion that suffer from one or more chronic diseases is as high as 75 percent.
At the same time, the life span of aging people has grown rapidly, with the expected life time per capita expected to reach 79 by the year 2030.
In its 2018 report of healthcare statistics, China's top health authority revealed that the number of in-hospital patients reached 250 million last year. It will become necessary to provide effective and quality medical nutrition support to this group of patients along with old people as a whole going forward.