Juice up
Share - WeChat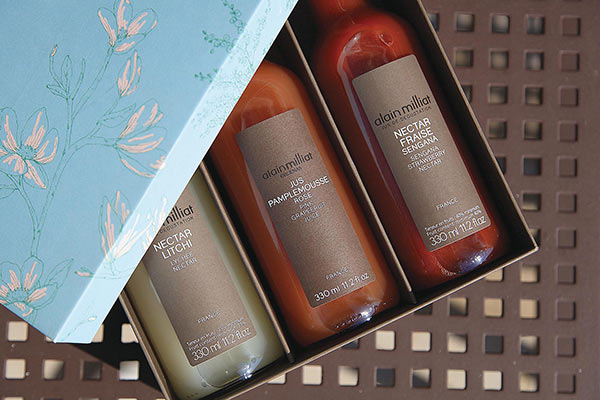 Are your fruit juices organic?
We have a part that's organic, but we don't claim it. If I'm looking for a fun product, I don't have much choice in an organic product versus a clean one. I often make the comparison and ask: Between a conventional product that has followed a treatment plan with chemical intervention but is very tasty, and an organic product that is not-so-good tasting, which one would I take? Neither of them! I don't want a dirty but tasty product or a clean but bad-tasting product. I try to find the right balance, just like for sugar and acidity.
Has the recent bad weather in the Drôme had an impact on your production?
We don't know that yet. There were very big hailstorms that destroyed the harvest, but that could also destroy the buds for the following year. Unlike vines, we have more shoots on a tree and with the intervention of pruning in winter, it's possible to correct things a little. We won't know until after the flowering period next spring.
Do you ever have the same production from one year to the next?
No. For example, I harvest ten days of Cox's apples even if they're from the same orchard – because they aren't the same ripeness, because there are two days between harvests, and because it has been a little more or a little less dehydrated. Each batch will be different.
Most Popular