All is well: A rebuttal to Alice Wells on CPEC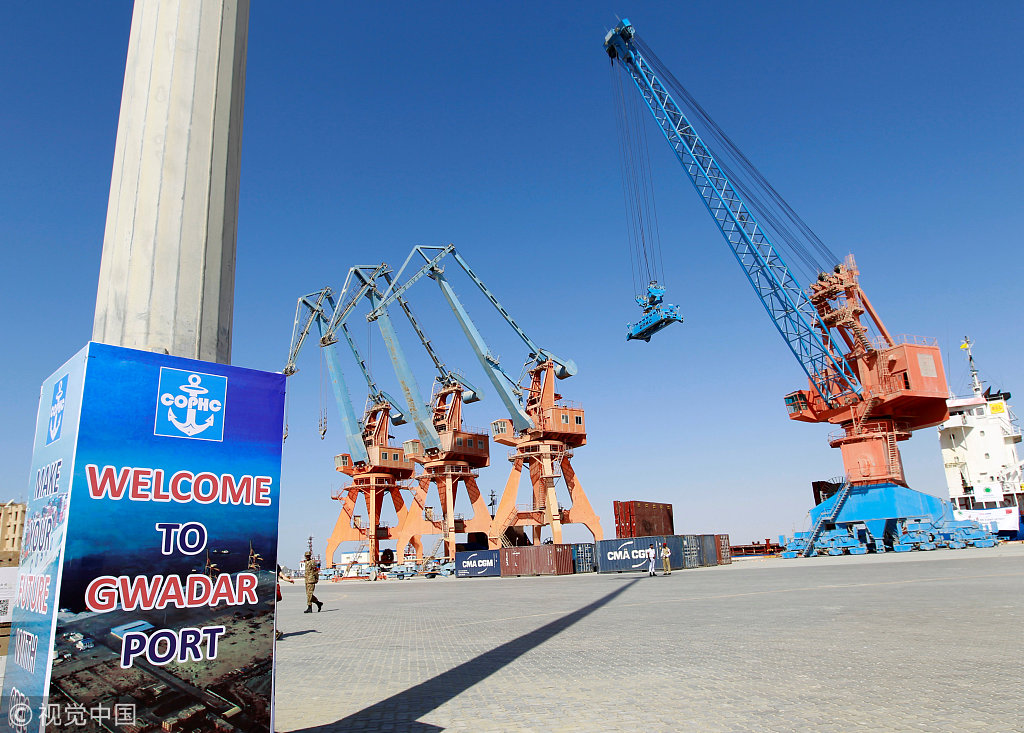 When talking about development models in the 21st Century, the Belt and Road Initiative quickly stands out. The reasons are simple. It is based on the principles of "共赢共享共建", which literally translates into "Winning, Sharing and Building Together". Now just because for once, there is a new development model that has not been put forward by the West, it does not mean everything has to be looked through the lens of suspicion.
At a recent discussion held by the Wilson Center, US Deputy Assistant Secretary of State for South and Central Asia Alice Wells shared her understanding of the Belt and Road Initiative and especially its China-Pakistan Economic Corridor (CPEC) component, and how she thought the US provides a better alternative for development to Pakistan. Wells was surely concerned about the growth of the Belt and Road Initiative, especially in areas where she is responsible, i.e. South and Central Asia. She raised questions about the transparency and fairness of CPEC projects, as well as loan repayments that Islamabad would have to address in the future.
Wells started off her criticism saying that CPEC in comparison was not providing enough jobs to Pakistanis. Her statement is far from reality, as CPEC has already provided more than 75,000 jobs to young Pakistanis. A recent study conducted by CPEC Center of Excellence, Ministry of Planning, Development, and Reform of Pakistan, showed that by 2030,700,000 new jobs will be created as a direct result of CPEC projects and indirectly, the figure could cross over a million jobs.
Wells sounded the alarm bells for Pakistan by saying that the CPEC loans are going to hang over Pakistan's economic development potential, hamstringing Prime Minister Imran Khan's reform agenda. Not knowing her depth of knowledge on Pakistan's economic conditions, but CPEC is merely 10 percent of Pakistan's total foreign debt. According to Asad Umar, the country's Planning, Reform and Development minister, the debt incurred from the CPEC stands at $4.9 billion, less than one-tenth of Pakistan's total debt.
The criticism of China's lending methodology, however, was more of a complaint, complaining to Beijing for not being a member of the Paris Club and other multilateral lending agencies. The Bretton Woods System to which Wells was pointing has been the sole reason for Pakistan's ever-increasing debt, so much so that even to meet the debt servicing liability, it had to borrow fresh loans that are piling up with the passage of time.
One wonders if the US was oblivious to the fact that its major non-Nato ally, Pakistan, was in dire need of investment in energy and infrastructure? Instead, whenever Islamabad tried to talk economy and development with Washington, Washington looked the other way. Reconstruction Opportunity Zones (ROZs) are just one of the many unfulfilled promises made to Pakistan by the US. The US has never even tried to provide an alternative and a way out for Pakistan's economic woes. The latest carrot in the basket being offered to Islamabad is a promise of Washington sending 15 business delegations in 2020. Still nothing concrete!
On the other hand, grants are not a sustainable way of development. Grants are usually accompanied by strings and conditions attached, while investments are made for profit, and maybe that is why China is not so keen on them. During her conversation at the Wilson Center, Wells could only name a few projects under the USAID's grant programs. In contrast to that, CPEC is real and has affected the life of every Pakistani from all walks of life.
CPEC an agent of change
CPEC has been the perfect answer to Pakistan's growing infrastructure and energy problems. In just four years an estimated 10,000MW of additional energy has been added into Pakistan's national grid through the early harvest projects. It is to be noted that in a few years the hydro-power projects funded under the CPEC are also going to be commissioned, lowering energy costs even further.
Pakistani officials calculate 3.5 percent of Pakistani GDP per annum is lost due to poor transportation networks, which the CPEC investment aims to remedy, leading to added benefits to Pakistan's economy. 30 percent of Pakistan's fruit output is wasted due to a lack of adequate and reliable transportation. The bottom line is that Pakistan severely needs infrastructure to turn the economic wheel of the country and lift the population out of poverty.
Wells was quoted as saying that truly sustainable development is really a marathon and not a sprint. In my opinion, Pakistan's economy has been developing at Western-based marathon speed, and the end is still not in sight. Maybe it's time to speed things up and do the sprint.
The author is an observer and a researcher at Tianjin University. His research interests include the China-Pakistan Economic Corridor, Belt and Road Initiative and Shanghai Cooperation Organization.
The opinions expressed here are those of the writer and do not represent the views of China Daily and China Daily website.
Most Viewed in 24 Hours
China Views