Neil Bush hopes China, US find common ground
Share - WeChat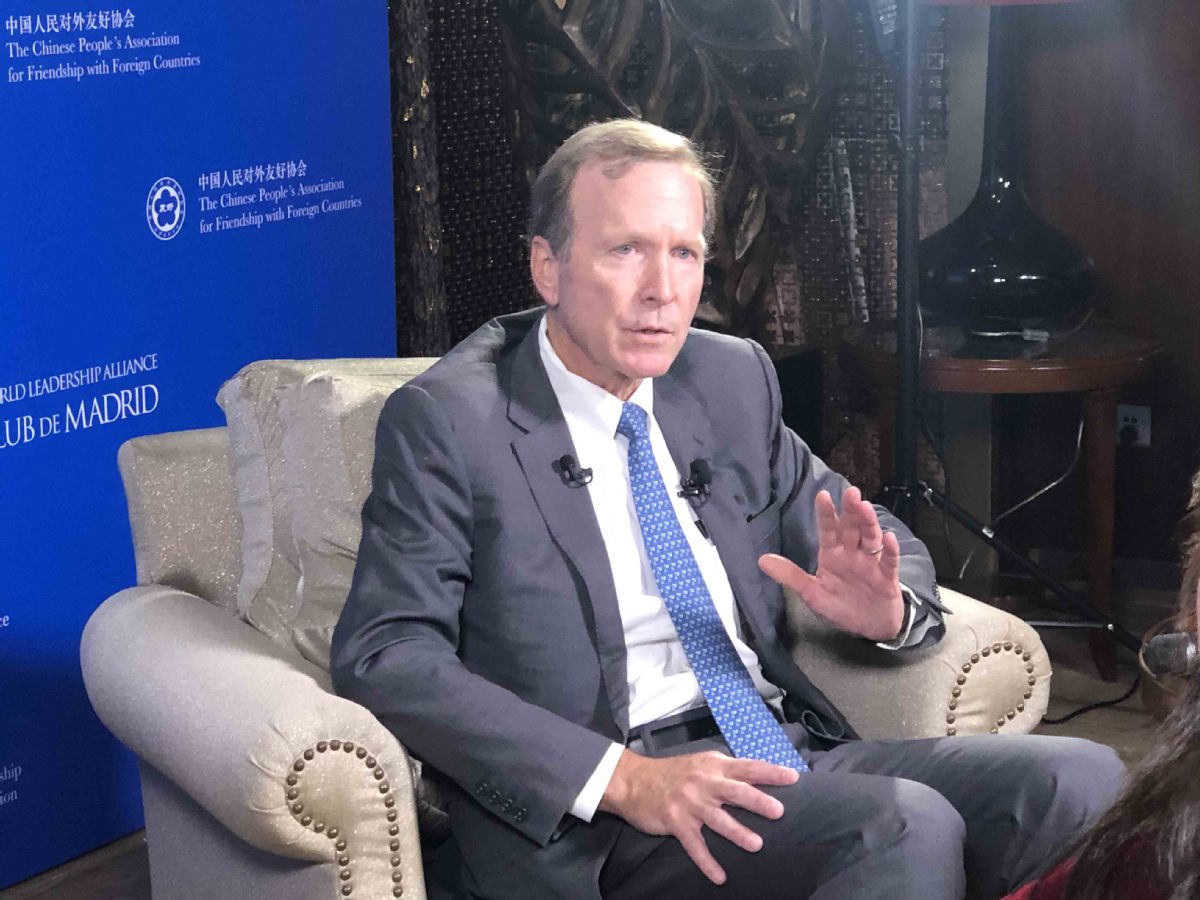 The US and China, both leading partners in globalization, have benefited from one another's development, said Neil Bush, founder and chairman of the George H.W. Bush Foundation for US- China Relations.
He added he is optimistic bilateral relations will get back on track.
Over the past 40 years the United States has gained tremendously from globalization. The leading globalization partner of US has been China, and per-capita GDP has grown dramatically, as has the standard of living and the country's influence in the world, Bush said during an media interview on Sunday at the Imperial Springs International Forum held in Guangzhou, capital of South China's Guangdong province.
"Everything about America has grown and is better because of this relationship with China," he added. "China has clearly benefited. More and more people are realizing what is called their 'Chinese Dream'. More people have been lifted out of poverty and enjoy a better standard of living. More and more middle class. China's influence in the world is growing. So the benefit has been win-win," said Bush, who is son of former US president George H. W. Bush.
On current US-China relations, he said he was "very optimistic things will get back on track," because every time relations hit a bumpy road the two countries end up having deeper dialogue and these talks inevitably lead to a stronger relationship.
"So I'm convinced that the forces of good will prevail and the relationship will get back on track, and that the two countries will continue to benefit," he said.
Bush said he does not believe China's continued growth presents a threat to the US economy or national security.
"It's that fear being fueled by this sense of nationalism…So what kind of China will we have, what kind of relationship will we have?" he asked. "I hope we have one where we have mutual understanding, where we have collaboration on issues. I believe the United States is a benevolent, kind, powerful country. I believe China is a benevolent growing, more powerful country. As these two benevolent kind countries grow, I hope we learn that we can collaborate in solving and addressing problems that we view as mutual problems of mutual interest."
"We may have disagreements, different styles and different approaches on certain things," he added. "But on the vast majority of global challenges, of human challenges on earth, we agree and we must collaborate to try to address those issues. So I'm optimistic and I believe we're going to have deeper and better relations over time."
Bush said he believes China's Belt and Road Initiative will be very positive for underdeveloped countries.
He said he does believe it's true when China invests in infrastructure, buildings, roads and rail, power, schools and hospitals, that's for the benefit of the people in those countries. There's a win- win scenario that comes from it, and a model that works for both sides.
"In fact, when a lot of American politicians claim that China is not playing by the rules, the rules aren't set in stone. If China is doing something in a way that's benefiting people all over the world and benefiting itself in return, maybe we should do that too. Maybe the United States can learn something from China's activities globally. The United States does lots of great things around the world, but we can maybe learn a little bit from China."
As co-chair of an international symposium on peaceful use of space technology, Bush visited the city of Zhuhai in Guangdong two weeks ago. He then visited Shenzhen, a technology and innovation hub in Guangdong.
On his experiences living in China and sometimes cycling in the streets of Beijing 44 years ago, Bush said China's system led to a successful expansion of freedoms for people, showing the system works for China and the US' system works for US.
"We can't try to impose our system on anyone else," he said.
He hopes young people will try to understand where China started 44 years ago and be patient for their expectations of China to become true.