Experts gather for nutritional conference
Share - WeChat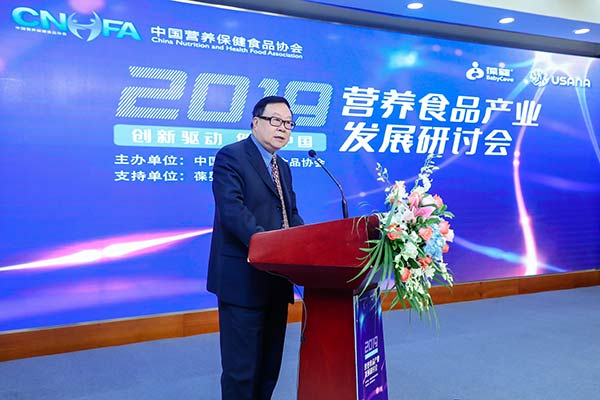 Experts from home and abroad recently gathered in Beijing for the 2019 Nutrition Food Industry Development Seminar, sharing insights about the development of China's nutrition industry.
The seminar was sponsored by China Nutrition and Health Food Association and hosted by nutritional supplement company USANA BabyCare.
Association chairman Bian Zhenjia said in his speech that development of China's nutrition and health industry will help realize the Healthy China initiative from 2019 to 2030 — an action plan was issued in July by the central government for implementation of the initiative.
He said China's health food industry has entered a phase rife with opportunities thanks to policies like Healthy China, increases in per-capita income, an aging population and a rise in health awareness, so the public's demand for nutrition and health food is growing.
According to the association, the market size of nutrition and health food in China reached about 400 billion yuan ($56.9 billion) in 2018, becoming the world's second-largest health food market.
Bian said China's nutrition and health food industry must build its own brands in areas like scientific and technical innovation and service.
Mehmet Oz, an expert in cardiac surgery and host of the American health television talk series The Dr. Oz Show, talked about his interest in traditional Chinese medicine at the seminar. He believed it's important to strengthen international cooperation to boost nutrition industry in all countries, he said.
According to him, the United States is facing a similar health problem as China — for those who suffer from obesity, cardiovascular disease is the No 1 killer, mainly due to bad eating habits.
He said for every $1 invested in health promotion, there is an estimated $3 savings in health care expense, and such a good investment should be applied immediately.
Most Popular