US companies flock to China import expo
Share - WeChat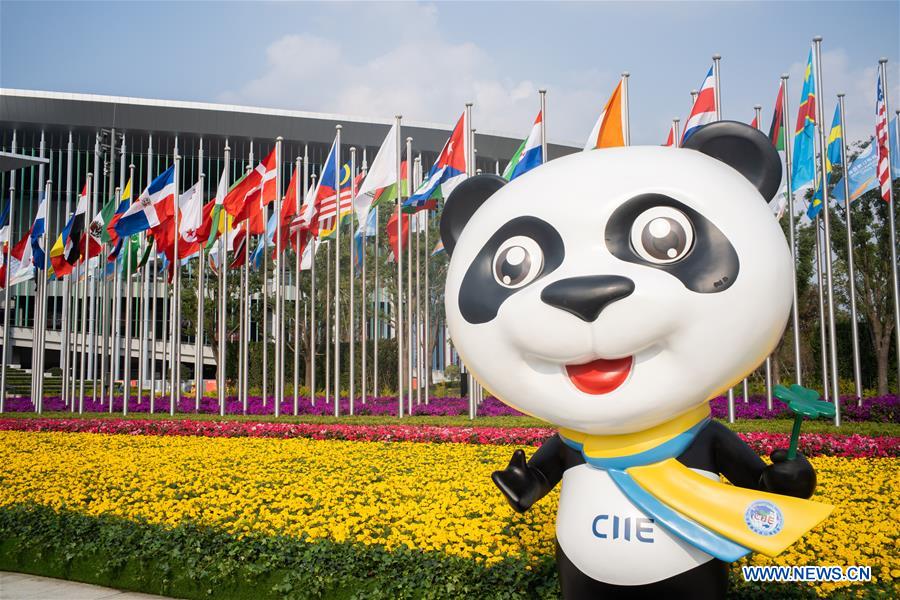 The US business community already is looking forward to next year's China International Import Expo (CIIE) following a successful event in Shanghai earlier this month.
"We had a very positive experience at No. 2, so we are looking forward to No. 3," said Jeff Zettel, associate vice-president of Aramark Corp.
Zettel made the trip from Aramark's headquarters in Philadelphia, Pennsylvania, to attend the road show for the third CIIE, at Bank of China's New York offices in Manhattan on Monday.
Zettel signed a contract on behalf of Aramark with the China International Import Expo Bureau to participate in the third CIIE Enterprise & Business Exhibition in Shanghai from Nov 5-10, 2020. Aramark is a US food service, facilities and uniform provider to hospitals, universities, school districts, stadiums and other businesses around the world.
Zettel said in an interview that Aramark's business in China is a main reason for the company's attendance.
"We have approximately 35,000 employees in China today. It's a rapidly growing part of our company," he said.
"And we want to continue to do business in China across the different regions."
Zettel said Aramark has strong business with facilities, food service, hospitals, universities and "many companies like Huawei", he said. "We are looking forward to broadening those relationships and opening up dialogue for new opportunities in the future," he said.
Zettel said Aramark is excited to participate in the CIIE because "the show is a great opportunity to meet new customers and make new friends".
"Many of the US-based companies that have operations in China would like to see their US partners, companies like Aramark, to be able to serve their locations in China as well," Zettel explained.
Leo Chan, executive director of the Great Cincinnati Chinese Chamber of Commerce (GCCCC), flew from Ohio to sign up early for the third CIIE.
Chan said preregistering for booth space for the last two expos was hectic because of the expo's popularity.
"So I decided to come earlier this year," he told China Daily.
A non-profit organization, the GCCCC provides support services, expertise and networking opportunities.
"Currently, we are still collecting inquiries from our member companies," Chan said. "But we have already booked 150 square meters of area for exhibition for next year's event."
According to Liu Fuxue, deputy director general of CIIE, 34 US companies have signed up to participate in the third CIIE "because of the great success the second CIIE has achieved", he said.
Liu said tentative deals for one-year purchases of goods and services worth $71.13 billion were reached at the second CIIE, an increase of 23 percent.
A total of 181 countries, regions and international organizations participated in the event, while more than 3,800 companies participated in the exhibition. The number of registered buyers and other professional visitors exceeded 500,000.
"The expo brings huge business opportunities to the US companies," said Liu.
Liu said that during the first two expos, US companies actively signed contracts and achieved tangible gains. There were 191 US companies at the second CIIE, a significant increase over the first year.
Among them, 67 companies, including General Motors, Ford Motor, Mars, General Electric, Dell, Johnson & Johnson, Tesla and 3M, participated in the exhibition for two consecutive sessions.
According to CIIE statistics, the intended trade volume of the US companies reached at the second expo was $12.96 billion, an increase of more than 30 percent.
"This number illustrates that even in this hard time of the bilateral trade relations, the business ties between China and US enterprises can still not be cut off," said Gu Chunfang, commercial counselor of the Chinese Consulate General in New York.
Xu Chen, president and CEO of Bank of China USA, recalled his experience attending the second CIIE.
He said that in talking with American business leaders and participants, he is "aware that US companies still give much priority to the Chinese market with enthusiasm, despite the current China-US trade frictions".
"Most US representatives at the subnational government levels and American businesses in the expo applauded the event," he said.
Xu said that Lisa Brown, director of the Department of Commerce in Washington state, commented that "this expo is the opportunity you can't miss if you want to connect with China, the world's second-largest economy and fastest growing consumer market".
Utah state Senator Jacob Anderegg lauded CIIE as "a platform of exchange that benefits all countries, businesses, and subnational governments, for it focuses on pragmatic cooperation with great themes", Xu pointed out.
"Senator Anderegg said, 'Besides Utah, many state and local governments in the US are looking for opportunities of pragmatic cooperation with China. Especially when a great number of Chinese middle-class consumers are on the rise. To shrug off the Chinese market or even refuse to deal with China is quite short-sighted,'" Xu recalled.
"With a population of 1.4 billion, China has the biggest middle-income population in the world," said Gu, from the consulate. "There is a huge market potential in China. Imports will play a more important role in China's economic development."
Gu emphasized that China will open its doors wider to the world.
"We will continue to lower tariffs and institutional transaction costs, foster a number of demonstration zones to promote import by creative means to import more high-quality goods and services from around the world, including the US," she said.
Gu said she loves the saying "we can only go faster if we go alone, but we can go further if we go together".
She said there is "no better platform for Chinese and American companies together to go further" than the CIIE.