Mengniu to buy dairy company in Australia for $407m
Share - WeChat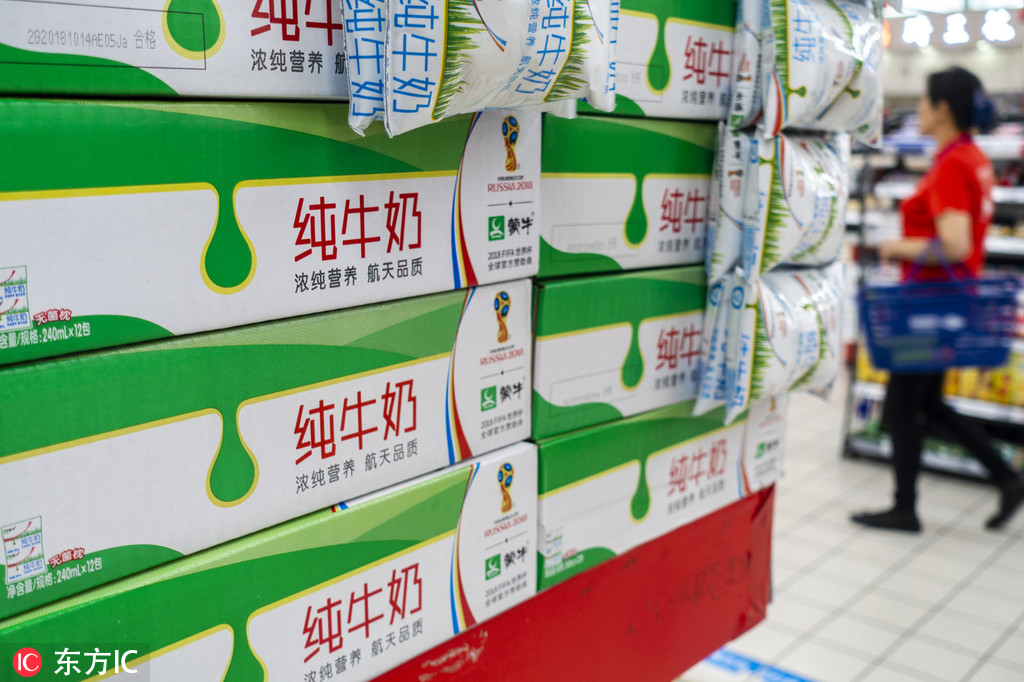 China Mengniu Dairy Co Ltd is buying Australia's Lion Dairy and Drinks from Japan's Kirin Foods for A$600 million ($407 million), making it the second acquisition by the Chinese dairy giant in Australia after it acquired infant formula milk provider Bellamy in September.
Kirin Holdings Co Ltd and its subsidiary Lion Pty Ltd said on Monday that Kirin Foods Australia Holdings Tty Ltd, a 100 percent subsidiary of Lion, has entered into an agreement with China Mengniu Dairy under which all the shares in Lion Diary and Drinks Pty Ltd will be transferred to Monday Smoothie Pty Ltd, a Mengniu Dairy subsidiary.
Lion CEO Stuart Irvine said that the sale includes all white milk, milk-based beverages, yogurt, juice and water ice brands and assets.
It also includes Lion Dairy and Drinks' International business, and its share in joint ventures Vitasoy Australia Products and Capitol Chilled Foods Australia and the licensing agreement for the Yoplait yogurt brand.
Mengniu said the deal is a major part of its internationalization process and will enhance its layout in Australia while providing a more complete, competitive and efficient global supply chain to offer products for consumers in China, Southeast Asia and Australia.
"Our aim throughout has been to ensure that both Dairy and Drinks and the Lion business are ideally positioned for growth - with the right people, assets and investment behind their respective strategies," said Irvine.
He said they believe that Mengniu Dairy, a specialty dairy player, is an ideal owner to take Dairy and Drinks forward, given its track record of investing in the Australian dairy industry, together with its global reach and deep capabilities.
"Bringing the businesses together will help drive Mengniu Dairy's growth in the Australian domestic market, while also accelerating Dairy and Drinks' aspirations in South East Asia and China," said Irvine.
In addition, Dairy and Drinks will benefit from access to leading-edge dairy research and development capabilities and further investment as part of the Mengniu business, he said.
Lion Dairy and Drinks forms part of the broader Lion Group - a leading beverage and food company with a portfolio that includes many of Australasia's favorite brands in beer, wine and dairy products.
The portfolio includes Dairy Farmers, Pura, Dare, Farmers Union, Yoplait, Daily Juice, Juice Brothers and Berri. Lion has the license to sell and market the Yoplait brand in select South East Asian markets.
Earlier in September, Mengniu said it had made a buyout offer for Australian infant formula producer Bellamy in a deal valued at $1 billion, to further penetrate the infant formula and food market while expanding its reach overseas. This month, the Australian government approved Mengniu's takeover of Bellamy's Australia Ltd.
China's dairy industry has been expanding its reach in global markets in recent years, with Inner Mongolia Yili Industrial Group, the largest dairy producer in China and Asia, prioritizing global dairy resource security capacity and a management team with global vision.
In August, Yili acquired New Zealand's second-largest dairy cooperative Westland Cooperative Dairy Co Ltd after finally clearing all the regulatory hurdles. Yili acquired Oceania Dairy Group of New Zealand in 2013. It has since invested approximately $660 million in establishing milk powder, infant formula and UHT production lines for the Oceania region.