Beauty firm 'made up' for drive of recruitment
Share - WeChat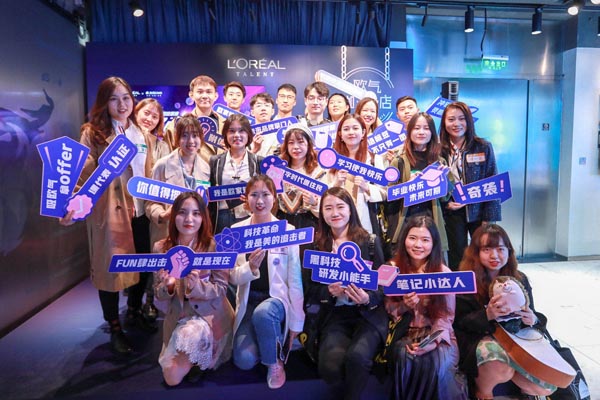 More than 20,000 college students participated in the 2020 L'Oreal China recruitment drive, which took place last month.
This year's recruitment drive saw the Evolution Park store in Shanghai's Jing'an district transformed into a talent-scouting cafe, a space where the company's management interacted with students.
"The recruitment event was fancy," said one student, surnamed Zhou, from Shanghai Jiao Tong University. "I didn't expect that it would take the form of a cafe that allowed us to take photos and interact with the CEO Fabrice Megarbane in person.
"The biggest difference compared with other career fairs was that there was no tense atmosphere. I felt less nervous here than at the campus career fair and this enabled me to show my best side during the event."
Another student, from Johns Hopkins University in the United States, who preferred to be known only by her family name Bai, said that the most memorable part of the event was when Megarbane shared his career experience and gave tips as part of a lecture to the students.
Bai said she had participated in traditional career fairs in college before, where different companies had their own booths and their human resources personnel accepted resumes, quite often "without providing feedback". At this event, however, Bai said, she actually talked with the HR staff and felt like "I was chatting with a friend".
According to Shen Lin, head of the company's HR department, student recruitment is a key element in the company's talent strategy and the number of such events have been steadily increasing every year.
Shen said the company's business academy provides students with opportunities to understand and learn important information in a real workplace through games, challenges and competitions.
"We used to recruit many people for marketing positions, but now the hiring process has become more diversified, with more students majoring in science and engineering, statistics, and computer science applying as well,"" Shen added.
Shen said the reason for this is that L'Oreal is transforming into a company for beauty technology, thus "more digital marketing and data analysis talent are needed".
Most Popular