What happens if city follows US model and legalizes firearms
Share - WeChat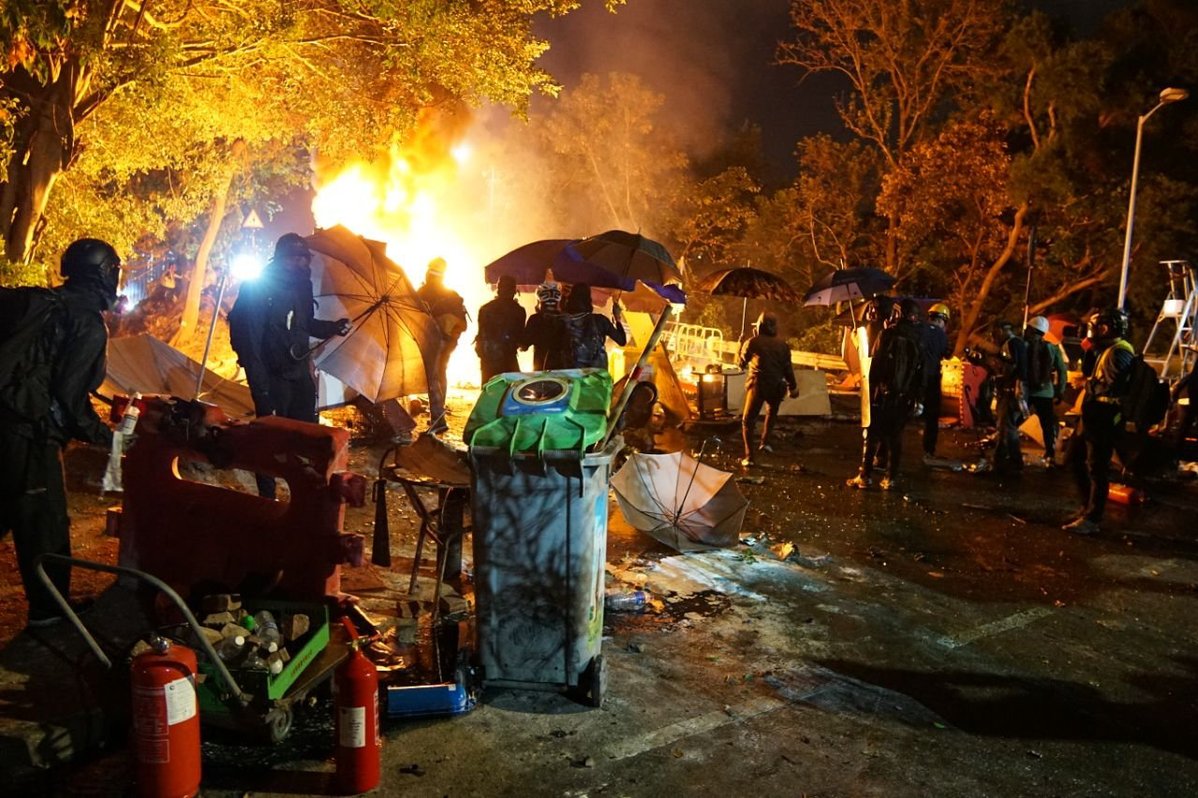 Satire warning: For 18 years and older. If you are humorless — treat with extreme caution.
Following many months of mayhem in "Asia's World City", the ruling junta — led by Strongwoman Carrie Lam Cheng Yuet-ngor — have finally succumbed to the might of US propaganda. In a surprise move, the junta has decided to create a democratic society that follows America's lead in every possible way.
In an emergency session of apparatchiks loyal to Lam, the government unanimously passed a new law allowing Hong Kong citizens to buy, own, and carry firearms — cocked and loaded and in full view! The law will come into effect immediately.
The move by Lam clearly came as a complete surprise to the bosses in Beijing, who opined through The People's Daily that "this comes as a complete surprise, and we really wish Lam had asked us first."
To which Lam responded: "'One country, two systems' bubba — 27 years to go."
When reporters asked why the Hong Kong government had decided to make this extreme move, Lam responded: "It's not extreme at all. We're simply following the will of the people. The message we are getting is that protesters want Hong Kong to be just like America. We thought long and hard about this, trying to understand what they actually mean by such demands. It was tough! But what do I know? The energetic protesters are the future leaders of this great city. Might as well let them have their say now. And they worship American democracy. What could possibly go wrong? Finally, in a flash of inspiration, we realized that the whole key to American exceptionalism is the right to bear arms. That was a watershed moment for us. After that, the decision was easy."
When asked about some of the protesters' other demands, such as disbanding the Hong Kong Police Force, Lam said that was "still on the agenda".
She continued: "They have been doing everything they can to protect people and property, including getting beaten up, burned, and acid-fried themselves, but they sure as hell have been losing the media war. Our boys in green are exhausted, and they all need a break. So, as soon as local people have been able to get hold of the tools they need for self-defense, we'll ask the police force as a whole to take a three-week sabbatical."
There have been mixed reactions to the decision from the local community. Apparently, average people in the community have responded positively.
Wong Hoi-pang, a 52-year-old office worker, gave a thumbs-up to the new legislation. She is planning on purchasing her first handgun as soon as it's available. When interviewed, she said: "This new law is fantastic. The rioters have been wrecking our city, and bullying all of us older people who don't share their politics. Just yesterday, they literally burned a chap who was complaining that they pushed him over in the MTR. They're terrorists! The next time anyone tries that, I want to see the look on their face when I pop one off. It's gonna be priceless."
Billy Lam, who has been hesitating to express his complete disagreement with the protesters because they have threatened to burn his store, is also delighted about the new legislation. "Half of my friends have already had their businesses burned. If these freedom fighters try to mess with my place again, I am so going to enjoy going rambo on them. It'll be, like, 'talk to my brand new AR-15 rifle'. Unless they're all high on meth, I would expect them to get the message! This is the American way!"
Peter Poon, a lecturer at the University of Hong Kong, is also very much in favor of the new gun legislation. When interviewed, he said: "I have always believed that dialogue and peaceful approaches are the best way to solve conflicts. But, recently, I have seen colleagues physically attacked in their offices just because they refuse to agree with some of the protesters' ideas which, to be honest, show how badly we've been teaching them!"
"We all know the police are doing everything they can, but they are overstretched, so we gotta help ourselves. This new law allowing us to pack heat is the answer. I can feel almost like Dirty Harry already. I pity the punks dumb enough to mess with me again."
"Hong Kong is pretty much a self-help sort of place", he added. "Everyone living here knows that, if you want to survive in the rough-and-tumble real world, you have to take command of your life. These kids who've grown up on bad diets, violent computer games, and Western MSM would think twice about pushing us regular folks around anymore knowing anyone of us could be carrying a snub-nosed revolver in our back pocket which could very quickly ruin their day!"
Members of the "pan-democrat" bloc that believes riots are the best way to ensure Hong Kong's continued freedom and prosperity have come out with predicable fury in response to the new law which they said would destroy the current social equilibrium. In well-practiced, choreographed soundbites, they have lambasted the administration for further giving in to the demands of the communists waiting just north of the border to invade Hong Kong.
In an emotional presentation to Western MSM, democratic poster child Joshua Wong Chi-fung stated: "This new law is totally unacceptable! We were running rings around the local police, keeping the whole population in terror. We even have Molotov cocktail factories now to keep our 'fire magicians' fully supplied! People knew that if they dared to speak up against us, we would beat them senseless, wreck their businesses, and generally use democratic principles to convince them of the error of their ways."
"Now", he said, "if we put up roadblocks to search people's phones for disagreeable content, or bitch-slap Mandarin speakers on the street, there's a good chance we'll end up with a slug in our butts! This is just so unfair! I'm flying back to America tomorrow to get support from US anti-gun senators so we can get plans back on track.
Denise Ho Wan-see, the pop-singer-cum-revolutionary from Canada pontificated: "This is a travesty! We can't have local people taking control of their own lives, deciding what is right for them! We are the ones supposed to be in control. All violence should be administered at the hands of the state, and we intend to be the state!"
Then, sobbing, she continued: "Just like Juan Guaido in Venezuela, the US had already said which of us will take on the mantle of grand leader of Hong Kong, once the territory has gained its independence from those evildoers in Beijing. This new law is really messing with those plans!"
Will things improve from here? It's hard to say. But, at the very least, there is now a level playing field. The freedom fighters would think twice before trying to derail our trains again and trash our Starbucks and Maxim restaurants. After all, that's what Hong Kong is all about: freedom, fairness, and the pursuit of happiness in your own way, without interference. Perhaps this new law will support that ideal.
The author is a psychologist, linguist, educator, entrepreneur, dialogue facilitator and corporate adviser with over 30 years' experience doing business in Asia.
The views do not necessarily reflect those of China Daily.
Most Viewed in 24 Hours
China Views