Stay-healthy lifestyle spawns a big demand
Share - WeChat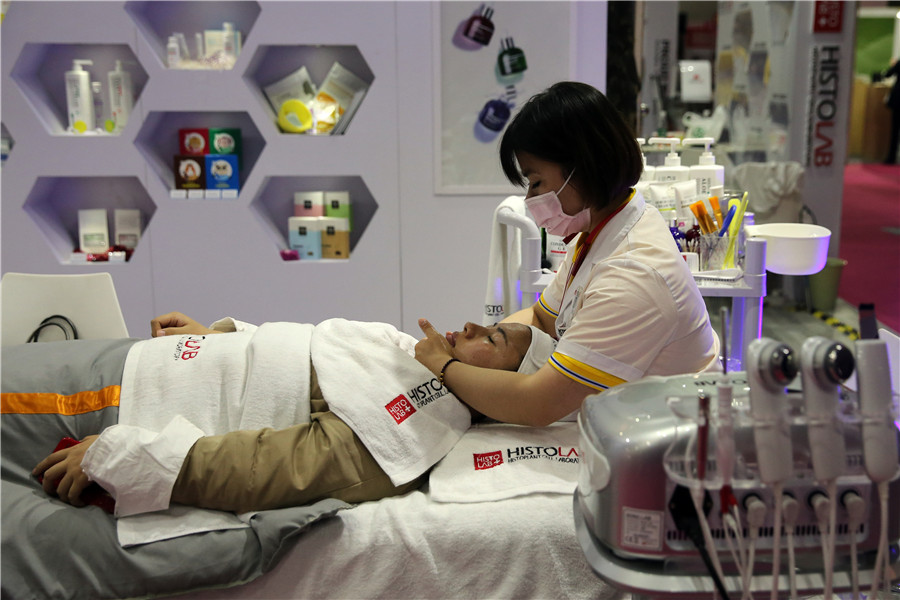 Wellness and fitness products, services target young consumers, rake it in
Ze Yuan, 25, a business development executive with an investment company in Beijing, is the kind of Chinese consumer that the multibillion-dollar health-wellness-fitness industry has been targeting of late.
Ze maintains a healthy lifestyle. Cold food is out-bad for tummy. She drinks green tea in summer, chrysanthemum tea in autumn and black tea in winter. She exercises regularly-jogging, badminton, cycling or use of sports equipment are her preferred physical activities. She tops off her day with a foot-soak. Recently, she even tried moxibustion treatment.
"It's important to take care of your body at an early age," she said. Ze is willing to spend liberally on products and services-foods, beverages, fitness equipment-that can help her to keep fit and healthy.
In a recent Analysys survey of 300 Chinese born after 1990, 54 percent of the respondents said they had hair loss, 51 percent had poorer eyesight, 45 percent gained weight and 35 percent had weakened immunity. At the same time, about 65 percent said they always stayed up late.
On average, the interviewees spent about 811 yuan ($114.6) annually to stay healthy. Products they bought included health supplements like calcium tablets, vitamins, and fruits like quinoa, avocado and gouqi, or Chinese wolfberry. Annual expense on health-related services-massage, spa, gym program and health insurance-was more than 1,472 yuan, the report showed.
Jason Yu, general manager of consultancy Kantar Worldpanel China, said young Chinese are under life pressures. To cope, they require a healthy lifestyle comprising regular work, rest, exercise and proper diet.
According to a report of online medical consulting service provider DXY in January, the post-1990 generation gave the lowest rating to their health condition among all generations.
Data from Koubei, Alibaba's dining and entertainment review site, showed consumers from 20 to 26 have contributed 29.6 percent to offline health-related consumption.
Xu Feifei, associate partner at global consultancy Prophet, said Chinese youth have grown a stronger self-consciousness, which stokes health-related consumption.
"Although sometimes their life can become hectic, they are striving to show the best side at all times, even at their weakest moments, such as after staying up."
Fu Yazhang, investment manager of Meridian Capital China, said the youth's increasing attention to physical appearance has boosted sales of skincare, weight management and anti-hair loss products.
Products that target improvement of sleep quality, spleen care and stomach care are also gaining popularity among the group.
"Health, wellness, and fitness have great potential due to the large number of consumers in the market segments, and new opportunities are ripe for exploration," he said, adding young consumers will help bring about more innovative products and business models.
For example, sales of dry fruits mixed with collagen, chewable vitamins, enzyme powders, meal replacement powders, fat-burning granules, herbal teas, and massage devices designed for head, shoulders and eyes are picking up. Small-sized and convenient foods such as black sesame balls are also favored by young customers, Fu said.
Yu from Kantar Worldpanel said different from the elderly who have more interest in products that can help protect heart and cerebral vessels, and boost immunity, young people show more interest in anti-aging products, liver protection, eye fatigue-easing, weight control and appearance maintenance.
"Companies need to learn how Chinese consumers think about the different ingredients of healthcare products and provide more solutions to maintain good health," he said, adding a targeted marketing channel can make the business more profitable.
According to a survey of Meridian Capital, young consumers are more influenced by word of mouth among friends and promotions on social media, such as WeChat and social commerce startup Xiaohongshu.
Xu from Prophet said solutions based on both traditional Chinese medicine and Western medicine are targeting the increasing number of young consumers, learning from each other. TCM products have evolved to be more convenient and appealing with improved taste, smell and look. Western medicine is incorporating Chinese invigorants to attract Chinese consumers. Japanese cosmetic brand Shiseido's skin-lightening oral liquid mixed with gouqi is a good example in this regard.
Besides, companies have also learnt to ease the guilt of the post-1990 generation's indulgence in unhealthy lifestyles, she said.
"The post-1990 generation believes in Detox-Retox-Repeat: They drink herbal medicine and exercise regularly, so that they can stay up later and party longer," she said, adding a good example is Australian health brand Swisse, which said its green coffee extract can enhance metabolism to offset the excess intake of calories from hotpot.