Attendees share views on innovation
Share - WeChat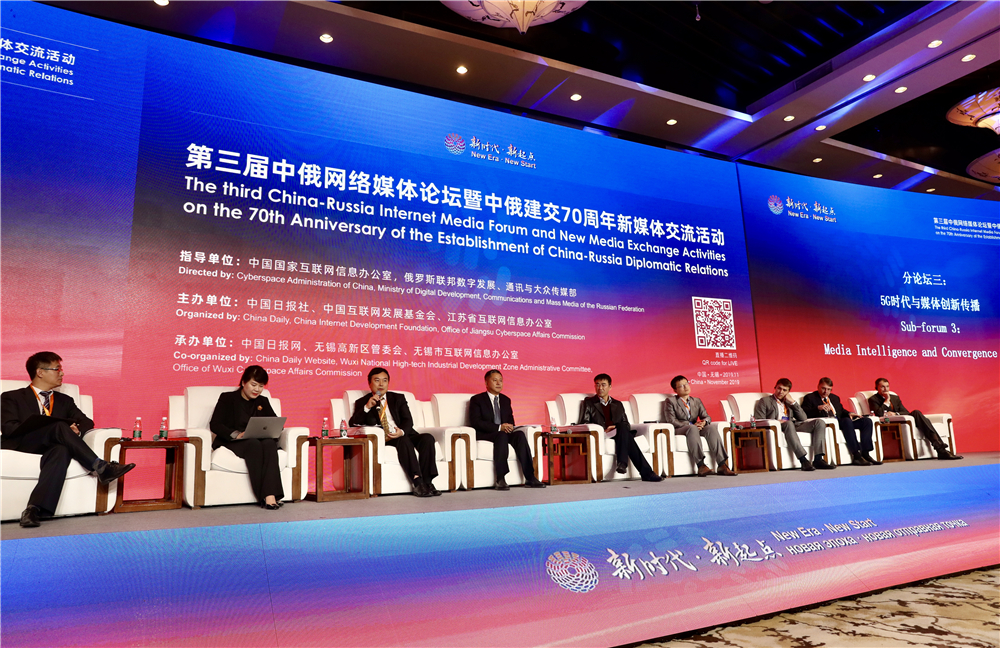 Representatives and attendees to the subforum on media innovation and development in the 5G era at the third China-Russia Internet Media Forum shared their views on internet development and new ways of communication in the 5G era, aiming to find new ways to work together.
"The adoption of 5G technology in the media industry is not meant to simply accelerate the speed of information transmission, but to reshape the entire way we communicate," said Pang Xinhua, deputy director of the new media newsroom at CCTV English.
"We did a mobile live broadcast in a 5G environment for the first time at this year's Two Sessions. Currently, CGTN aims to build a multimedia Network Plus system, which will include websites, apps, TV, radio and social media. It will make use of video, audio, virtual reality, artificial intelligence and other forms of content to build new methods of communication based on 5G," he added.
Chen Yong, vice-president of public affairs at Tencent, said that the company continues to explore internet technologies and intends to keep contributing to global connectivity.
"In June 2018, Tencent became the first tech firm to provide internet technologies in Russia. With the two countries at a critical stage of development, particularly with new technologies such as 5G, we may be able to do more than just share information. For example, to promote the building of public infrastructure and the development of the digital economy, we will utilize science and technology to enable people in both countries to lead better and smarter lives," said Chen.
"The faster the speed, the larger the capacity. It's important to know what people like and push what they're interested in-that's an excellent example of how technology can help businesses. 5G applications such as Huawei's smart city program will help make people's lives easier, with the support of the internet of things technology. Perhaps we can cooperate with Tencent in developing applications for these technologies," said Perepelitsyn Denis Valerevich, head of communication at SPB TV, speaking at the forum.
"Russia is a strategic market for Kuaishou and we plan to recruit more content creators from the country," said Yu Jingzhong, vice-president of the Chinese short-video and livestreaming platform.
Kuaishou has its Chinese site that is used by many Russians living in China. The company even has a dedicated Russian site with 1 million active users, something that has caught the attention of Russian media, he said.
"We hope to find Russian partners to support our technology and marketing," Yu added.
The traditional media will restructure to adapt to the 5G era. With 5G networks enabling companies to spread news faster and process more content, many of the day-to-day tasks will increasingly be handled by AI, said Oleg Ananyev, executive director of International news agency.