Microsoft unveils its dual-screen devices
Share - WeChat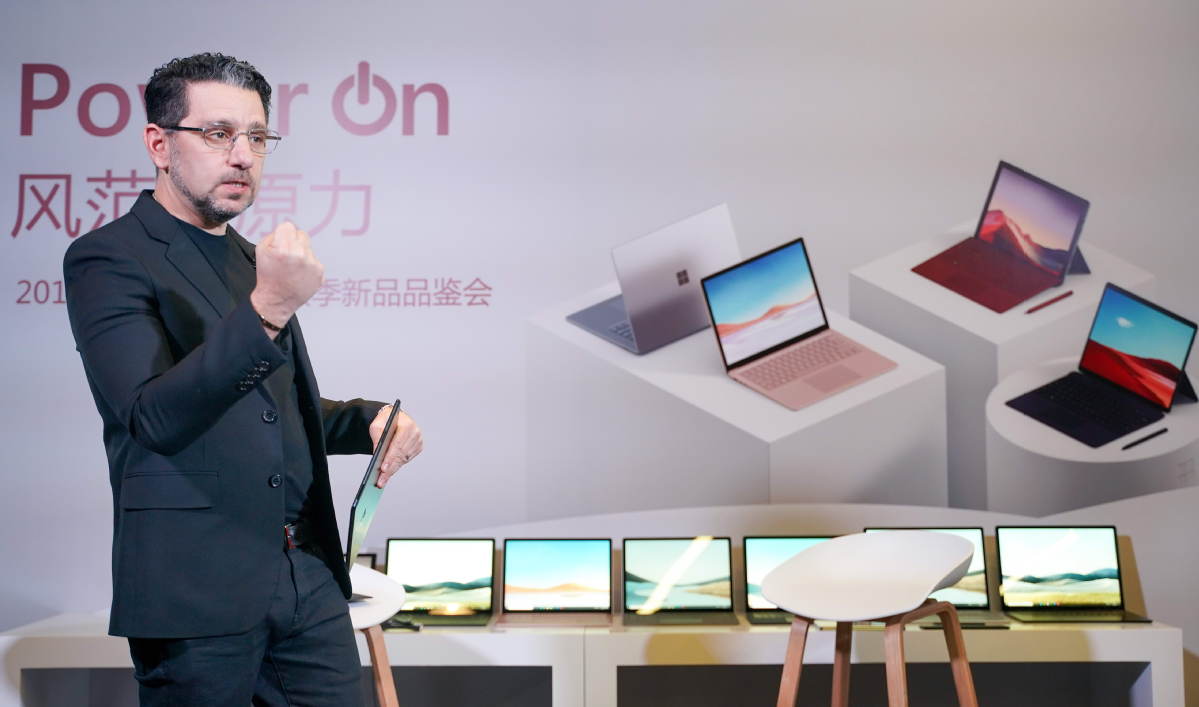 Microsoft Corp unveiled its dual-screen devices in China on Thursday, as its Surface series of products posted "strong" double-digit growth in the nation's commercial PC market.
Panos Panay, chief product officer at Microsoft, said China remains one of the US tech company's strongest markets, with individual and corporate customers entertaining a growing desire for premium devices.
"The adoption of our products in China is quite strong. Local consumers love our products and we are seeing incredible growth," Panay said.
The dual-screen Surface Neo is the latest effort by Microsoft to push technological and engineering boundaries in order to better empower people. Surface Neo can function as a laptop, a book or a tablet, with an intricate hinge that allows it to switch into a variety of modes.
"Two screens make it easier for people to use and enjoy our product. It can function as a better productive tool and ignite people's creativity in a way that we have not seen before," Panay said.
The executive said earlier that China is an important and thought-leading market for Surface, and local consumers have a unique desire for luxury, or products that contain meaning and depth.
Microsoft said it had considered foldable-screen PCs as an option, but it later found that current technologies may not be ready to provide the reliability and quality it demands.
Currently, the US tech giant has a campus in Suzhou, Jiangsu province, where its manufacturing partner is located. It also has a strong team of developers there.
It is reported that Dell, HP, Lenovo, and Asus are all also working on dual-screen or even foldable PCs.
Microsoft's move came after global PC shipments grew 3 percent year-on-year to 70.9 million units from July to September, according to data from market research company International Data Corp. This is the second consecutive quarterly growth, after the PC market had gone through declines for a few years.
Gianfranco Lanci, president of Lenovo, said the global PC market is likely to remain relatively flat or witness slight growth next year. As the Windows 10 refresh cycle in the business market will continue to contribute to growth, the sector will also continue to face a shortage in the supply of CPUs.
On Thursday, Microsoft also showcased its updated tablet-laptop hybrids Surface Pro 7 and Surface Laptop 3. Panay said the company has been working to make it easier for customers to repair their PCs, which is a key demand among enterprise customers.