State Grid helps Brazil harness power
Share - WeChat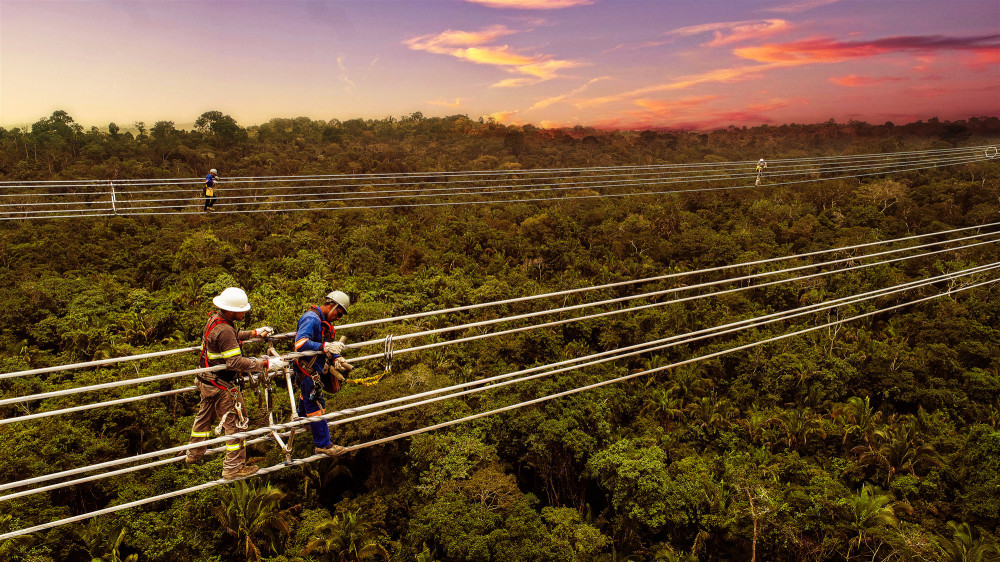 As the only BRICS member in Latin America, Brazil has enjoyed a very close trade and economic relationship with China among Latin American countries. In recent years, Brazil has been one of the top five destinations for Chinese direct investment.
According to Chinese Ambassador to Brazil Yang Wanming, more than 300 Chinese companies have cumulatively invested close to $80 billion in Brazil over the years. State Grid Corp of China (SGCC), the largest utility company in the world, is one of those companies.
State Grid has made a big footprint in Brazil's power sector. So far it has invested a total of $12.5 billion and is currently managing $25 billion in assets in Brazil.
In 2010, State Grid Brazil Holding (SGBH) was established in Rio de Janeiro to engage in the investment, construction and operation of power transmission of concession assets in Brazil.
In addition, another independent team, State Grid Brazil Power, operates in Campinas. Combined, they provide power generation, transmission and distribution services to 14 states including Rio de Janeiro, São Paulo and Brasilia, and support Brazil's economic and social development.
"Brazil is one of the most important overseas markets of SGCC. We have been focusing on asset investment, merger and acquisition operations and greenfield project investment development," said Cai Hongxian, chairman of State Grid Brazil Holding.
SGBH has 23 concession companies, including joint ventures with Funas, ELN and Copel. By the end of 2019, SGBH will own and operate 15,761 kilometers of transmission lines, accounting for 13 percent of Brazil's high-voltage grid assets.
SGBH has completed two major UHVDC projects in Brazil. As a result, Brazil has the longest distance and largest capacity ±800kV UHVDC (ultrahigh-voltage direct current) system in South America, according to Cai.
Belo Monte UHVDC Bipole I (BMTE) was the first such project in Brazil and South America. Completed at the end of 2017, it meets the demands of 22 million people and created more than 12,000 jobs for local people during its construction.
Belo Monte UHVDC Bipole II (XRTE) is the longest ±800kV UHVDC transmission project in the world and it was recently completed three months ahead of schedule. The project has an extension of a 2,539 km transmission line, two converter stations and transmission capacity of 4,000 MW. It created about 18,000 jobs for Brazil during its construction.
The construction of XRTE resulted in the purchase of over $1.1 billion (R$4.5 billion) in local electrical equipment and EPC service contracts, generating $500 million (R$2.2 billion) total tax for Brazil.
The Belo Monte projects have become an important symbol for fruitful China-Brazil cooperation. Chinese President Xi Jinping and Brazilian President Jair Bolsonaro personally witnessed the signing ceremony of the commercial operation license for XRTE on Oct 25.
Cai said such an achievement is due to State Grid's strong leadership and strategic planning. Brazil's transparent power regulation, stable policies, a market economy and well-educated engineers and professional team also factor into its success.
"This project is part of the Belt and Road Initiative. Its success means win-win for both China and Brazil. In addition, it demonstrates China's capability to export the complete value chain of UHVDC transmission from investment, construction to operation with technology, standardization and equipment," Cai said.
With a major presence in Brazil, SGBH makes sure it's part of the community it operates in. Between 2010 and 2018, SGBH contributed about $7.3 million (over R$30 million) to social programs such as a fund for infants and adolescents, a national program to promote awareness of cancer, and a fund for the elderly.
SGBH makes efforts to preserve Brazil's natural and cultural riches while embracing the country's need for economic development. As a result, in June, XRTE received the 2019 Best Commission's Brazilian Social Environmental Management Practice Award by Benchmarking Brazil for its effective environmental protection work.
"Looking into the future, Brazil's economic and social growth potential is large, and the demand for power load is growing. It is necessary to further strengthen investment in power infrastructure. China and Brazil have broad market cooperation prospects in the power sector," Cai said.
China-Brazil cooperation has entered a new era.
"President Xi Jinping's Belt and Road Initiative is highly compatible with President Bolsonaro's idea of investment-driven growth, infrastructure development as a solid foundation, and technological innovation to enhance competitiveness.
"Brazil and China have strong complementarities and mutual benefits in terms of energy resources and energy technologies. The potential for broad cooperation is enormous," Cai said.
Contact the writer at mayzhou@chinadailyusa.com