Hefei eyeing advances in quantum science
Share - WeChat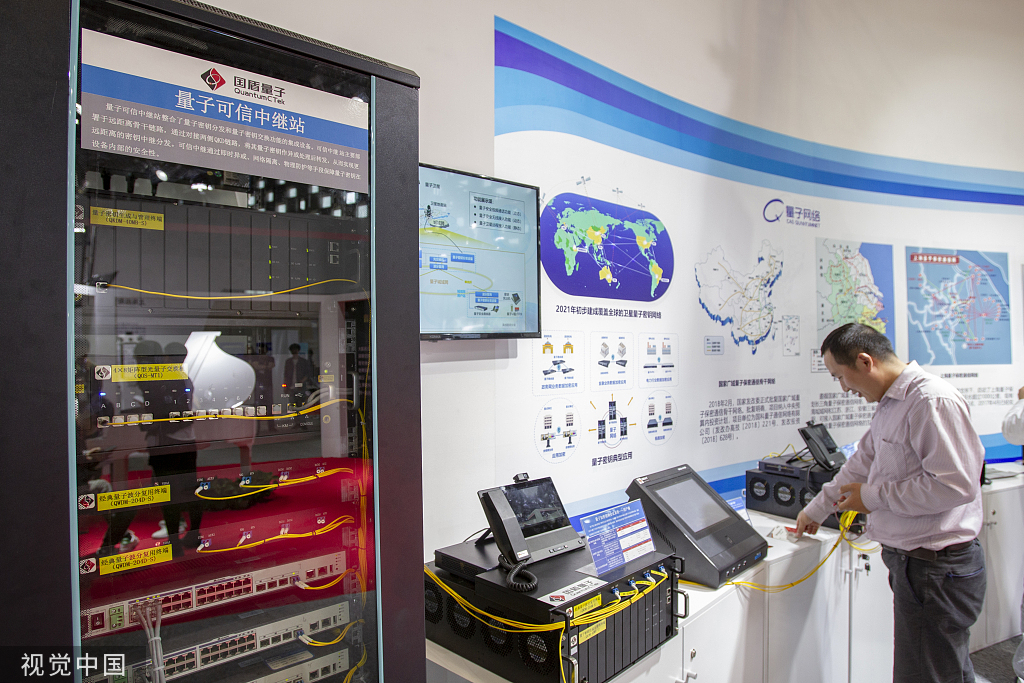 Hefei, the capital city of Anhui province, aims to be a pioneer in China's quantum information science and technology development, with a string of local companies eager to commercialize the cutting-edge technology.
One of them is QuantumCTek, a local unicorn company providing quantum-communication-based encrypted solutions and devices. The decade-old company got the necessary approvals from the Shanghai Stock Exchange last week for a listing on China's new science and technology innovation board.
QuantumCTek plans to raise 300 million yuan ($42.8 million) through an initial public offering, which will make it the first listed quantum technology company in China.
Zhao Yong, president of QuantumCTek, said China is at the tipping point of large-scale 5G network construction and quantum cryptography technologies can be deployed within the network to protect information and safeguard against eavesdropping.
Currently, China's big three telecom carriers, China Mobile, China Telecom, and China Unicom, as well as QuantumCTek have become members of a focus group on quantum communication under the International Telecommunication Union. Telecom equipment makers Huawei Technologies Co Ltd and ZTE Corp are also members of the focus group.
QuantumCTek was founded in 2009 in the laboratory of the Hefei-based University of Science and Technology of China, one of the country's top universities. Its quantum cryptography products and services have already been used in banks, communication networks and other areas in China.
The latest prospectus released by QuantumCTek shows that the firm had an operating revenue of about 265 million yuan and a net profit of 72 million yuan in 2018. Top Chinese quantum scientist Pan Jianwei personally holds an 11.01 percent equity stake in the company.
QuantumCTek is merely one of five local companies whose main business is to promote fast computing, precise measurements and long-distance secure communications with quantum mechanism.
All the five firms are located at the Hefei National High-tech Industry Development Zone and their founding members are all students of China's renowned quantum scientists, namely Guo Guangcan, Du Jiangfeng and Pan, academicians from the Chinese Academy of Sciences.
"As the new technologies are brought closer to people's lives, these companies will lead industrial development in the future," said Lyu Changfu, deputy director of the zone's administration committee.
Within the development zone, a national laboratory for quantum information science and technology is now almost complete.
The institute, which is still awaiting final approval from central authorities, is expected to effectively promote interdisciplinary collaboration for quantum information science and technology development, Pan said in an earlier interview.
In April, private sponsors donated 100 million yuan to set up the nonprofit Micius Quantum Foundation in Hefei, which aims to promote development of quantum information science and technology.
A total of 12 million yuan will be granted to 12 international scientists for their academic contributions in the fields of quantum computation and quantum communications. Six laureates, announced annually, will receive 1 million yuan each under the aegis of the Micius Quantum Prize.
Zhao from QuantumCTek said: "Though the quantum communication industry is still in infancy, its potential is being increasingly recognized. We are preparing for a takeoff in the near future."