Experts urge closer Sino-Greek economic ties
Share - WeChat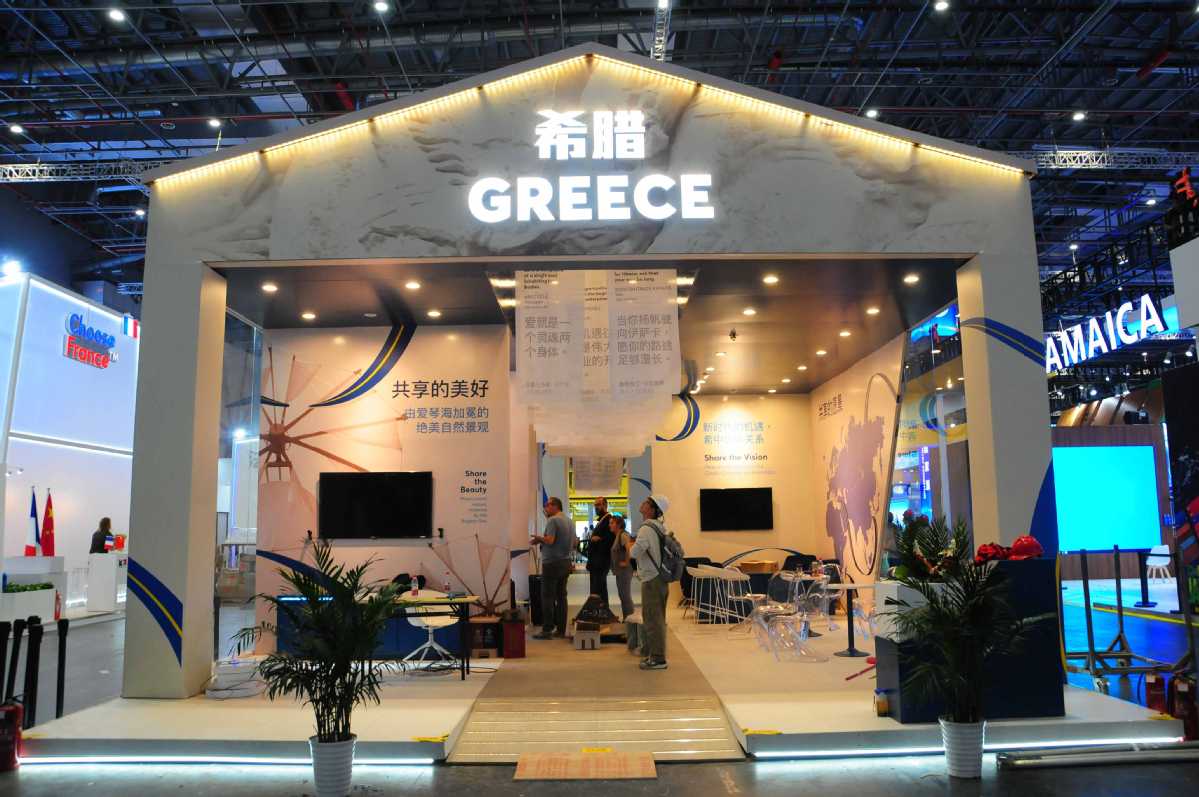 Enhanced efforts are needed between China and Greece to strengthen cooperation in different industries and further unleash their economic and trade potential, experts said.
Chen Xin, deputy director-general of the Institute of European Studies of the Chinese Academy of Social Sciences, said China and Greece should strengthen cooperation on several fronts, including e-commerce.
"More efforts are needed to further unlock the potential of China-Greece economic and trade collaboration," Chen said. The partnership can be "a new model" for China building economic relations with Western European countries, he said.
Chen spoke as business representatives from over 60 Greek companies exhibited their advanced products at the second China International Import Expo 2019 in Shanghai, which ran from Nov 4 to Sunday.
Tourism also was a highlight for Greece, one of the expo's 15 honored countries.
Chinese tourists play an important role in the burgeoning Greek tourism industry. The number of Chinese tourists visiting the country in 2019 will double last year's numbers and may reach 400,000 or even 500,000 in 2020, the Greek Ministry of Tourism said.
To satisfy the demand, Shanghai-based Juneyao Air is set to launch direct flights from Shanghai to Athens starting in July.
Dai Bin, president of the Beijing-based China Tourism Academy, said, "China and Greece, as two of the ancient countries in world civilization, have a profound cultural heritage, which is an important carrier for the development of tourism exchanges."
Large-scale tourism exchanges can enhance people's understanding of one another's cultural, economic and social development and help advance industrial cooperation under the framework of the Belt and Road Initiative, Dai said.
This year, the two countries signed the Greece-China Action Plan 2020-2022, outlining areas of cooperation in transportation, energy, telecommunications, financial services, processing and research and development. In April, Greece joined China's 17+1 Initiative, a multilateral forum for economic cooperation and development in Central and Eastern Europe.
"Greece joining the platform has helped expand the market in which China and Central and Eastern European countries can cooperate," Chen said.
China-Greece trade has developed rapidly in recent years. In 2018, bilateral trade amounted to $7.06 billion, an increase of 36.3 percent year-on-year, according to the Ministry of Foreign Affairs. China's exports to Greece increased by 36.8 percent year-on-year to $6.5 billion last year, and the country's imports from Greece reached $564 million, up 31.2 percent year-on-year.
The total size of China-Greece mutual investment is small and is focused on shipping, telecommunications and solar technology, the ministry said. As of the end of January, Greece had 172 direct investment projects in China, with investment of $98.33 million.
Still, companies from both countries have been deepening their collaboration.
In October, the Piraeus Port Authority in Greece, majority owned by China's COSCO Shipping, received approval to make investments of 611.8 million euros ($674.9 million) at Greece's largest port. That marks the "opening of a new page in the excellent relations between Greece and China", said Ioannis Plakiotakis, Greek shipping minister.
Companies including Huawei and Fosun have also expanded their businesses in Greece.