Faster than express, greener, high-tech
Share - WeChat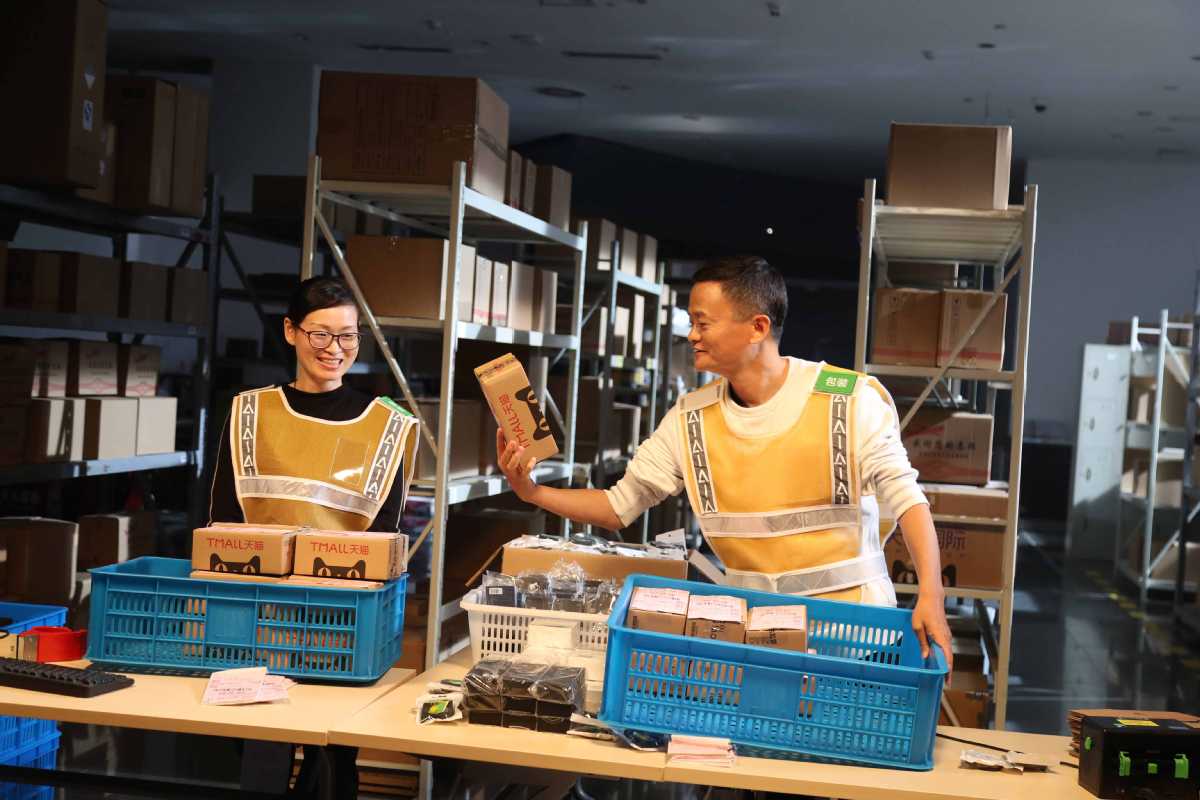 Logistics comes of 5G age, to ride 11-11 euphoria and back consumption upgrade in country
On Monday, Chinese e-commerce platforms will pull out all the stops yet again for the Singles Day online shopping festival, which is celebrated every year on Nov 11 (11-11). This year's double-11, however, will be different: the focus will be shared by sales and the magic of stunning logistics that makes the annual bonanza, and the ongoing consumption upgrade that requires shipping of more than 50 billion parcels annually, possible.
E-commerce platforms are equipping themselves with state-of-the-art technologies, digital payment systems and logistics, to handle the anticipated heavy traffic online, record sales and quick deliveries, industry observers said.
For instance, JD Logistics, the logistics arm of Chinese e-commerce giant JD, will switch on China's first 5G-powered smart logistics park in Beijing on Monday, on the back of JD's collaboration with three telecom carriers.
The 5G technology will enable real-time monitoring of location and routes for forklifts and pallets, and provide preemptive alerts to deal with any abnormal situations.
The launch of the smart logistics park will mark the e-commerce industry's shift in focus beyond double-11 sales to bringing down costs and transforming the logistics industry.
For a while now, major Chinese online retailers have been gearing up to build logistics networks, especially in lower-tier cities and townships. They have also been harnessing cutting-edge technologies such as 5G and artificial intelligence to offer fast, efficient and intelligent services.
To meet the country's booming e-commerce demand, JD Logistics is beefing up its presence in lower-tier cities for growth, while focusing on enhancing users' experiences in first - to third-tier cities.
"We will continue to open our logistics services to third-party clients and penetrate into the fourth-to sixth-tier cities and townships, where orders can be delivered right to the customer's doorstep within 24 hours," said JD Logistics CEO Wang Zhenhui.
Wang noted that improved logistics efficiency will give a powerful boost to the wholesale and retail channels. Moreover, the company's orders from third-party seller platforms and external partners have grown eightfold, accounting for 40 percent of its revenue, Wang said.
"Currently, we have six major logistics networks, which include normalsized items, bulky items, cold chain, business-to-business, cross-border and crowd-sourced," Wang explained.
He said the consumption growth rate from fourth - to sixth-tier cities has surpassed that of first-and second-tier cities, and along with the enhancement of logistics and infrastructure, the consumption in these lower-tier cities will be rising further.
The cost of logistics is also dropping, due to the company's fast expansion into these cities, especially the flocking of a large number of third-party orders, he said.
JD Logistics has reached the break-even level, according to its financial results for the second quarter. The company had previously reported losses in its operations, posting a loss of 2.8 billion yuan ($400 million) last year.
Wang said in 2017 that the orders from third-party seller platforms were expected to take up nearly 50 percent of the revenue in the next five years.
Last month, JD Logistics also launched an open platform for a digital supply chain.