Public opinion could be telling as impeachment proceedings unfold
Share - WeChat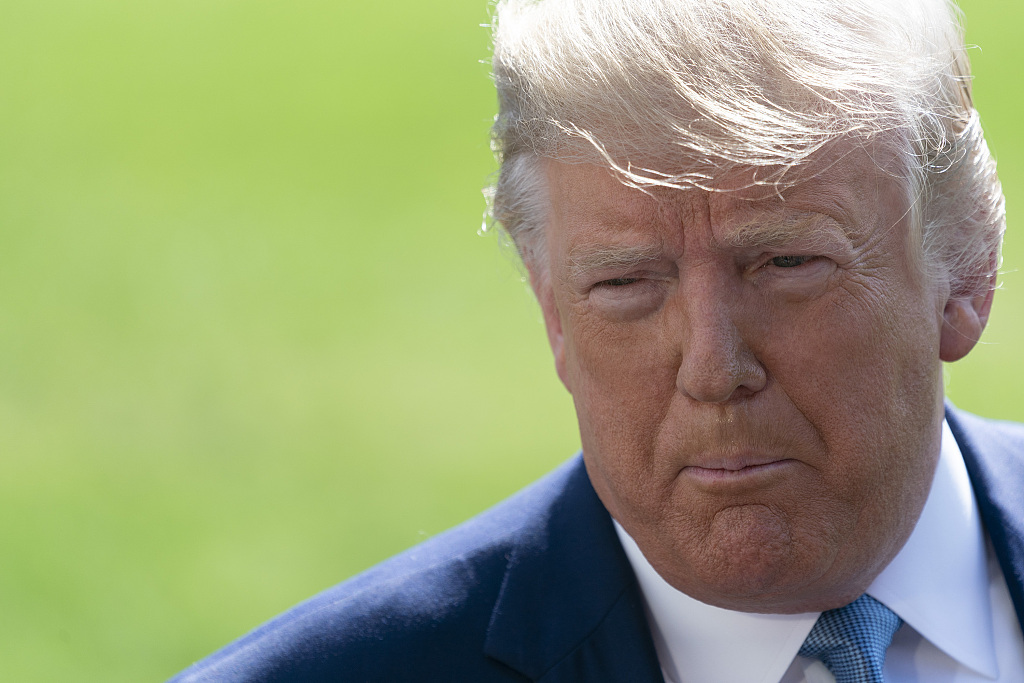 The impeachment proceedings against US President Donald Trump could shape and sway public opinion and impact the 2020 presidential campaign, analysts said.
The House of Representatives, in a 232-196, mostly party-line vote on Thursday, approved rules for the next, more public, stage in the Democratic-led impeachment inquiry into Trump's attempt to have Ukraine investigate former vice-president Joe Biden and his son Hunter.
Over the past five weeks, the probe has primarily been shaped by closed-door testimony from several officials who have raised questions about whether Trump and his inner circle withheld nearly $400 million in security aid for Ukraine in order to pressure Kiev to investigate Trump's political rivals, thehill.com reported.
The probe focuses on a July 25 telephone call in which Trump asked his Ukrainian counterpart, Volodymr Zelenskiy, to investigate Joe Biden, a 2020 candidate for the Democratic presidential nomination, and his son Hunter, who had served as a director for Ukrainian energy company Burisma Holdings.
"The fundamental question is how the strategies of the two parties will affect the portion of the public that has not yet made up its mind and remains open to the evidence," said William A. Galston, a senior fellow in governance at the Brookings Institution.
"The Democrats will argue that the Republicans are blindly defending Trump, but the Republicans will retort that Democrats are blindly attacking him. If both parties are seen as acting in a purely partisan fashion, it's not clear which (if either) will gain an advantage," Galston told China Daily.
If the House eventually votes to impeach Trump, it would lead to a trial in the Republican-controlled Senate. Trump would not be removed from office unless the Senate votes to convict him by a two-thirds majority, or 67 votes, something that looks unlikely as congressional Republicans have been reluctant to move against the president.
Cal Jillson, a political scientist and historian at Southern Methodist University in Dallas, said Trump's strategy to combat the impeachment inquiry, as with previous inquires, will continue to be to "denigrate and discredit" the process and all who take part in it.
"The difference in this case is that soon there will be extensive public hearings in which those offering evidence will do so in person and on camera, where the public can form their own opinions of their candor and veracity," Jillson told China Daily. "The public's assessments may differ from those of President Trump."
The hearings will reveal details embarrassing to the president, Jillson said.
"His best hope is that the Senate finds the evidence embarrassing, but not rising to the level of an impeachable offense, and acquits him in time for the whole thing to fade from public memory," Jillson said.
Galston said that Trump's strategy would probably not work this time, as eventually he will be forced to address the substance of the charges against him.
"Once he does so, he will have two strategic options: to claim that he didn't do what he is accused of doing, or to admit that he did it but argue that it wasn't wrong and that all politicians do the same kind of thing," Galston said.
He said that up until now, the controversy has had little impact on Trump's job approval, and nearly all Republicans continue to support him.
"If these two factors shift against him during the inquiry, his prospects for reelection will diminish," Galston said.
William C. Banks, co-author of National Security Law and the Power of the Purse, a 1994 book about tensions between the executive and legislative branches over security and spending, said that to win a second term, Trump would need the impeachment effort to fail and backfire, showing the Democrats as interested only in partisan victory and not the rule of law.
"If the public impeachment process builds the Ukraine abuse of office case clearly, so that average Americans can see what the president did, it should lead to impeachment and a trial in the Senate," said Banks, a Syracuse University College of Law professor.
"From there on, everything depends on events that have yet to occur," he said.
Stanley Renshon, a political scientist at City University of New York, said he believed the impeachment attempts will "both help and hurt" Trump's reelection campaign.
"It will mobilize Democrats who want to get rid of him and Republicans who think, whatever the facts, he has been 'railroaded'," Renshon told China Daily.
The crucial groups will be GOP moderates in the suburbs and independents, he added.
Two Democrats voted against the resolution Thursday, one independent voted in favor, and four members did not vote.
Freshman Representative Jeff Van Drew of New Jersey and 15-term Representative Collin Peterson of Minnesota complained that the process has been overly partisan and is further dividing the country.
Van Drew said that "at the end of the day, there was no investigation (by Ukraine) and the money did flow" eventually.
"The Greatest Witch Hunt In American History!" Trump wrote on Twitter after the vote.
"It's a sad day. No one comes to Congress to impeach a president," House Speaker Nancy Pelosi said before the vote.
"It should not be Nancy Pelosi and a small group of people that she selects that get to determine who is going to be our president," said Kevin McCarthy, the top House Republican.
"We take no joy in having to move down this road and having to proceed with the impeachment inquiry, but neither do we shrink from it," House Intelligence Committee Chairman Adam Schiff, Democrat of California, said at a news conference after Thursday's vote. Schiff will preside over the impeachment proceedings.
"The House Intelligence Committee has ceased to exist," Representative Devin Nunes of California said on the floor Thursday. "We now have a full-fledged impeachment committee in the basement of the Capitol."
David Swanson, campaign coordinator for Roots Action, an independent non-profit that wants to see Trump impeached, told China Daily: "It's a question of political will [to proceed with impeachment] and pressure and political calculus by senators. For a conviction you need to have all of the Democrats and 20 of the Republicans. It's entirely possible."
Belinda Robinson in New York and Reuters contributed to this story.