Time for BRICS media groups to strengthen cooperation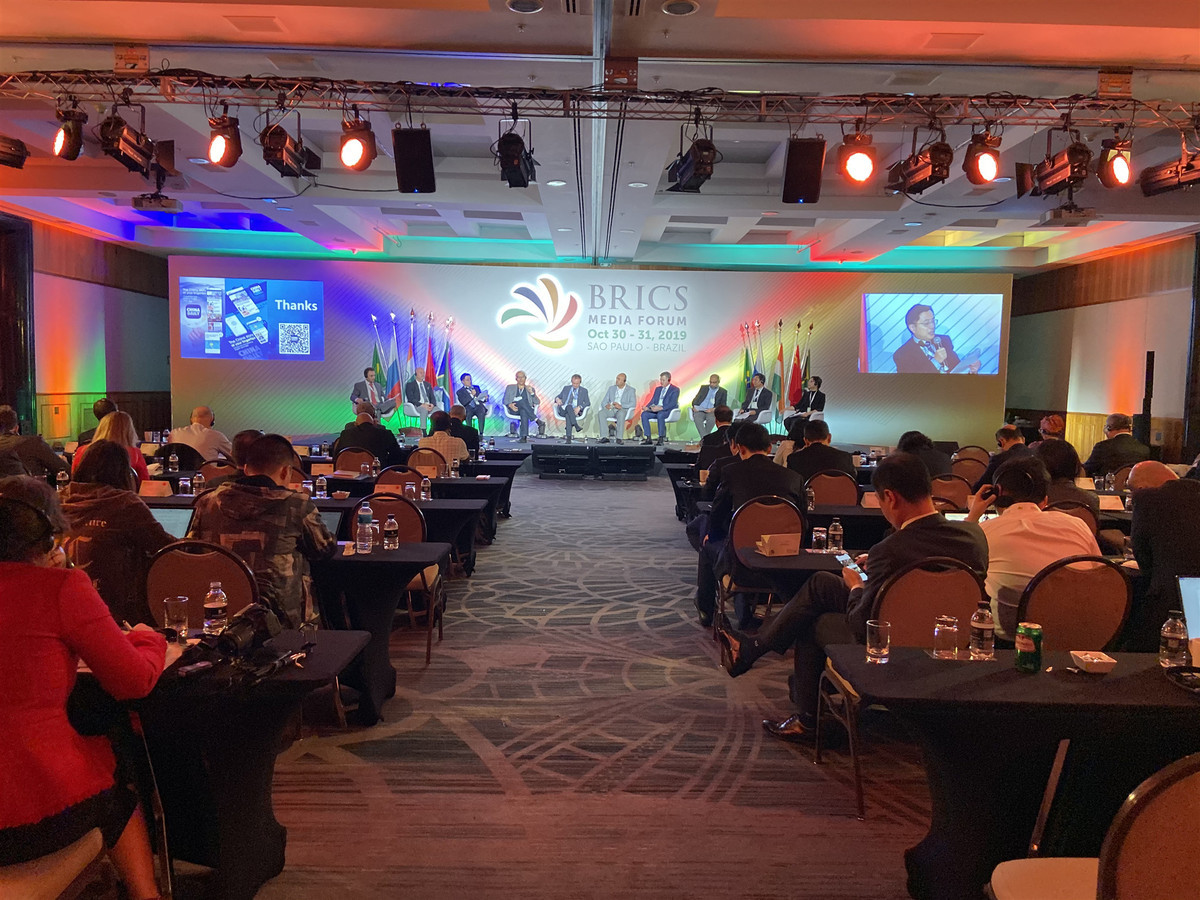 The 4th BRICS High Level Media Forum highlighted the importance to promote the messages and image of all five BRICS countries within their audiences and to other nations' citizens. The main message from more than 20 speeches was the need to implement pragmatic cooperation. The title of this year's meeting was Strengthen Media Cooperation by creating a BRICS Shared Future Community.
To build a digital common platform was one of the proposals at the Joint Letter signed by the co-delegates of the forum, composed by He Ping, minister and editor-in-chief of Xinhua News Agency, José Juan Sanchez, President of CMA Group of Brazil, Dmitrii Gornostaev, deputy editor-in-chief of International News Agency and Radio Sputnik of Russia, Ananthakrishnan Gopalakrishnan, senior associate editor of The Hindu of India. The authors were represented at the forum by Shobhan Saxena, The Hindy's Brazil correspondent and Lutfia Vayej, group executive for marketing and communication at Independent Media of South Africa. The text also stressed the demand to implement a joint fact-checking system in order to avoid fake news, as well as other suggestions.
The two-day forum was held in São Paulo, the Brazilian financial capital, on Oct 30 and 31 as a initiative of Xinhua News Agency and CMA Group from Brazil. China Daily was represented by its deputy editor-in-chief Wang Hao, along with other Chinese media companies. Other BRICS countries — Russia, India and South Africa — were also present.
BRICS countries have been engaging in different areas since the informal group decided to promote annual summits to exchange ideas. Since then, those ties have been pushed toward new areas, including environment, poverty reduction, health joint efforts and cultural exchanges, just to mention a few. The BRICS Media Forum shows those efforts must be better promoted, and journalism is an important tool for that. Sharing such initiatives is a way to enhance mutual understanding. Today, BRICS accounts for 23 percent of the world economy and 50 percent of global economic growth.
During the panels, the need for pragmatic action was evident even for the media. If BRICS had already achieved an outstanding joint initiative such as the New Development Bank, why not have a shared platform to coordinate the exchange of information?
Social media networks were one aspect mentioned by Wang when discussing the huge audience China Daily had for its short videos. The digital versions of media outlets were also central to discussion. Wang shared the experience China Daily had using 5G technology from Huawei to cover the 70th anniversary of the People's Republic of China.
A joint photo exhibition was also opened at a São Paulo art space (Centro Cultural São Paulo) and will be open to the public until Nov 10th. The exhibition provides an opportunity for people see how rich the cultural exchange is through the media of those countries. Previous editions of the forum were held in Russia, China and South Africa. On Nov 13 and 14, capital city Brasilia will host the BRICS Summit. The presence of the presidents of all five countries is expected.
Janaína Camara da Silveira is a journalist and holds a master's degree in economics.
The opinions expressed here are those of the writer and do not necessarily represent the views of China Daily and China Daily website.
Most Viewed in 24 Hours
China Views