Protein-rich oat milk as coffee mate
Share - WeChat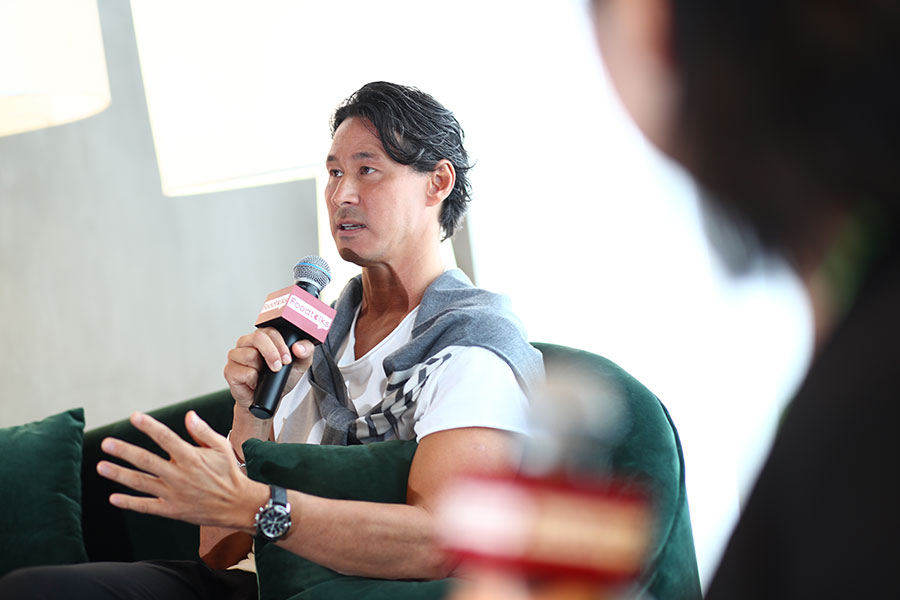 Toni Petersson drives Oatly's strategy to promote plant-based dairy alternatives
On a sunny September morning, at a quiet boutique coffee shop in the Sanlitun area, Beijing's hipster zone, Toni Petersson, CEO of Oatly, a firm that specializes in plantbased milk made from oats, appeared to particularly savor his latte. A closer look revealed it was a latte with a little twist - instead of milk, it was made with oat milk.
"Half of the world's population are intolerant to lactose," said Petersson. "And so it is in China. But the mainstream trend of milk is still very strong."
Founded during the 1990s, Oatly aimed to make a protein drink for human beings without using dairy.
The protein drink was designed to be a substitute for cow milk and overcome the problem of lactose intolerance in China, a big market for coffee chains. It gave Oatly a chance to present itself as a producer of coffee mate products.
"We need to educate the local consumers about our products and how to use them. Globally, we did it at coffee shops, and we will do the same here," said Petersson.
Since entering the Chinese market last year, one of Oatly's drinks, which was made for coffee shops as substitute for milk, has received positive feedback from consumers, Petersson said.
"It went extremely well, beyond expectation," he said. "If you look at Shanghai ... compared to New York City, you will find more 'third wave' coffee shops in Shanghai. It has already been booming here."
The third wave of coffee is a movement to produce high-quality coffee and regards it artisan food such as wine, rather than a commodity.
Despite a slow start, China has grown into one of the fastest-growing coffee markets in the world. According to the prospectus of Luckin Coffee, a coffee chain in China that listed on the Nasdaq Stock Market this May, Chinese on average consumed 6.2 cups of coffee, forming a market of 56.9 billion yuan ($7.98 billion). The number is expected to grow to 180.6 billion yuan by 2023.
Buoyed by such data, Oatly is bullish on China where its protein drink products are served in coffee shops and restaurant chains.
"What is interesting in China is that (apart from the coffee channel), China has the tea channel, the bubble tea business," Petersson said. "So, I can see interesting dynamics here."
Petersson said the company's strategy has been, and will remain in the near future, to penetrate China's coffee and tea drink markets.
So far, Oatly has built up a presence in over 3,400 outlets, including 2,000 coffee shops and chains such as Pacific Coffee in China in first - and second-tier cities.
As it is yet to complete a full year in the market, the annual revenue figure has not yet been arrived at. But it is eyeing to double the number in 2020.
"We are already in second-tier cities and we need to penetrate more. We don't approach the retail sector much now as we need to build awareness first. The coffee and tea channels will still be big for us," Petersson said.
Although a relatively niche segment, oat milk's potential in China could be huge, according to data from Mintel, a global market research firm. The plant-based protein drinks market is estimated to be about 62 billion yuan in China and will exceed 70 billion yuan in the near future, Petersson said, citing Mintel data.
Oatly has already started its online channel as e-commerce channels account for about 24 percent of total China sales.
So far, oat milk was imported from Europe. Oatly's first Asian plant will open in Singapore in the next six to nine months, to serve the whole Asian region. "But mainly China," he said.
Petersson believes oat milk is a healthier alternative to cow milk. He is also a firm supporter of sustainability and regards it as a core value of Oatly.
"We grow plants - for example, oat, to feed the cow (to get milk). Instead of doing that, we can drink oat milk," he said, adding that he believed oat drinks will produce 80 percent less carbon footprint.
To better localize in the Chinese market, Oatly has been working with a number of carefully selected Chinese coffee brands and chains. One of its proud pieces is a collaboration coffee gift set with Saturnbird Coffee, the Chinese premium coffee roaster. The gift set contains a box of coffee sachets and two boxes of oat milk.
However, the gift box's packaging design did not gain the full approval of Petersson as the coffee sachets were wrapped in plastic material. "No, it should be paper, not plastic," he told the product manager.
"There is a rising trend in sustainability globally led by the young people," he said. "We have seen the strong movement on sustainability driven by young people. We think they can lead the whole category (of oat milk). Just like everywhere else, the movement in China is very new but very strong."