Keeping up appearances
Share - WeChat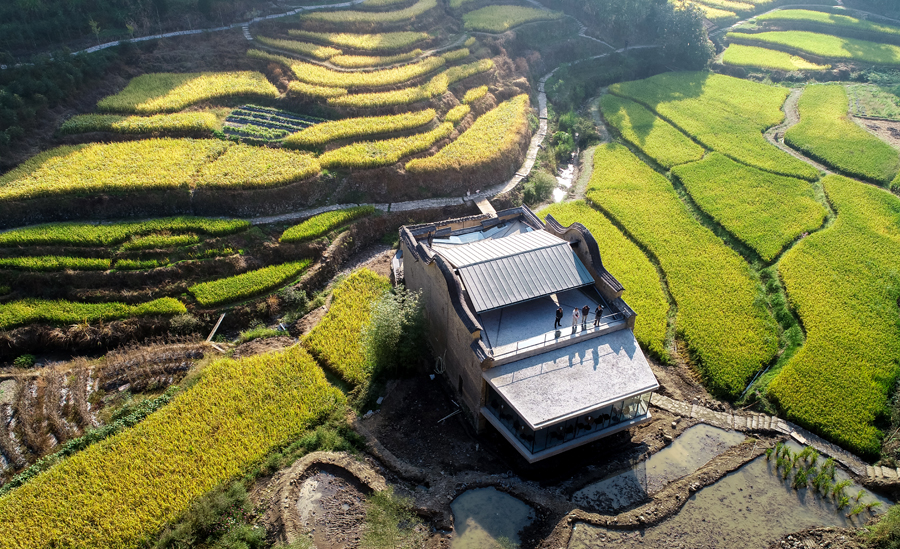 A bookstore chain has opened its fourth rural branch matching the vernacular of the local architecture in a bid to revive grassroots culture, Fang Aiqing reports.
Chinese bookstore chain Librairie Avant-Garde opened a new branch in Xiadi village in Pingnan county, Fujian province, at the end of September.
The new outlet is surrounded by rice fields that are turning golden at this time of the year.
It lies in an 800-year-old village, where traditional dwellings with rammed-earth walls and wooden structures have kept the village's overall look intact throughout the Ming (1368-1644) and Qing (1644-1911) dynasties.
The bookstore was constructed in the shell of a traditional house. Architect Hua Li, who has completed several rural projects over the past decade, embedded a modern concrete-and-steel structure between the surviving rammed-earth walls.
However, he has kept the external appearance of the edifice in line with the vernacular architecture and retained a section of the ruined walls to form an entrance yard.
The bookstore stocks around 7,500 titles on such topics as architecture, photography, art, film and design, as well as classics of the humanities and social sciences.