Entrepreneurship strong at Wuzhen conference
Share - WeChat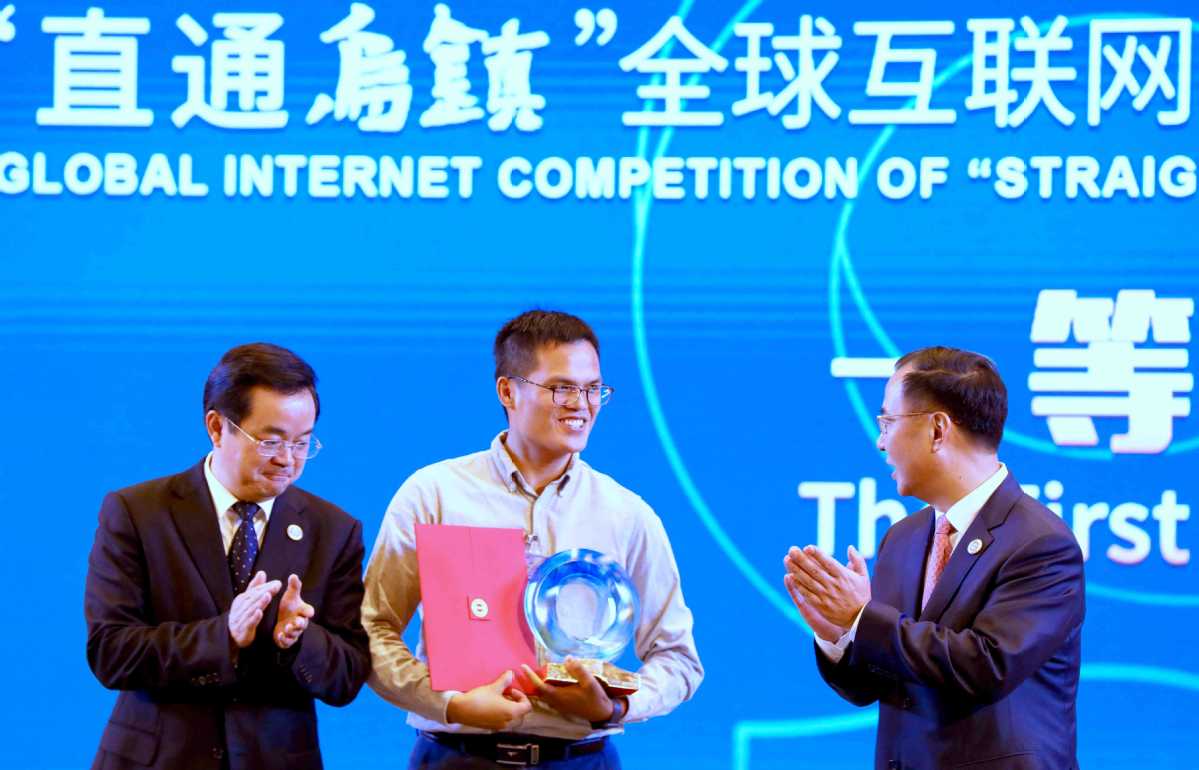 While investors are becoming increasingly conservative toward investment in technology startups, the entrepreneurial vibe was still strong at the Global Internet Competition "Straight to Wuzhen" during the sixth World Internet Conference.
The competition, which was held for the first time this year, saw 10 innovation projects covering artificial intelligence, robotics and the internet of things entering the final round held on Tuesday. Beijing LuxCreo Technology Co Ltd, a 3D printing specialist, won the first prize.
LuxCreo CEO Yao Zhifeng said that the purpose of attending the Wuzhen Summit, especially the competition, was to help the Chinese manufacturing industry get smarter and better connected. To that end, 3D printing technology is crucial as it can shorten the supply chain. With it, production can be personalized and seek large scale at the same time, he said.
The competition's offline preliminary round in the domestic market started in Hong Kong on April 15 and extended to Israel, Germany and the United States. The online competition kicked off in August and attracted around 400 teams from across the world.
Many of the candidate projects have each drawn investment valued more than 100 million yuan ($14.6 million), according to the Department of Economy and Information Technology of Zhejiang.
Liu Liehong, vice-minister of Cyberspace Administration of China, said that the competition not only serves as the epitome of the future internet but also an important platform where companies and institutions can explore and exchange their understanding of latest technologies and business models.
"As the development of internet diverts its focus from consumption to industries, it is the ultimate goal of the competition to seek digital transformation solutions for different industries so that they can better integrate," he said.
Venture capital firm GSR Ventures Managing Director Zhu Xiaohu was on the judging committee. "The capital market might have cooled down lately when it comes to technology startups. But it can also be the best time for startup companies to seek a breakthrough," said Zhu.
The latest report from professional services provider PwC showed that there were a total of 1,649 private equity and venture capital investment deals in the telecommunications, media and technology (TMT) industry registered during the first half of 2019, down 12 percent from the second half of 2018.
But Avichai Belitsky, CEO of Israeli IoT solution startup Youtiligent, was not disheartened by the seeming investment cooldown in China. As a third prize winner of the competition, Belitsky said he was quite content with the company's debut on such a stage in China.
"We found a manufacturer in Shenzhen last year who plans to bring some of our products to China early next year. I don't think there is really a so-called winter in the capital market. Actually I will come to China again this November to meet some potential investors. There is still plenty of opportunities here as long as the technology meets the market demand," he said.