Huawei bucks the worst of restrictions
Share - WeChat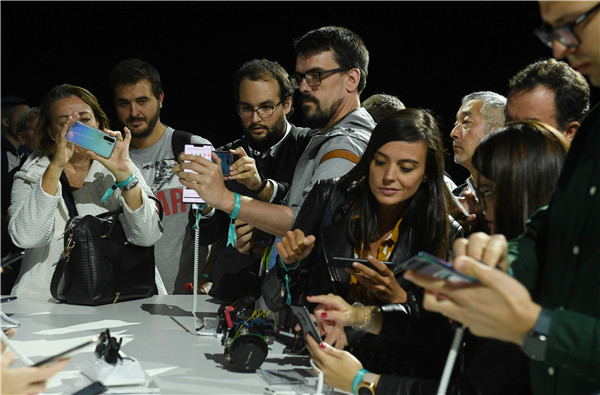 Chinese tech giant improves brand image, product sales in major overseas markets
Like a phoenix rising from the ashes, Huawei Technologies Co has shrugged off the impact from US restrictions with steady growth in core businesses and a slew of impressive product launches in the overseas market, further embellishing its image as a global technology giant.
Yang Chaobin, president of Huawei's 5G product unit, said the company has already started shipping 5G base station modems without any US components to the rest of the world.
Out of the 400,000 units of 5G active antennas, a type of modem used in 5G base stations, that Huawei has shipped so far, about 300,000 units have been shipped after the US imposed restrictions in May.
"Some of these modems don't include US components, and their performance is as good as those that have US components," Yang said.
His remarks should come as sweet music for the tech giant, which was put on the "Entity List" in May this year by the US government and barred from buying US technologies sans special government approvals.
Ding Yun, president of Huawei's carrier business group, which supplies telecom equipment and solutions to global carriers, told China Daily: "We have seen the fastest growth in areas where we were hit the hardest."
While the tech giant has been able to maintain normal supplies to its customers after the ban, its popularity seemed to have risen, rather than wane, in the overseas market.
Latest data showed that the company has signed more than 60 commercial contracts for 5G with leading carriers globally, an increase from 40 contracts at the time of the US ban in May.
Telecom carriers have launched 40 commercial 5G networks in more than 20 countries and regions, with 136 5G devices available in the world, said Hu Houkun, rotating chairman of Huawei, adding that he expected 60 5G commercial networks by the end of this year.
"The increasing 5G orders from global markets once again proves Huawei's technological prowess and innovation capacity in 5G technology," said Xiang Ligang, director-general of the telecom industry association Information Consumption Alliance.
"It also shows that so far, the trade uncertainties have not had a big impact on Huawei's businesses in the foreign markets," he said.
All these figures seem to buck those groundless speculations that Huawei's products contain "back doors" or security risks, for which the US government has been persuading its allies not to use the company's (Huawei's) equipment, experts said.
It is unreasonable for countries to surrender to political pressure from Washington, which has leveraged its political might to suppress tech powers globally, said Xiang from ICA.
Among the total 5G commercial contracts, nearly half of them are from Europe, with 32 in total, and 11 from the Middle East, 10 from Asia-Pacific, seven from the Americas and one from Africa.
Wang Yanhui, secretary-general of the Mobile China Alliance, said Huawei has been serving European telecom carriers since the 3G era and no evidence has been found of it conducting any malicious cyber activities.
"The world should let the facts speak, and not worry about fears fanned by some countries," Wang said.
Last week, Reuters reported that Germany said it would not single out any telecom player, including Huawei, in its 5G build-out. German government spokesman Steffen Seibert also said at a news conference in Berlin that "we are not taking a preemptive decision to ban any actor, or any company".
It echoed German Chancellor Angela Merkel's stance earlier this year where she said the country would not exclude individual vendors while toughening the security of its mobile networks.
Robert Hannigan, former head of the Government Communications Headquarters, one of the United Kingdom's intelligence arms, said in an opinion article in the Financial Times that the West should put an end to "hysteria" over Chinese technology.
The key point here is that "the NCSC has never found evidence of malicious Chinese state cyber activity through Huawei", Hannigan said in his article. NCSC refers to the National Cyber Security Center in the UK.
During the first three quarters of this year, the company generated a revenue of 610.8 billion yuan ($86 billion), up 24.4 percent year-on-year. The tech giant had earned revenue of 401.3 billion yuan during the first six months of the year, up 23.2 percent from the same period a year ago.
Despite some worries that the US ban may have a big impact on its smartphone business, more than 185 million Huawei smartphones were shipped in the first three quarters of 2019, up 26 percent year-on-year.
"Huawei shipped an all-time high of 67 million smartphones in the third quarter alone. The company's solid performance was largely due to its continued expansion in the domestic market," said Jia Mo, an analyst from market research company Canalys.
However, in the overseas market, Huawei must find new solutions to maintain its leading position as its competitors will continue to update their products, Jia said.