Tentative deal reached in union strike of GM
Share - WeChat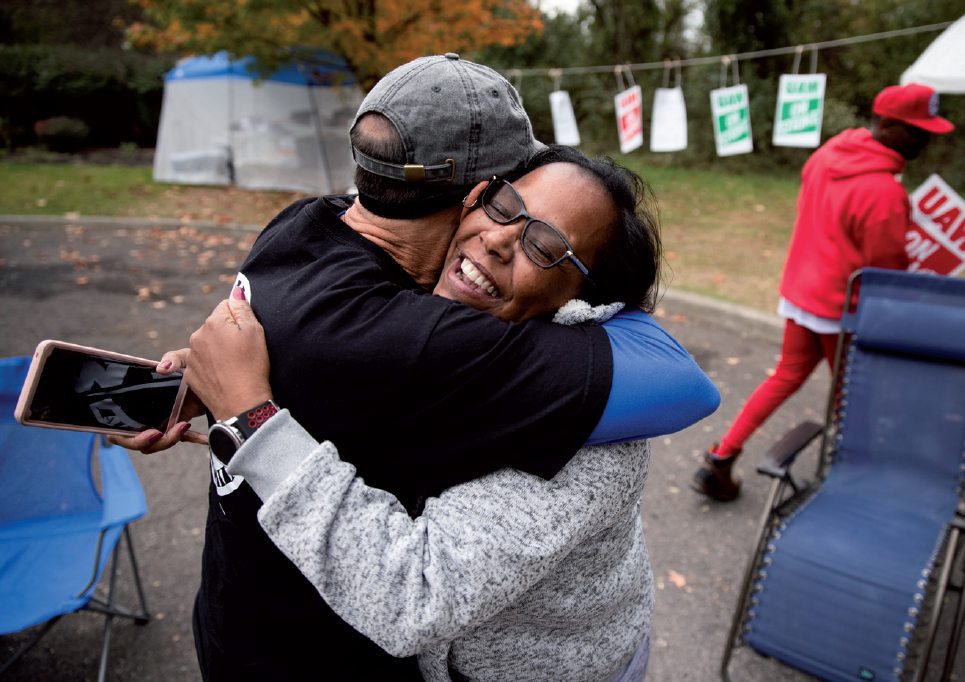 The monthlong walkout by the UAW said to cost automaker $1 billion in profits
General Motors (GM) and the United Automobile Workers union (UAW) have reached a tentative deal to end the monthlong strike by nearly 50,000 workers in the US, which has cost the nation's largest automaker more than $1 billion in profits.
The deal was brokered by negotiators on Wednesday, but early details of the contract were scant. The Associated Press reported it was likely to include "pay raises, lump sum payments to workers, and requirements that GM build new vehicles in US factories''.
The four-year agreement still needs approval by union leadership and then must be ratified by GM's 49,000 union-represented workers, who must approve any labor deal by a simple majority. That could take three or four days or weeks, and there is no guarantee workers will approve the tentative agreement.
Terry Dittes, the UAW's chief GM negotiator, said in a statement: "Out of respect for our members, we will refrain from commenting on the details until the UAW GM leaders gather together and receive all details."
The move doesn't immediately end the company's longest strike since 2007, but will come as a relief to the union and the automaker. GM will have lost $1.5 billion in profits to date if the deal is approved, according to an estimate from the Anderson Economic Group.
UAW members walked out on Sept 16 at 31 GM factories and 21 other plants in nine US states. That led to a wave of layoffs at GM factories in Canada and Mexico.
The supply chain was also severely disrupted across GM operations. At least 10,000 suppliers to GM were affected and had to lay off workers.
Some GM factory workers were making $30 an hour before the strike. Last week, the union raised members' strike benefits by 10 percent to $275 a week, but that benefit did not start until 15 days after the strike began. Workers lost $800 million in wages, according to the Anderson Group, based in East Lansing, Michigan.
GM CEO Mary T. Barra has been facing a raft of problems in addition to the strike. There has been a slowdown in auto sales in the US and China – the company's largest market. GM also must invest billions of dollars to develop electric vehicles and self-driving cars.
Despite those challenges, GM has been profitable – making $35 billion in profits in the US over the past three years because American consumers have been buying its sport utility vehicles (SUVs) and trucks.
Amid GM's profitability, workers have been given annual profit-sharing checks of $11,000, according to The New York Times.
But the UAW and its members have been upset that profits reaped by the automaker over the past five years, particularly since it was in bankruptcy protection 10 years ago, have not filtered down to them. They said they gave up pay raises, which helped GM keep afloat.
The union demanded that GM bring back to the US production of some vehicles being manufactured in Mexico. The carmaker produces around 800,000 cars per year in Mexico.
In November 2018, GM announced it would close four US factories, at which around 3,000 UAW members worked. GM said it had found jobs for about 2,300 of the workers, but some were forced to relocate to keep their jobs.
Another key sticking point between the union and GM is the carmaker's use of temporary workers, who make up around 7 percent of its workforce.
They get lower wages of around $15 an hour and hardly any benefits in comparison to full-time employees, who are guaranteed pensions in retirement.
GM said that it had offered temporary workers the ability to become full-time employees. It also has offered pay raises to UAW members for each of the four years of their contracts.
Amid uncertainty over future sales forecasts, GM said it wanted to retain a flexible workforce.
If the UAW deal passes, union negotiators will turn their attention to talks at Ford Motor Co and Fiat Chrysler Automobiles.