Soybean supplies stable despite drop in imports from US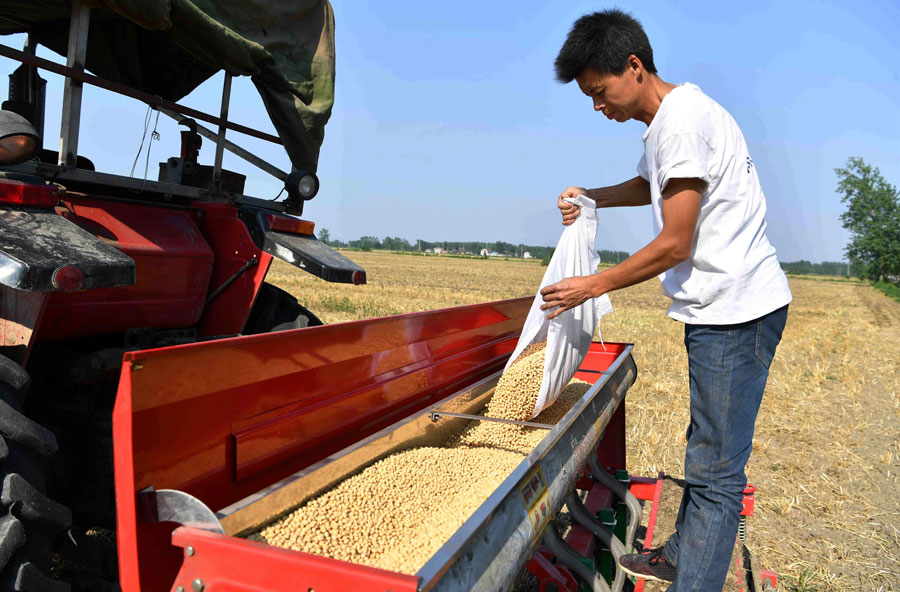 China's soybean supply and prices have remained generally stable this year despite a steep decline in imports from the United States, Tang Ke, head of market and economic information at the Ministry of Agriculture and Rural Affairs, said on Thursday.
China imported nearly 56.4 million metric tons of soybeans from January to August, down by about 9 percent year-on-year, Tang said.
US soybeans accounted for 15 percent of imports, down 11 percentage points from last year, he added.
"However, the country has not recorded any major price fluctuations or severe shortage in its soybean market, thanks to promotion of a low-protein feed formula that reduces demand for soybeans and other types of oilseed, as well as diversification of soybean suppliers," Tang said.
"As domestic production of soybeans is picking up and more efforts will be made to diversify sources of soybean imports and expand purchases of substitutes, overall supplies in China are expected to be secure in the future."
The trade conflict between China and the US had also pushed down exports of Chinese aquatic products, which were worth around $13.3 billion from January to August, down 6.5 percent year-on-year, Tang said, adding that cotton prices had dropped in China last month, partially due to the trade conflict.
The most recent round of trade talks between China and the US, held last week in Washington, showed signs of easing tensions, Tang said, with "substantial progress made in the agricultural sector".
Following the high-level meeting, the Ministry of Foreign Affairs said on Tuesday that China had bought 20 million tons of soybeans from the US, among other agricultural products, with more purchases expected.